Live
I survived NYC without AC for three years. Here's why I finally caved
Previously Nora stayed cool with a strong fan, mountains of ice packs, and drinking lots of water
Because of the humidity and wildfire smoke she finally bought an AC when she moved this summer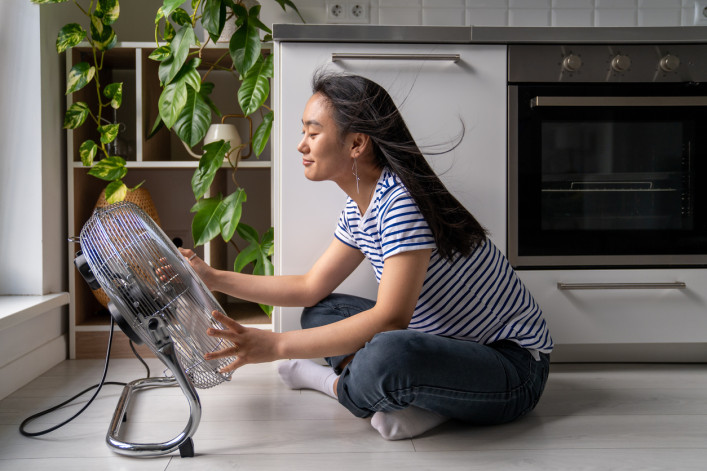 Nora (a pseudonym) is a Californian who relocated to New York City after going to college on the East Coast. She works for a financial company, which helps pay for her passion projects in audio editing. Here she shares her story of how she has survived NYC's sweltering summers without an AC unit since 2021, and why this year she caved and bought one for her third apartment. 
I moved to New York in the middle of a hurricane on my birthday. It was just me on the floor on my mattress with a hurricane raging outside while I Facetimed two of my friends for a little birthday celebration. It actually was really fun.
When I first moved, living without AC wasn't so bad. I've lived in very hot climates. I've lived on the East Coast for a good amount of my life. And in California, you don't tend to have air conditioning in your house—or at least I didn't. I've just been used to dealing with the heat, but this summer has been much hotter already.
---
[Editor's Note: Brick Underground's Inside Stories features first-person accounts of dramatic, real-life NYC real estate experiences.]
---
Can't live with it, can live without it
My first summer in New York was deep and utter chaos for so many reasons.
I didn't have an AC. I was in and out of the city and out of the country to places that were much hotter than here—I went to Israel for a friend's wedding and for work, and I went back to California.
My roommate caved and got an AC unit immediately, so I got a little bit of a residual breeze from that. But here's the other thing: I technically had an air conditioner., it just did not work. It was so large and it did not fit in our window because we were on the first floor and we had bars on the window. There was a little alcove for it, but we couldn't put it in the window without it falling into the room. 
It was already such a pain to put up and take down. I also thought, "I can't buy an air conditioner if I have an air conditioner. But also I can't use that air conditioner. So I guess it just has to be this way."
How I survived
I made excuses for myself. This is much more environmentally conscious. I did have a really good fan. I would sleep with only my sheets and not my blanket. And I stayed really hydrated. I also think that summer was not as bad as this summer. 
I also froze a lot of ice packs in the freezer. I started making a lot of cold brew iced teas. (Staying hydrated was definitely one of my top solutions.) I got a face ice roller and I would do that a lot because it felt nice. And having plants in your room sometimes helps. They also just make me happier. 
Why I caved
I did buy an AC a couple weeks ago. 
A few things happened. My mom sent me an air purifier, which was helpful when smoke from the Canadian fires was bad. I would put my hands over the part that blows purified air into the room and think, "Man, it'd be really nice to have a fan in here." The second thing that happened was that my really nice fan that got me through last summer broke.
Also, it's been really humid already this summer. I recently moved to Crown Heights and I only have one window, so I was still debating whether I wanted to take up some of that window space with an AC unit. But when the fires were happening—and I'm sure they will continue to happen—the air was so awful, and still heavy and dense and humid. I thought, "I don't think I can deal with both of these things at once." 
Finally, I have a lot of people coming to visit me this summer and they will be staying in my room on a mattress that will take up the majority of the floor space. While I can subject myself to the heat, if other people are staying with me, I can't make them deal with it too. They deserve better.
Why I feel like I made the right call
It was the hottest day globally on record [last week], which is so concerning for global warming reasons. But that's just one piece of it—the smoke from the Canadian fires also pushed me.
I know that AC is not the end-all-be-all solution. But it is what we've got, which is sad and unfortunate and makes me want to think a lot more about the environment. I've been reading a lot about when the temperature is so high that it can be lethal to people. 
My mentality in the past has always been, "I'm tough. I can deal with it. I'll have a thick skin about it and it'll be fine." But seeing all of the news about global warming makes me think that I'm going to need more than a thick skin to get through a NYC summer.
Brick Underground articles occasionally include the expertise of, or information about, advertising partners when relevant to the story. We will never promote an advertiser's product without making the relationship clear to our readers.