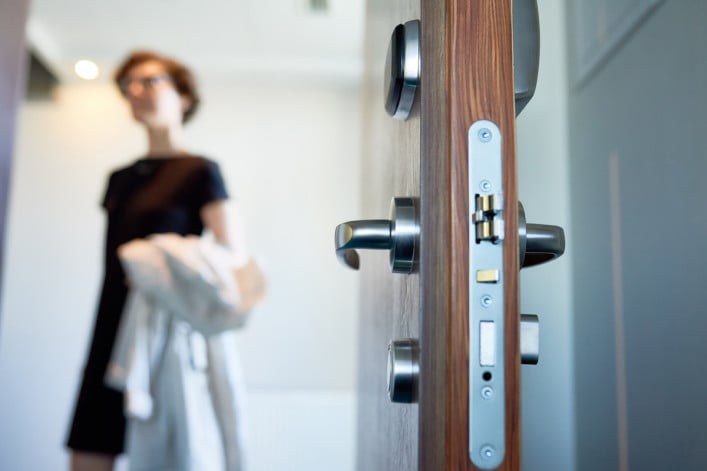 When hunting for a new NYC apartment, you're likely thinking of what you can afford, where you should live, and how long your commute will be. Another consideration to keep in mind is your safety when attending an open house or meeting up with a broker you do not know.

Overall, crime in NYC has fallen to historic lows, but it is important to always be careful and take precautions. Case in point is this frightening recent incident in a Chicago suburb: A real estate broker narrowly escaped being sexually assaulted by a man who shocked her with a stun gun from behind during an open house. 
The attack highlights how vulnerable you can be when going to see an apartment in a neighborhood you may not be familiar with or meeting a landlord or broker for the first time. To that end, Brick Underground has a few tips for staying safe while apartment hunting in NYC.
1. Spot real estate scams
As any New Yorker—and the NYPD—will tell you: If the deal sounds too good to be true, it probably is. Apartment hunters need a keen eye to avoid falling for common real estate scams like fake listings or being asked to give a deposit before seeing a place, which is a huge red flag.
You should never make an advance payment or complete an application with personal financial information, such as your Social Security or bank account numbers, before seeing the apartment in person, the NYPD urges.
2. Safety in numbers
Always try to take someone with you when looking at a place or attending an open house. Obviously this is easier when you're searching with a spouse/partner, family, or roommates, but if you do have to go it alone, keep your calendar up to date and share it with family and friends so they know where you'll be, when, and with whom, says Gina Castrorao, rental manager at REAL New York. 
Plus, make sure they have the broker's contact info, the addresses you're visiting, and check in before and after appointments. 
3. Do some digging
Once you find an apartment you like, do your homework before reaching out about seeing it—and sharing your contact info. If there's a broker on the listing, look them—and their firm—up. Make sure they're registered with the Real Estate Board of New York, the state, or the Better Business Bureau. 
"If you don't find that broker or their firm isn't a member, do more work," says Steven Goldschmidt, senior vice president and chief information officer at Warburg Realty. "There's no such thing as not being noticeable. Put their name into Google News to see if there are any news reports concerning them."
The same goes true for a seller or landlord who is not working with a broker: Look them up.
"Check titles, who owns the property, and if the name you're talking to isn't on any record for that building," that could be a warning sign, Goldschmidt says. You can search property transfers, interest, and ownership information via the Offices of the City Register.)
An accredited agent should "have a lot out there," like LinkedIn, Facebook, Instagram, online bios, and Yelp reviews, says Castrorao, so having an online search come up empty is another red flag.
"It's important to always be careful and vet the real estate agent," says Alexandra, a renter in Greenwood Heights. "But as a single woman who watches a lot of 'Law & Order,' a hammer in the purse never hurts."
4. Carry a safety device 
Pepper spray may help you feel safer, but there are restrictions to possessing it in NYC. The law says you must be at least 18, not be a felon or convicted of an assault, and can buy a "pocket-sized spray device" only from a licensed firearms dealer or pharmacist within the state.
5. Meet in a public place
Don't hesitate to ask an agent or landlord to meet you somewhere near the listing. Castrorao always meets clients at a public place like Starbucks so "if either of us feel uncomfortable, we can end it right there," she says. 
6. Ask for proof of ID 
Upon meeting, don't be shy about asking to see an agent's credentials, which has their picture, firm, and date the license was issued on it. 
"It would not offend anyone, and I'm surprised how little [we're] asked," Goldschmidt says. 
7. Know you're being vetted, too
Agents, too, are mindful of their own safety when showing apartments. 
With open houses, "you don't know who's coming in, so our brokers are very leery about individuals coming to one, especially in a non-doorman building," says Goldschmidt. 
To that end, they often bring a second broker, so there's someone to usher people in from the lobby, and they ask attendees to check in. 
Additionally, a broker will likely do a little digging on you before taking you out to see apartments. 
"I make friends with all my clients on LinkedIn prior to going out with them," Castrorao says. "I want to see their face and know the face there matches the face I see."
8. Download a location-tracking app
While you typically might not want an app to track your exact whereabouts, one could come in handy when going to look at an apartment alone. Available for free on iOS and Android, Glympse lets you share your real-time location and ETA with family and friends for a predetermined amount of time—without creating an account or logging in. 
A Glympse can be sent via text, email or third-party apps like Facebook, Twitter, or Whatsapp. You select a contact and how long you want your location to be available to them, and it automatically expires.
Find My Family, Friends, Phone from Life360 is another free option for iOS and Android.
9. Get the big picture
This one is crucial when looking at a potential apartment and/or neighborhood—or just traipsing around town. Pay attention to the nearest cross streets, see if there is a FDNY or NYPD station, or other public places nearby "where, if you feel unsafe, you can run to," advises Castrorao. (It is the go-to safety advice of this writer's mother.)
"In New York City, there's so many people out and about all the time you think, 'it can't happen to me,' but it's always good to be aware of your surroundings," she adds. "Keep your head on a swivel."
Once inside an apartment, make sure your cellphone is handy and take note of where stairs or the nearest exit is in case there's an emergency. 
Hannah, a renter in Clinton Hill hasn't felt unsafe while apartment hunting, but she did have some trepidation once when viewing a place late a night. "My mom's voice was in the back of my head saying, 'Be careful,'" she says. The lesson? "Go during the daytime, stay in touch with someone while you're there, and get in and out quickly."
10. Trust your gut
If you have a hunch that something is amiss, leave immediately, or text a friend or family member to call you with an emergency, like you would on a bad date. 
If you fear for your safety, are being threatened, or there is suspicious activity, call 911. 
Brick Underground articles occasionally include the expertise of, or information about, advertising partners when relevant to the story. We will never promote an advertiser's product without making the relationship clear to our readers.