Live
New to NYC? There are lots of ways to make friends right in your building
Join your building's tenant association or volunteer with building-wide projects at your condo or co-op
Pitch in with yard work or a nearby community garden to meet your neighbors and get a green thumb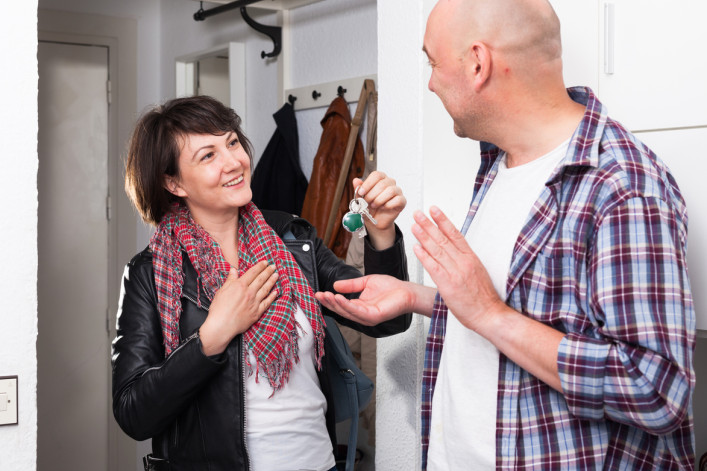 If you just moved to New York City, chances are you don't have friends in high places (yet) —or in the five boroughs for that matter. Despite being home to 8.5 million-plus, NYC can be a tough place to meet people.
You can turn to volunteer groups, free city events, or even your community board to meet people, but there's also a built-in community right behind your front door. Your neighbors—whether you live in a rental, condo, or co-op building—present a great opportunity for friendships that won't require you to travel just to hang out.
Plus, being friends with your neighbors comes with a slew of benefits. You learn more about your new building and neighborhood, tackle building-wide problems collectively, and gain a great resource for emergencies. If you need to borrow a cup of sugar, find someone to water your plants, or hold a spare key in case you get locked out, a trusted neighbor is your best bet. 
There are a handful of ways to make friends in a new city right in your building. You can join your tenant's association—or start one yourself—volunteer for projects in your condo or co-op building, help out with your building's greenspace or a nearby community garden, or just get to know your next door neighbor by helping them carry their groceries. 
Plus, if you make it into your building's leadership, you'll have more of a say in how your building is run and what types of improvements are made. Sometimes it pays to be the friend in a high place.
Read on for three ways you can meet and befriend your fellow residents.
Get involved with your building's leadership
Tenant's associations can seem daunting for first-time renters, particularly those with busy schedules. You might think of your building's leadership as a place to go only when you have a problem, but these community resources can be great places to bond with your neighbors quickly. 
Lilian, a renter in Crown Heights, recently joined a tenant's association that managed to fire the building's management company after it was unresponsive. The association was a huge draw for her to move into her new apartment building after being stuck in a mismanaged rental for nearly a year. 
For those who own, you can ask your condo or co-op board if they have any large projects that are open to volunteers. Getting to know your board members is a great way to form connections and help if your goal is to run for the board yourself someday.
While serving on a board can be stressful and time consuming, it has its rewards. Adelaide Polsinelli, a commercial broker at Compass, forged new friendships when she served as president of her co-op at 2 Fifth Ave. from 2000 to 2012. She formed a group of local board presidents in Greenwich Village, and is "so grateful for the deep friendships and business relationships" she made through the organization. Plus, it became a useful tool for navigating neighborhood issues.
Embrace your green thumb
Your community garden—or building's own plot if you're so lucky—can be a great way to meet fellow tenants and cut down on your grocery bill. 
This next idea comes from a friend, who asks to remain anonymous to keep a good relationship with her neighbors. She recently moved to a new neighborhood in Brooklyn and saw her neighbor gardening in their front yard. 
By starting a conversation about gardening, she scored some great advice on drying and storing basil, the promise of a fresh tomato, and an arrangement where she will help with next summer's harvest. At the same time, she was able to learn a little more about her upstairs neighbor and her new building. 
If you don't have a garden, you can find a community garden run by local volunteers through the NYC Department of Parks & Recreation's website. Many NYC community gardens began as a way to rehabilitate abandoned private and public land and to prevent crime in the 1970s. And if you're not near a community garden, you can also start your own.
Lend a helping hand 
Helping out your neighbors isn't just good karma, it's a great way to make a positive first impression. 
You might notice a neighbor struggling with moving boxes or a grocery cart. Offering to help is a great way to introduce yourself, and it puts your best foot forward for the rest of your tenancy. Our Brooklyn-based friend was able to meet another neighbor by helping to move a bike out of the hallway so the neighbor could pass with her grocery cart. 
Sometimes helping out means more than just moving a bicycle. In her case, Lilian created an informal WhatsApp group chat where she invited her fellow renters over for drinks, both to get to know them and to talk about issues in their building. While she could have done this with a tenant's association, she found that it was easy to make friendly casual conversations with her neighbors on the stairs and then add them to the group chat.
Brick Underground articles occasionally include the expertise of, or information about, advertising partners when relevant to the story. We will never promote an advertiser's product without making the relationship clear to our readers.