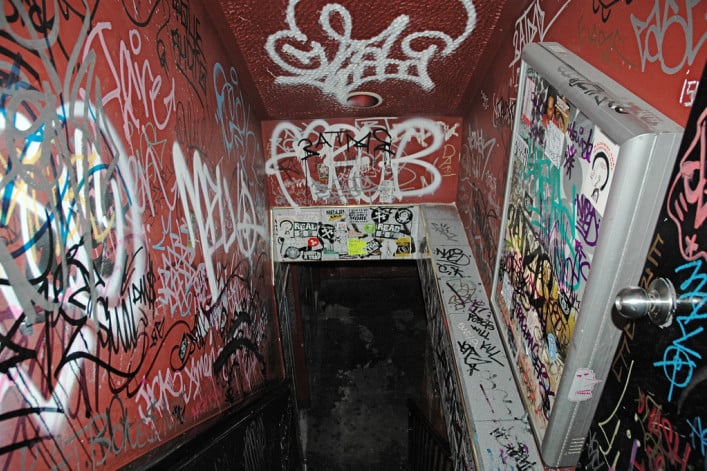 Arts communities all over the country are still reeling from the tragic fire last weekend at Ghost Ship, an Oakland warehouse that served as a combination residence and performance space for musicians and artists who would otherwise have been priced out of the Bay Area's increasingly expensive housing market. And with more than 36 people dead, owners, residents, and frequent visitors of DIY spaces may also be asking a more practical question: How can we make sure this doesn't happen again?
The situation at the Ghost Ship does seem far more extreme than most, based on reports (via the New York Times) that the building was considered a "tinderbox," with "no clear exits," stairways constructed out of wooden pallets, and electricity problems so frequent that residents slept with flashlights, as pleas to management to fix the situation allegedly fell on deaf ears. In a Today Show interview, one of the "master tenants" in charge of the space tries to fend off questions about who's responsible for the place not being up to code. 
Many of us have either lived or spent time in spaces that are less than legal, and as veteran promoter (and DIY venue runner) Todd P. told Gothamist, the process of making these spaces safe can be so difficult and expensive to navigate that many people just give up altogether, pushing DIY housing and venues further to the fringes (and away from the eyes of inspectors who might point out serious hazards). To wit:
"It's very expensive, much, much, much more expensive than people think in order to do all of the compliance that is needed to get a place legally sanctioned. So we've created sort of a black market culture on culture itself, in terms of presenting anything that isn't going to make a ton of money. When you have a situation where it becomes basically financially impossible for most people to have any sort of agency in their culture, you're gonna have worst offenders. Everyone's gonna be breaking the rules a little bit."
But as architect Michael Zenreich points out, New York in particular has a long history with turning illegal artists' dwellings into safe, habitable spaces, thanks to the loft law, part of the Multiple Dwelling Law, which created legal avenues for industrial lofts—which people were living in, anyway—to be converted into legal residences, with all the safety precautions that entails.
"There's really no excuse [for spaces not to follow safety protocols]," says Zenreich. "I feel like a broken record: one entrance, two exits." (Here he's referring to the requirement for there to be more than one exit, the better to let people evacuate in case of emergency.) "New York was the first in making these types of rules, and I think the rest of the country should follow suit," he tells us.
For more immediate safety tips, here's a guide for residents and visitors to warehouse and loft spaces, via a Facebook page for a Brooklyn fundraiser for fire relief funds: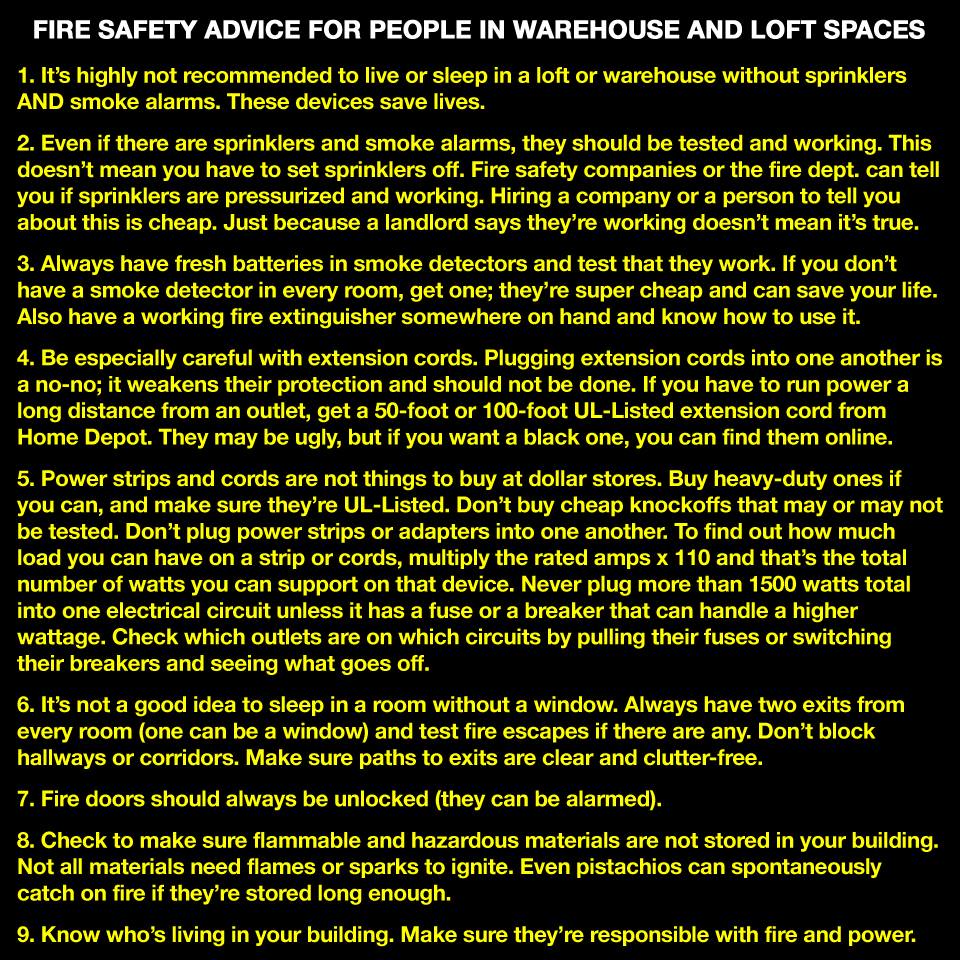 Keep in mind that while any building should be held to legal safety standards, safety practices aren't an all-or-nothing proposition, and there are steps that can be taken right away if you're still in the process of getting things up to code or acquiring permits.
Gui Cavalcanti has published a guide on Medium for fire safety in industrial spaces (tips including clearly marked, uncluttered, multiple exits; fire extinguishers and smoke detectors throughout; and fire-safe infrastructure such as solid stairs). And Safer Spaces, an organziation launched in the wake of Ghost Ship to provide information and resources, has a frequently updated Google doc filled with harm-reduction advice for DIY venues.
And if you'd simply like to show support or offer resources to victims of the fire, Brokelyn has a roundup of local fundraisers and events being held this week in support of the Ghost Ship, and you can find a "Master List" of support resources here.
Brick Underground articles occasionally include the expertise of, or information about, advertising partners when relevant to the story. We will never promote an advertiser's product without making the relationship clear to our readers.