Most New York City apartment hunters would love a great view. But nabbing an eagle-eye perspective of Central Park, for example, will cost you a pretty penny in one of the world's most expensive real estate markets.
Brick Underground talked to several brokers to find out how much more you can expect to pay for an apartment with a great NYC view. Location, floor, exposure, layout, and size will factor into pricing, but you can generally expect a picturesque view to push sales prices up by at least 10 to 25 percent, and rents by a minimum of $50-$150 per month.
Read on to find out how an apartment's view impacts pricing if you're in the market.
Most desirable NYC views
The most in-demand NYC views are of landmarks, the rivers, and Central Park. "The buildings along it will never lose their value," says Lisa Chajet, a broker at Warburg Realty. 
Of course, the best NYC views are not actually in NYC: For a sweeping, iconic skyline, some buyers and renters head to the Jersey side of the Hudson. Open views of Brooklyn and Queens are also requested, some brokers said. "Even if a view is a sliver from a tiny window at the back of the apartment, it's still treasured," says Paul Sweet, a Citi Habitats agent.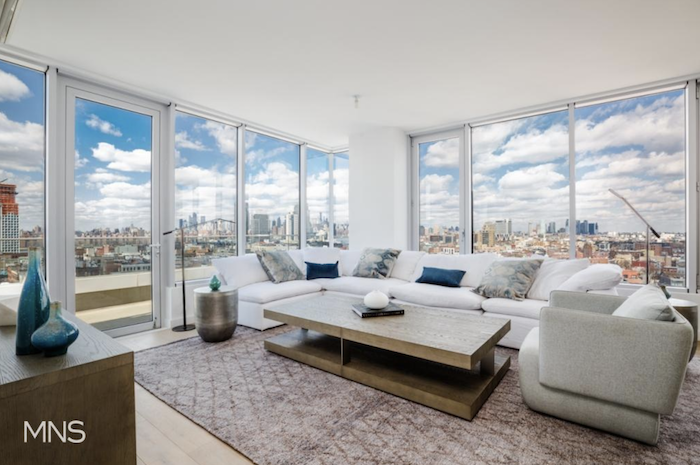 How views impact sales prices
The view of course is just one of the factors that goes into pricing an apartment, along with location, floor, layout, size, and more.
"As a rule of thumb, your view is going to be 15-30 percent of the value of that home," says Henry Waller, division vice president of Toll Brothers City Living, which has buildings in Manhattan, Brooklyn, Hoboken, and Jersey City. It's just one of several factors that goes into pricing, he says.
Pricing in an average building increases by a minimum premium of $10,000-$30,000 for every ascending floor, says Victoria Rong Kennedy, a Citi Habitats broker. If you add in a signature view of Central Park, water, or the Manhattan skyline, that's a whole different price point. For example, if you have a unit facing Central Park versus one not facing the park, "you're looking at a 25 percent difference, even if it's not really high up," she says.
At 277 Fifth Ave., there are four residences per floor, giving every apartment a corner exposure and sweeping views that can include Manhattan, New Jersey, Brooklyn, Queens, or the Empire State and Chrysler buildings. Those views "have certainly helped us achieve per-square-foot pricing as high as over $4,000 per square foot," says Michele Hinojos, sales associate for 277 Fifth Ave. (For a little perspective, the average price per square foot in Manhattan is $1,769, according to the Elliman Report on first-quarter sales in the borough.)
If you're buying in Brooklyn or Queens, you can expect a steeper price difference for a place with a view of Manhattan vs. one without, but you're starting with a lower price point than comparable apartments in Manhattan, says Katie Sobel, vice president of new development at MNS.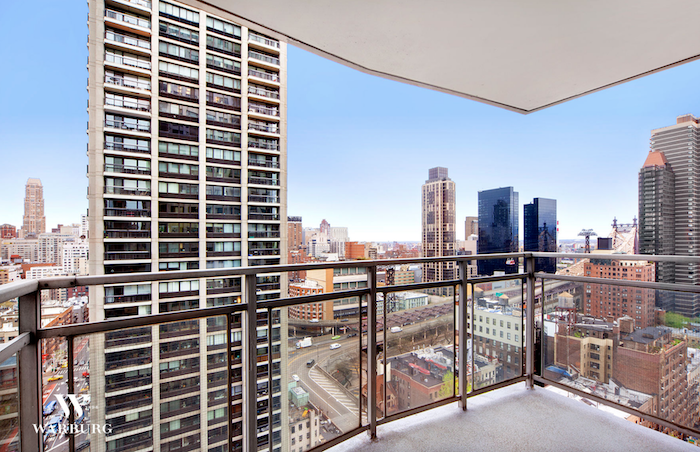 How views impact rent prices
Like buyers, renters can also expect a great view to be factored into an apartment's rent along with light, layout, size, amenities, competition, etc.
"Depending on the location and how impactful the view is, rents could jump up from $50 to $150 just based on a better view," says Sobel of MNS. And if the view is really spectacular, and you're on a higher floor with few tall buildings around, "the higher the rent it can command," she adds.
Naturally, the higher you go, the more open your views are, says Matthew Villetto, executive vice president at Douglas Elliman Development Marketing who handles Summit, a Midtown East rental building where available units range from $3,510-$7,630. 
"Certainly, more deluxe units with larger room proportions are going to command a higher price, starting at at least a 10 percent premium," he says.
Changing views = changing prices
Of course, views in NYC don't always stay the same. Years ago Josh Rubin, a broker at Douglas Elliman, was selling an eighth-floor, south-facing apartment in 2 Horatio St. in the West Village for $5.5 million. The apartment overlooked a row of townhouses and a two-story garage on Jane Street, which the seller thought was landmarked like much of the area. A potential buyer who lived nearby made an offer after spending six hours in the place over the course of three visits. Then the buyer went MIA.
"Turns out he had come home to find a postcard announcing the sale of the two-story garage for $30 million to a developer," Rudin said. The buyer backed out, and the apartment later sold to someone else—for $3.9 million. That garage is now a low-rise residential building nearing completion, he adds, so "the view's not totally obstructed."
Brick Underground articles occasionally include the expertise of, or information about, advertising partners when relevant to the story. We will never promote an advertiser's product without making the relationship clear to our readers.