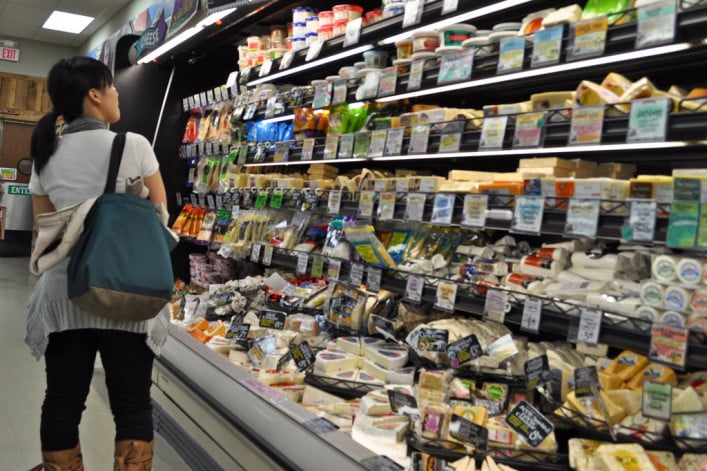 Trader Joe's is on something of an expansion kick here in the city, with the grocery chain planning to open new locations in SoHo, on the Upper West Side, in the East Village and on the Lower East Side in the next year or so. But aside from easy access to Speculoos cookie butter and peanut butter-filled pretzels, are there other reasons for soon-to-be-neighbors to rejoice?
Absolutely, says Jonathan Miller, CEO of Miller Samuel, a real estate appraisal company. While it's hard to pinpoint exact price increases as they correspond to these openings, a destination store like Whole Foods or Trader Joe's is usually a sign that owners' real estate values are rising and the neighborhood is getting something of an upgrade.
"I see these openings as validation of the changes in a neighborhood," Miller says. "You put a Whole Foods in the Lower East Side and see prices rise, but that doesn't mean the Whole Foods itself caused the prices to increase—it's just part of the reshaping of the neighborhood. I see them less as a spark plug and more of a complement to the neighborhood that's in the process of gentrifying."
Plus, "a recent white paper showed that when a Whole Foods moved in there was an upgrade in overall services," Miller says.
"We may not see changes initially but it's definitely a big talking point when I'm selling a home," says Michael Comandini, a broker at Keller Williams Tribeca. "Buyers love hearing they'll have such easy access when purchasing in the surrounding area."
The East Village location of Trader Joe's will change prices on East 14th Street especially, he predicts. "This corridor of 14th Street is rapidly expanding with new condos popping up east of First Avenue," says Holly Sose, a real estate broker at Corcoran, who lives in the neighborhood. "I would expect to see a bump in prices with the combo of high-end condos and the retail like Trader Joe's that will follow to support the neighborhood and its new, well-heeled residents."
That said,  "it's only when the stores are closer to their opening dates that the greatest impact on prices arises," Comandini says.
But it's not all smooth sailing, of course. For renters, all of this change can mean landlords are more likely to raise rents and tack on steeper rent increases when it comes time to renew a lease (signs of a gentrifying neighborhood and additional conveniences can do that). And for those in rent stabilized units, for whom rent increases are limited by law, these new stores can mean they're about to get priced out of the amenities in their neighborhood. In some neighborhoods where Trader Joe's is now headed, like the Upper West Side, and SoHo, it's just a continuation of a decades-long trend.
Adding a shopping destination to a previously sleepy neighborhood can cause a shifting sidewalk dynamic, too. "The downside to such big box stores coming to neighborhoods is the potential new traffic that they could bring," Comandini says.
They also may spell death to local mom-and-pops, which ultimately changes a neighborhood from being a close-knit one that supports local shops to one that feels more generic (case in point: The Upper West Side, as made famous by "You've Got Mail").
"The argument that the mom and pops will make is that 'we provide service, they provide price," Miller says. "That's the differentiator."
But what about the neighborhood feel?
"Trader Joe's and Target will forever change the vibe of the East Village in that this is a part of the city which has always been known for its Bohemian ambiance," says Nadine Hartstein, a real estate broker at Bond New York, who lives in the Stuyvesant Town rental development. "The addition of these two mega stores will have a deep impact on the feel of the neighborhood in that it will commercialize an area that is known for its relaxed, casual feel."
It's no coincidence that these two franchises are in a location that leads right into the FDR Drive, Hartstein adds. "In addition to the added hustle and bustle that commercial real estate draws, is the idea that once your shopping is done you can hop into your car and hit the highway. This spells disaster for the long-term owners and tenants on East 14th Street." Namely, she says, in the dwindling number of parking spots.
"As a broker and a tenant of Stuyvesant Town there are many concerns about losing one's quality of life while acclimating to the call of big business," Hartstein says.
In the end, though, many say a big-box store is better for the real estate value, and even just the quality of life of the apartments upstairs, as compared to having empty storefronts or less-than-ideal tenants.
"Back in the day when there were Off-Track Betting parlors, that did terrible damage to apartment values as people loitered in front 24/7," Miller says.
"It ended up affecting the other retail as well. I think that it helps all of us if the retail is full and provides a service to the local community. One of the biggest challenges right now is the retail apocalypse. If a large building has 10 stores and three are empty, it would be a win if one large retailer came in and took the whole space," he says.
Brick Underground articles occasionally include the expertise of, or information about, advertising partners when relevant to the story. We will never promote an advertiser's product without making the relationship clear to our readers.