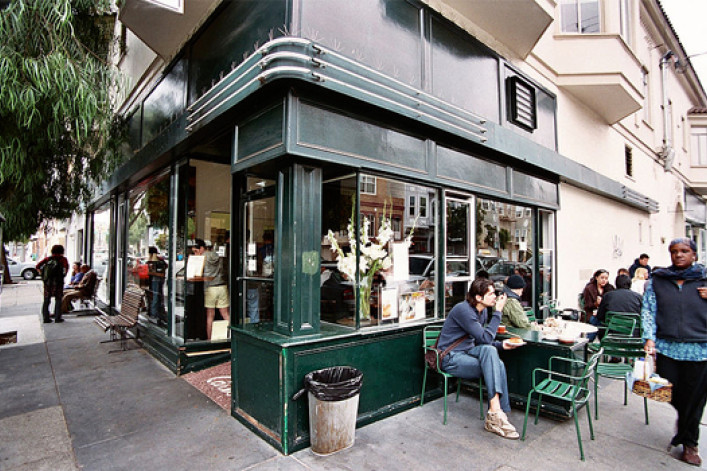 If you're thinking of buying an apartment in a building with commercial space, or if you're on the board of one choosing a commercial tenant, you'll need to evaluate them in terms of nuisance factor, revenue potential if the building is a co-op (condos buildings generally don't retain ownership of commercial space), and curb appeal.
"Although it's a term used primarily for suburban real estate, 'curb appeal' does matter in New York City," says real estate broker Ari Harkov of Halstead.  Ideal commercial spaces look good from the outside and don't create a nuisance for residents in terms of noise,  traffic or odors.
They also generate revenue, which can be a huge boon to co-op finances (though not condo buildings, which generally don't own the commercial spaces in their building and therefore can't profit from them).
"If managed properly, the maintenance charges are offset by the income received," points out real estate agent Victoria Vinokur of Halstead. "There are a number of buildings downtown that either have no monthly maintenance charges or significantly low monthly charges because of this situation."
The type of commercial tenant does matter though--particularly to buyers considering an apartment right above a commercial space.
"There is definitely a positive reaction from buyers if there haven't been any venting or rodent issues and the financials of the building positively reflect the commercial space income," says Vinokur, noting however that commercial space without a separate entrance is a turnoff because "residents don't want to have traffic in the lobby."
In the current frenzied market, however, some commercial spaces that might once have presented a problem for new residents don't seem to matter quite as much says Harkov. In fact, one broker tells BrickUnderground that even a second-floor apartment over a hookah bar doesn't seem to make that much difference to apartment hunters in 2013.
Here's a run down of some typical commercial tenants that occupy space in residential buildings and the pros and cons of each. 
1. Banks
Banks are a big retail favorite.  Often, they are willing to pay higher rent than other tenants since they look at their rent as more than just payment for space, says real estate attorney Dean Roberts of Norris, McLaughlin & Marcus. 
"They see it as part of their advertising budget," notes Roberts, and a good spot, especially on a corner,  is worth a lot to them.
Co-op and condo attorney Robert Braverman of Braverman Greenspun gives banks an A+ as a commercial tenant because of short hours, low traffic and ability to pay the rent.  
Banks also score points with residential buildings because they typically don't need to do any extensive alterations when they move in.
 "It's all about convenience," says Faith Hope Consolo of Douglas Elliman's retail group. "Tenants love having a bank in the building as long as it's their bank. It's a clean user--no worries about drainage, odors, fires that you might have with a restaurant or bar. The disadvantage, in recent years, has been consolidation. We all did a lot of bank deals prior to the downturn--though not as many as Dunkins and Starbucks!--and many of them didn't survive the merging and purging during the latter part of the decade. I think many of them have become Dunkins and Starbucks."
2. Restaurants and bars
The regular activity that a restaurant or bar brings to an area can be both a positive and a negative, says Consolo. Increased activity means  "more security" but it can also bring more traffic than residents want. 
What matters most is what kind of restaurant it is. Certain restaurants add instant panache, and depending on the restaurant, residents may appreciate the ease of take-out or having a place they can entertain guests not too far from their own kitchens. 
Restaurants overall tend to pay higher rents than other types of tenants since restaurant owners know that they may have a hard sell--because of the noise, hours and possibility of vermin, says Michael Wolfe of Midboro Management.
On the negative side, "restaurants require a significant amount of air duct and ventilation work for the grill and oven systems, which can be costly to the landlord, depending on the kind of lease they draw up with the restaurant owner," says Aron Susman of thesquarefoot.com, a destination search site for businesses looking for space. Noise and smells can be a problem. And did we mention vermin?
Restaurant open hours may be in direct conflict with tenants' hours and there's always the possibility of a crowd out on the street at 2 a.m. smoking. Another worry is the possibility of a kitchen fire.  For more info on forging a peaceful coexistence, see How to Live Happily Above a Restaurant.
Finally, restaurants and bars have high casualty rates. In NYC, a  large percentage of new restaurants and bars fail, and if that happens, the building is left with space that has to be significantly reconfigured for most other tenants.  
3. Retailer
"This is my favorite," says Consolo. "A strong, lively street front attracts tenants and a busy street is a safer street, which also attracts tenants. "  
Of course, what the retailer is selling is important. A brand that conveys luxury is always welcome. 
On the other hand, the highly competitive nature of retail is a negative.
"Even national chains die," cautions Roberts. "You need to ask 'what is their track record?'" And retail leases are  usually shorter than others so landlords will have to negotiate every few years.
"Many retailers require a strong location for deliveries," adds Consolo. "Logistics are key and not always easy in New York."
4. Preschool/daycare
"This is a great service for tenants with young kids. And it can be used to fill up dead space in a building that no one else would want," says Roberts.
It's also the kind of tenant that "won't have any late hours or weekend traffic," adds Wolfe. 
Consolo agrees it's a  great amenity in a building if the landlord is willing to assume the necessary liability costs.
"Never street front, though--that space is too valuable as a retail or restaurant use," she says.
Many residents don't like  to deal with kids/stroller congestion in the lobby for drop off and pick up, so  "it's imperative that the daycare center is not located near the lobby and that it is is run by responsible caretakers who have all the resources they need within the daycare space," says Susman.
5. Grocery/supermarket
Sure it's great to have a place right in your building where you can pick up milk and eggs on your way home. However, groceries and supermarkets fall into the less popular "wet" category of commercial tenants (versus "dry" category) and bring some of the same problems that a restaurant would--long hours, noise and possible creepy crawlies.
The negatives fade, though, if you're living in a part of the city that is short on food markets-- where getting a fresh tomato or a loaf of bread means a major shlep.  For instance, the developers of The Edge, a waterfront Williamsburg condo, rented their ground floor space to the Brooklyn Harvest Market and made a lot of its tenants (and neighbors) extremely happy.
6. Dog grooming/doggie day care:
"This is a hot business right now and more and more of these kinds of tenants are popping up all over," according to Susman. Being able to drop your dog off in the building on the way to work has a similar appeal to the convenience of dropping your kid off in day care in your own building. 
It can be a great use of sub basement or other "dead" space and it doesn't need to be on a main street.
"If you're building has a no pet policy, though, it would be mixed message," says Roberts. 
A dog grooming or doggie day care business needs to have some strict rules to follow to avoid becoming a nuisance:  no one wants dog waste anywhere near their building or dogs running around off leash on building property. If the dogs are going to be kept overnight, the business owner has to insure that tenants won't hear any homesick puppies barking and that the staff will  use a professional service to do their laundry and not use the building's own washers and dryers. 
Related posts:
Ask an Expert: What are the best and worst businesses for the retail space beneath or co-op building?
How to live happily above a restaurant
Living next to an all-night bodega
Brick Underground articles occasionally include the expertise of, or information about, advertising partners when relevant to the story. We will never promote an advertiser's product without making the relationship clear to our readers.