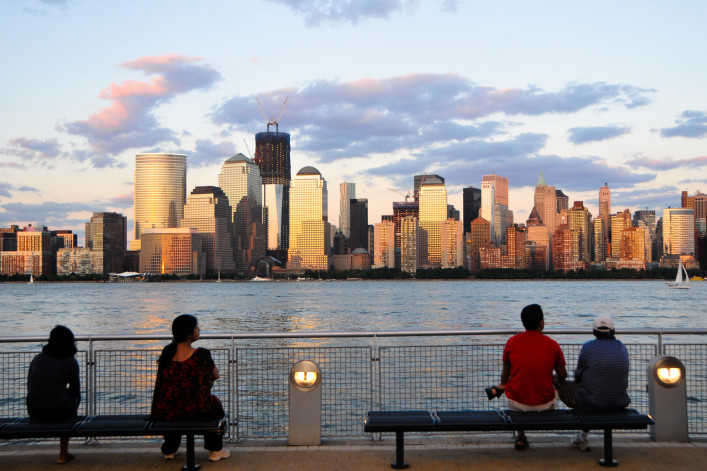 Jersey City's population is booming: According to NJ.com, the city on the other side of New York Bay has experienced significant growth over the past five years, a major comeback from the 1970s and 80s, when thousands of residents fled amid crime and job loss. The urban center's fortunes seem closely tied to NYC's, and just as New York became a safer and more popular place to live in the 90s, so did JC. Today, luxury high-rises are shooting up in the historic downtown area, particularly along the waterfront, the restaurant scene is attracting attention, and longtime locals are feeling a bit wary about the prospect of an invasion of new residents—and an attendant rise in prices.
Darrell Simmons, a writer and founder of Hudson County real estate site Jersey Digs, as well as a five-year resident of the area, says that what defines Jersey City is "a sense of hometown pride." He recalls first visiting for a friend's rooftop barbecue and immediately falling in love with the area for its friendly vibe and proximity to downtown Manhattan.
Pro Tip:
Wondering whether Jersey City is a good fit for your budget, commute and lifestyle?  Triplemint's Gold Coast Guides are standing by to answer your questions. They'll help you figure out whether Jersey City, Hoboken, Weehawken or another Gold Coast town makes the most sense for you, and show you apartments that fit your needs.  Click here to speak to a Triplemint Gold Coast Guide or view apartments online. >>
Tom Decker, who has lived in the Journal Square neighborhood for eight years, agrees that Jersey City has a genuine, community feel: "Yes, you can find this in NYC," he says, "but in JC it's immediately palpable." Another major selling point, Decker says, is more space: "Not only in your apartment, but in venues, businesses, and restaurants. There are shorter lines and less crowding at events."
The area is also highly diverse. "There's no ethnicity that dominates downtown Jersey City, and I think that's a part of the attraction," says Dale Fior, a Jersey City-based broker with Halstead Property.
Area public schools show a significant range in quality, according to ranking site Great Schools; US News & World Report calls the Dr. Ronald McNair Academy High School the third-best high school in the state, based on student participation in AP exams and demonstrated proficiency in math and English. Fior notes that some of the local schools could use some "touch-ups," and that the education system has not kept pace with the housing boom: "Within the last two to three years, the change has been enormous, so I don't think the school systems are quite caught up with the demand that housing has created for them," he says.
Getting there
Simmons says he was surprised to find how close Jersey City is to Manhattan: "From the Grove Street PATH station [in the downtown area] to the World Trade Center, it's ten minutes," he points out.
The PATH train—which runs 24/7—leaves from four stops in Jersey City, traveling to lower Manhattan within ten minutes and to Midtown in a little under half an hour, as well as to Newark and Hoboken, for $2.75 per ride. It also connects to Hudson-Bergen light rail, which extends from Weehawken to Bayonne, with stops by attractions like Liberty State Park, and costs $2.25 one way. Plus, buses run from Journal Square to the Port Authority, or you could catch NY Waterway ferries to the Financial District and Midtown (prices vary depending on the distance you travel).
"Transportation is one of the keys for why this is all happening," Fior says of the influx of newcomers to JC. "If you're working in Midtown or the Financial District, it can be easier coming from Jersey City than it is from another locale within Manhattan."
Within the city, another option is cycling: Citi Bike has 35 stations around town. And if you're traveling by car, the city offers quick and easy access to both the New Jersey Turnpike and the Garden State Parkway.
The real estate lowdown
"Downtown is the hot area," Simmons says, of the historic neighborhood near the waterfront. There, expect luxury one-bedroom rentals to run from $2500 to $3100 a month, with high floor apartments with Manhattan skyline views at the higher end of that range. One example is The Morgan, a new Toll Brothers building near the Grove Street station, offerig studios to three-bedroom rentals and amenities like a fitness center and on-site pub. The downtown area is also home to many older brownstone buildings, where you can find a one-bedroom for under $2,000, Simmons says.
As more New Yorkers settle in downtown JC, locals are heading westward, away from the waterfront. While most new developments can be found downtown, Simmons notes the Baker Building, an 83-unit development that recently opened in Bergen-Lafayette. The area is JC's oldest neighborhood, and less affluent than downtown, Fior says, but according to the New York Times, coffee shops, restaurants, and galleries are now beginning to pop up here, too. One-bedrooms in the Baker start at $1,500, and you can find three-bedrooms for under $2,500.
The Journal Square neighborhood, to the west of downtown, is a different ball game in terms of average apartment prices, Simmons says: "You can find two-bedrooms for $1,500, and one-bedrooms for around $1,000. And that's just one more stop past Grove Street."
Fior cautions that while Journal Square is in the process of redevelopment and offers cheaper rentals, it's not as lively as downtown. "The neighborhoods are not as rich with retail opportunities that many people may come to expect," he says.
And rentals are far more common than sales, suggesting a certain degree of transience to the neighborhood. "Due to the Freedom Tower opening, there has been an attempt to provide affordable housing to a middle income management workforce," Fior says. Prospective buyers will find that median home prices range from $650,000 to $700,000, but can start as low as $300,000 and go all the way to $2.5 million for condos and single-family homes. You won't find much in the way of co-ops—they account for only five percent of housing inventory.
Overall, "JC is changing quickly," Decker cautions. "So, when thinking of moving in, consider the pending developments of your prospective neighborhoods."
Don't miss ...
The main entertainment hub of the area is Grove Street, which has its own restaurant row; last year, the Times published a rundown of where to eat, drink, and shop there. Fior also notes that Paulus Hook, a micro-neighborhood on the waterfront boasts a number of great eateries; both Fior and Decker recommend White Star Bar, which offers craft cocktails and much-heralded burgers.
Simmons says that worth checking out in Journal Square is its India Square, chock full of great South Asian restaurants; First We Feast offers a photo tour of the area's many options. You'll also find plenty of places to pick up fresh produce. "Being in the Garden State guarantees great farmers markets throughout the week," Decker says. On a larger scale, Simmons mentions the Sixth Borough Market, a monthly flea in downtown.
Plus, opportunities to enjoy the outdoors abound in nearby Liberty State Park, a 1,212-acre green space located right on Upper New York Bay, which offers trails for biking and jogging, as well as public barbecue areas.
According to Simmons, the attractions, convenience, and diversity all add up to a place where residents feel a true sense of belonging. "Most people I come across love living here, and want to tell everyone they know about Jersey City," he says.
Updated: If you're curious, here are a couple JC listings to whet your appetite. Although rentals are more common than sales in Jersey City, this condo in the Paulus Hook neighborhood is one attractive option for buyers. Listed by Weichert Realtors for $1.39 million, it boasts a massive kitchen, a living room with a working fireplace, two bedrooms, and Hudson River views: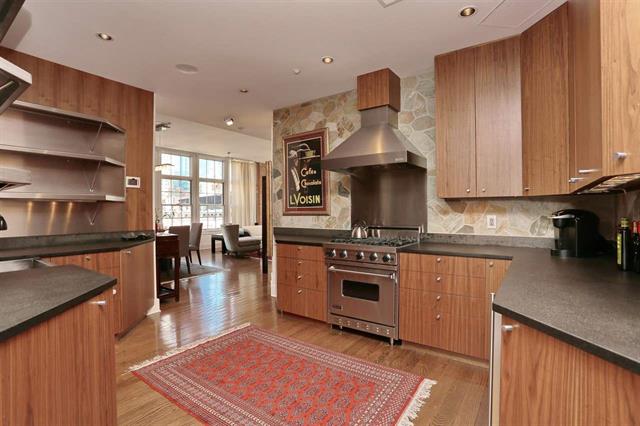 On the rental side, a one-bedroom in the Cast Iron Lofts building downtown, listed by City Homes and Gardens for $2,875 per month, comes with high ceilings, huge windows, and a walk-in closet on a scale you'd be hard-pressed to find in NYC: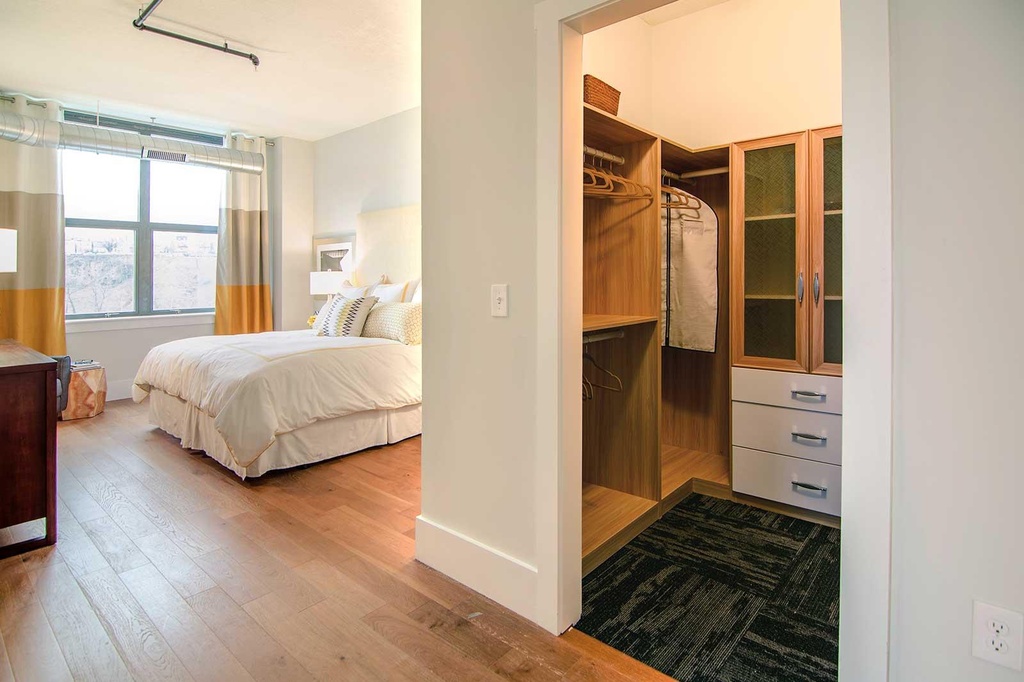 Brick Underground articles occasionally include the expertise of, or information about, advertising partners when relevant to the story. We will never promote an advertiser's product without making the relationship clear to our readers.