Due Diligence
Megpies owners Meghan and Paul talk Park Slope charm, living in their fourth-floor walkup, and the subway as a great equalizer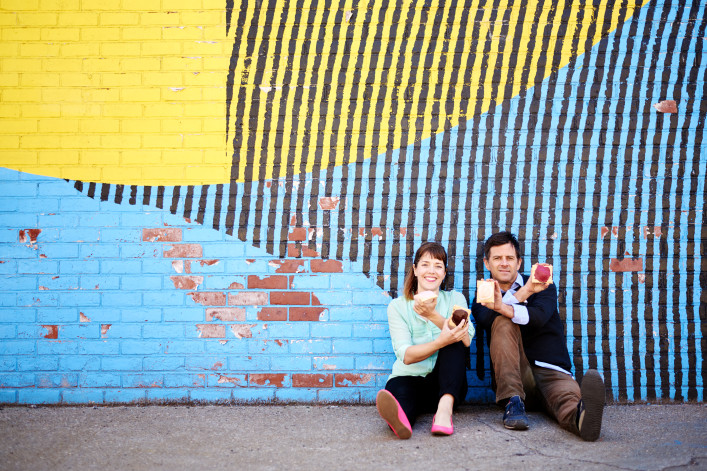 You may have noticed pastries that look like more artisanal-style Pop Tarts being sold near the cash register the last time you were at Starbucks. Those pastries, called Megpies, were originally created by Meghan Ritchie and were dreamed up on her Park Slope stoop. 
In 2007, Ritchie began selling homemade doughnuts to her neighbors as they headed toward the subway during their morning commutes. By 2011, she'd introduced artisanal tarts with buttery crusts and all-natural jams and fillings. After debuting at Smorgasburg in 2012, she named them Megpies. Now, she and her life and business partner, Paul Jones, sell the treats to coffee shops and specialty stores across Brooklyn and Manhattan, including Whole Foods and Starbucks.
We talked to Ritchie and Jones about their neighborhood, their roof deck, and the fact that they need to work very hard to live here.
1. What neighborhood do you live in? 
Meghan: Park Slope
2. Is this your dream neighborhood or is there someplace else in NYC you'd prefer to settle in? 
M: I've lived in the same apartment for the last 12 years after living in Manhattan, Queens, and Brooklyn Heights. I loved everywhere I lived for different reasons, but this is where I feel at home. I love being close to the park and I know a lot of my neighbors, which is rare and wonderful in NYC.
Paul:  I think my idea of the "dream neighborhood" in NYC is ever evolving.  It was certainly different in 1995 than it is today. I suppose I still continue to seek those neighborhoods that aren't fully gentrified or at least have a somewhat varied socio-economic demographic. I'm drawn to flavor.
3. Do you own or rent? 
M: Rent.
4. How'd you find it? 
M: I house-sat for someone in this neighborhood and fell in love with it. I searched for apartments through Craigslist but couldn't find a good spot. Eventually I went with a broker and it made the process much easier. The added bonus of going with a broker was feeling like a real adult at the time (I was so young!).
5. What's the one thing you love the most about it?
M: We have a roof garden and it is so pleasant to be up there in the spring, summer, and fall. It expands our living space exponentially and allows us to grill outdoors and garden. We also are lucky enough to have a killer view of Manhattan, which is a pretty nice feature.  
P:  There's probably nothing I enjoy more in the summer than gathering a few friends and spending an evening on the roof grilling and chilling.
6. If there's one thing you could change about your apartment, what would it be? 
M: We'd own it!
P:  The toilet. The handle is constantly broken.  "Jiggling the handle" is as common a chore as washing the dishes.
7. In three words, describe the first apartment you've ever lived in. 
M: Tiny, eye-opening, great location.
P:  Cramped, utilitarian, grey.
8. Do you dream of old New York or prefer the current version?
M: I've lived in NYC for 17 years and experienced a few incarnations of the city, but I never experienced "Old New York". The city is always growing and changing and I find myself adapting and changing with it. I still love it, but it does become less and less easy to live here if you don't have a high income. We work a lot to be able to stay where we are and I sometimes think of moving elsewhere just so we can breathe a bit easier. Then I think about everything I would miss. It's a classic dilemma!
P:  I honestly think for me personally, the idea of "Old New York" is too closely associated with nostalgia, which I try to avoid. Pining for the past always gets me in trouble. I was in my mid 20s when I moved here and living in Alphabet City in 1995 was exciting, slightly dangerous, and still teeming with artists. I was thrilled to be here and felt like I was a part of something that was unique. There was a lot happening. Most of my neighbors were either young and broke or older lifers in the hood in rent-controlled apartments. The building next to mine was a squat. But in reality I was 26 with a pretty high threshold for discomfort. I'm not certain it would hold the same charm for me at my current stage in life.
9. Tell us about the favorite apartment you've ever had.
M: This is by far my favorite apartment, which is why I've tried to hold on to it for so long! It's a fourth-floor walk up so there's built in exercise! But one of my favorite rooms is the bathroom because it gets early morning sunlight and plants grow well in the window. It's a jungle in that one corner of the apartment.
P:  The first time I lived alone in NYC was in 1997 in a small one-bedroom on East 10th Street and Avenue A. It was pretty great. I was finally making a little money and had this place that was my own. The location was ideal and the neighborhood was hopping. I lived around the corner from Brownies and would see shows all the time. The apartment itself was somewhat newly renovated and I was paying the market rate, which was rapidly increasing in that neighborhood. But I also had neighbors who had been in the building since the 60s. I used to enjoy talking to the guy in the apartment next to mine about the way things "used to be" in the neighborhood. I think he was paying $450/month.
10. And the worst? 
M: I lived in an apartment in Jackson Heights, which was a wonderful neighborhood and the apartment was awesome except for a tenacious cockroach issue. They were the tiny kind that never cease and live in all the drains. I just couldn't.
P:  I had to move out of my ex-girlfriend's apartment after 9/11 when we were breaking up. I was out of a job and scrambling to find any kind of work. I took a room in a shared apartment in Prospect Heights on a not-so-safe street. The place was kind of a dump and the woman I lived with never left the apartment. I couldn't get out of there fast enough.
11. Name one NYC service you couldn't live without.
M: The subway. I think I'd go mad if I had to deal with traffic every day. Being able to get anywhere at any time is the great equalizer. The subway is what allows all of the people who truly run this city: nurses, waiters, service industry workers etc. get to and from work in the early morning and late hours of the night.
P:  Definitely the subway. I'm probably not alone on that. The reaction to the proposed L Train shutdown is proof enough.
12. What's your favorite spot in the city?
M: I have different favorite spots for different stages of my time in the city. Right now I am spending a lot of time in Washington Square Park and I am loving all of the musicians and artists and performances that go on every day. When we had a kitchen in the Lower East Side, I fell in love with Avenue C and early morning bike rides along the East River. There's an abundance of hidden gem spots in the city and I'm convinced one could never run out of new ones to discover.
P:  The middle of the Manhattan Bridge. The view of the harbor to the south and the skyline to the north never fails to remind me how majestic this city is.
13. Which would you rather: Brooklyn brownstone or a penthouse in a shiny, new condo?
M: Brooklyn Brownstone.
P: Brooklyn Brownstone.
14. If you could live elsewhere, where would it be? 
M: We discuss this regularly. I am from the Pacific Northwest and I have a big soft spot for the Puget Sound but we also talk about living somewhere with lots of land. I think I could be happy anywhere, but I'd prefer to be somewhere I could get to the ocean and the mountains within a few hours.
P:  Maybe Tuscany, the Italian countryside. I love good food and wine and the old traditions mixed in the with new.
15. Any advice for a recent New York transplant?
M: Bike, walk and explore the city as much as you can!
P: Thrive on the energy of the city. If you fight it, you'll lose.
Brick Underground articles occasionally include the expertise of, or information about, advertising partners when relevant to the story. We will never promote an advertiser's product without making the relationship clear to our readers.