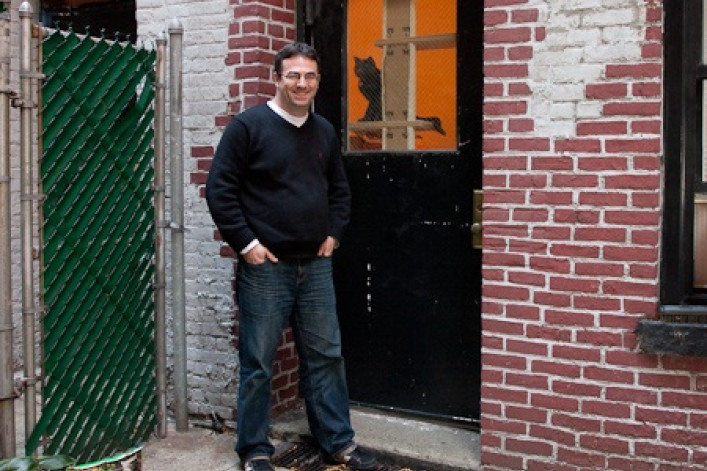 NY1 general assignment reporter Roger Clark and all around nice guy was born in the Bronx and raised in Queens. Known for his fearless, fun and endearing approach to reporting, he has, according to his bio, "surfed at Rockaway Beach, climbed rock walls, learned the trapeze, figure skated, kayaked the Hudson, canoed the Gowanus Canal and eaten prawn at seven in the morning." We set out to see if he was just as intrepid when it comes to apartments.
What area of NYC do you live in now and what type of apartment do you have? Why did you pick it?
I currently live in a ground-floor rental studio apartment in Yorkville. I moved into the apartment with my girlfriend Jenny back in January and someday we hope to buy. We liked the big kitchen, new appliances, closet space, and the built-in bookcase, but its best feature is the backyard--so rare in Manhattan. We have planted a small garden back there, hosted a few parties and had meals outside when it was warm. It is really what sold us on the place.  We don't have much of a view, but the backyard makes up for that. Our cat Beatrice loves it back there as well.
Are you a pre-war or post-war person in terms of living space?
Right now my current building is pre-war and we love it, but I wouldn't mind living in a newer construction building with more amenities. The post-war buildings with gyms, laundry, and rooftop spaces sound quite inviting.
What is the one thing you'd like to change most about your current place?
I wish it had a laundry room on the premises.
Do you know your neighbors? What are they like?
Honestly, we don't really know our neighbors. From what I see they seem like a mix of ages and there are not many families here; they seem to live in other buildings in the neighborhood.
As a Queens native and Manhattan high school attendee, how difficult was it for you to find your own first NYC apartment? Did you use a broker?
My first NYC apartment was on Staten Island because when I started in 2001 at NY1, I was the Staten Island reporter and had to live there. It was fine with me because my dad and other family members live there. I found my one bedroom--in a mother-and-daughter house in a very suburban neighborhood--in the local newspaper. I had a car at the time and needed it to go shopping, do laundry, etc.

I have also lived in Astoria, Queens, on the second floor of walk-up building. There was lots of storage space, but my view was of a graveyard. It was a little remote. I do miss certain aspects of Astoria; it was quieter and there were great places to eat--bakeries and cafes that reminded me of my old neighborhood growing up in Forest Hills, Queens.

My least favorite place was on East 58th Street between First and Second. It was noisy and the neighborhood was very hectic because it was so close to the 59th Street Bridge and Midtown. I really do prefer Yorkville since moving here.
You've also lived all over the state of New York—Newburgh, Oneonta, Poughkeepsie. What was that like?
Living upstate was in some ways very similar to residing in NYC, though I had more amenities. One apartment I had in Wappingers Falls, New York, near Poughkeepsie, had laundry across the street, and a free gym within walking distance. It was a nice clean new construction, but I had problems with bugs—ants and even bees—because I was living near a pond. Also I had to have a car because it was far from everything. Also, the week I moved in, the owner of the complex's body was fished out of the pond. He had been murdered; I don't think the crime was ever solved!
What's your favorite neighborhood and why? What is your favorite delivery place and what do you order?
I really like Yorkville because it has a real neighborhood feel like Queens. I go to a local tavern called Reif's and love hearing the old stories about the neighborhood from the regulars. However, I still love my old neighborhood of Forest Hills, Queens. It still seems like a great place to live. I go back and visit to get knishes at the Knish Nosh on Queens Boulevard and 67th Road. I also love Nick's Pizza on Ascan Avenue (where I usually get a large pie with meatballs and sausage) and the 5 Burro Cafe for Mexican food. We tried a bunch of pizza joints here in Yorkville and couldn't find one we liked and finally realized there was a Nick's up here too, so we have been saved from bad pizza, though my favorite pizza remains Joe and Pat's on Victory.
You were in a band and love live music. What's the best neighborhood to discover your new favorite band?
Probably the best places to check out bands are in the East Village, the Lower East Side and the Williamsburg and Greenpoint areas. I like Cake Shop on Ludlow Street, Knitting Factory in Williamsburg and the Bell House in Gowanus. I haven't been in a band for awhile, but I would love to play at any of those places if I had one. Parkside Lounge on Houston Street also has a backroom where I see variety shows such as one by my good friend "Magic Brian" who does comedy and magic. He has a number of very talented colleagues and they always put on a good show. They don't have live bands anymore, but for a great jukebox, I love going to Manitoba's in the East Village because it has a great mix of punk rock and sixties, which are my two favorite types of music.
What's your favorite neighborhood to report from and which has the friendliest locals?
As far as the neighborhood to report from I enjoy most, it has to be my old hood in Forest Hills. However there are great people in every neighborhood. I like the variety of visiting different ones every day and having the opportunity to meet so many different people.
It seems lately this city is overrun with bedbugs. How scared of them are you? Do you take any special precautions while traveling? Do you know anyone who had them?
I have met a few people with bed bugs and obviously would like to avoid the experience. I hate bugs in general. We had roaches in my apartment growing up in Queens so now I always ask about that before moving into a place. I made my landlord plug up some holes in the wall because I found mouse droppings in my Staten Island apartment. I haven't traveled too much since this outbreak, but I admit to checking the hotel bed the times we have been out of town recently.
How does your job impact your view on real estate?
I think my travels around the city have opened my eyes to places I would like to live, but aside from that my reporting has never really affected my living situation. No matter who you are, the rent has to be on time. I have had good supers who fix things and take care of the property, and also some bad landlords who don't care; even being on television didn't help me get something fixed. For instance, I didn't have a window screen at my 58th street apartment for two years despite asking for one repeatedly.
Do you have apartment envy?
I have had apartment envy. I love the brownstones in Brooklyn Heights, and the townhouses in the West Village. My doctor had her practice in her home on West 4th Street in the West Village, and I was extremely jealous.
What's your dream home?
I think my dream place would be a brownstone with lots of space on a quiet street in Yorkville. Some of the side streets near Gracie Mansion look magnificent. There is also a little part of me that would love a spacious place with a doorman on Park Avenue. I sometimes walk on Park Avenue or Fifth Avenue and think how cool it would be to live there. But where I am now, there is everything I need at my fingertips and on Park or Fifth it seems a bit different; stores and restaurants are a little further away. We have a diner right next door to us and The Vinegar Factory across the street if we want any fancy food.

Which is more important: space or location?
I tend to think location is more important. Even though we are a little cramped, the neighborhood makes up for it.
Which neighborhood do you think will be crowned as the "most livable" in ten years?
In ten years, I believe Long Island City will have continued to grow, though I wonder how the 7 train will handle all the extra people.
Brick Underground articles occasionally include the expertise of, or information about, advertising partners when relevant to the story. We will never promote an advertiser's product without making the relationship clear to our readers.