Live
A therapist—who has a personal connection to the Chelsea explosion—offers advice to fellow New Yorkers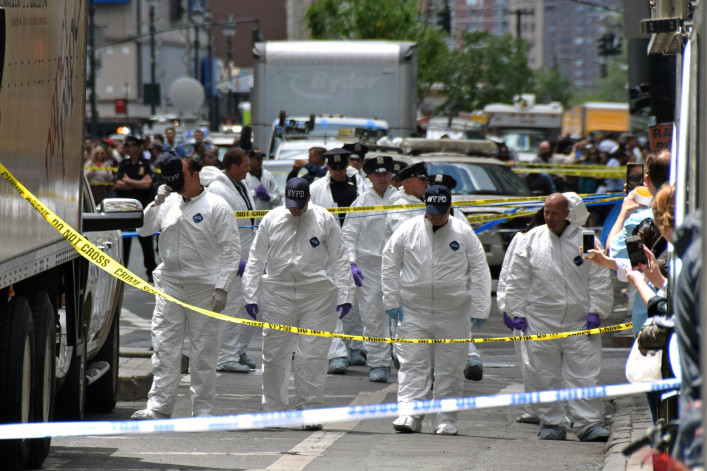 Dr. Lynn Saladino,  a health and wellness consultant at Mirador Real Estate, was in her building at 23rd and Sixth Avenue when the bomb went off last Saturday night. She heard a loud explosion and felt vibrations from it; her building was temporarily put on lockdown. Luckily, she was unharmed. 
Amazingly, it's not Saladino's first experience like this. The front of her former building in Boston was blown off during the Boston Marathon bombing in 2013. Saladino, who is a therapist, spoke to Brick Underground about how to handle the aftermath of a trauma like the ones she herself has gone through. She offers these five pieces of advice to fellow New Yorkers.
1. Allow yourself time to process it.
"It's interesting because, for a lot of people who weren't in the neighborhood, they act like nothing happened. And the truth is that with any kind of trauma—whether you were near it or not—it's important to allow yourself the time to process it," she says. "I think it's about monitoring what's going on for yourself. Don't push it down if you're upset about it. You need to process through those feelings. A lot of it is self-monitoring, and being okay with the fact that's you're upset."
2. Talk about it.
"It's important for people to talk to each other about these things," says Saladino. Talking to others can lessen the feeling that you're holding on to something huge on your own. "Sometimes talking to friends and family can help. But sometimes it's important to seek help form a therapist," she says.
3. Be prepared.
"Because of my experience in Boston, I had a plan with my sister [who lives in the same building] in case something like this ever happened again; we knew where we'd go and how we'd handle another situation like that. Knowing that we have a plan helps calm nerves just a little bit."
4. Avoid uncomfortable situatons—to a point, but also know how to deal with them.
If, for the near future, you feel better avoiding crowded spaces, and you can do so without disrupting your life, that can be okay, says Saladino. "I always say you don't necesarily need to be on the battlefield," she explains. But if you have to be in a crowded space (say, Times Square at rush hour or on a crowded train), try to locate exits, which can help you feel prepared for a worst case scenario. Also, certain breathing techniques can help. "A lot of times, people have a physiological reaction, and breathing exercises are great for that," she says.
5. Give it time.
Time usually helps. "You need to regain trust that this won't happen all the time. Trauma tends to change what we can expect from ourselves, other people, and the world. But we incorporate  those experiences into our lives and our reality and move on," she says.
Brick Underground articles occasionally include the expertise of, or information about, advertising partners when relevant to the story. We will never promote an advertiser's product without making the relationship clear to our readers.