Troubleshooting
The basement in our rental floods often and I'd like to test the air quality. What's the best way to do this?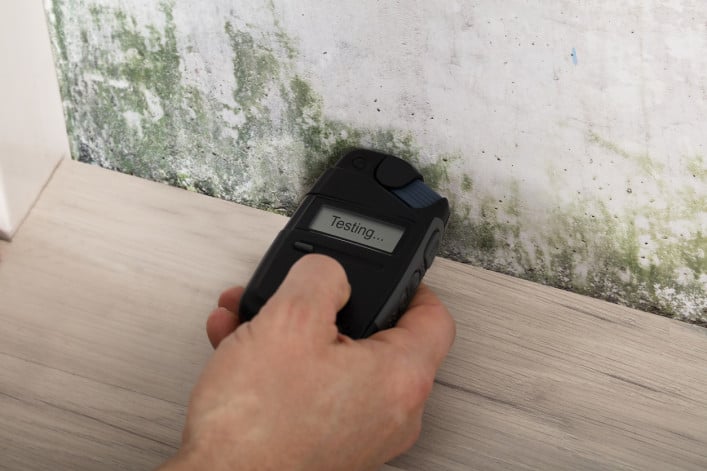 The basement of the place we are renting has flooded several times and I'm concerned about mold. What's the best way to test the air quality?
If you suspect a leak or water damage has affected the air quality in your rental, your first step would be to speak to the landlord, management company, or super. Water damage that's left untreated can create mold, and like dust, asbestos and lead paint, when it is disturbed and gets airborne—it can negatively affect your health.
Under Local Law 55, owners with three or more apartments are required to keep units free of pests and mold, so if there's been water damage in the past, it is their responsibility to remediate.
Tell-tale signs of a moisture problem include a musty or strange smell, water stains, discolored walls, or peeling paint. If there's been a flood that hasn't been professionally dealt with it's very likely you will have air quality problems, says Ralph Hassard, a home inspector with Criterion Home Inspection. 
"If you don't get rid of the moisture problem, you are never going to get rid of the air quality problem," he says. However, air quality tests can get very expensive and cost you several thousand dollars, depending on the number of samples taken. This is not something you would typically do as a tenant. 
If you don't see or smell mold but are still worried, a cheaper alternative to an air quality test is to buy a moisture meter or relative humidity meter. These are typically under $50 and you can buy them online. This will give you an indication of where the problem might be and, if you're renting, will provide information you can give to your landlord. 
The cost of professional air quality tests
Industrial hygienists or mold assessors typically charge an initial survey fee and then you have to pay for each air sample they take. In order to make an accurate assessment of an apartment or building's air quality you need multiple samples. For example, samples from the common spaces will provide a baseline for moisture content, which can then be compared to the tests taken within the apartment. Each sample is then sent to a lab for analysis. 
The more samples taken, the more money it costs, so when you are hiring a mold assessor, it's important to ask how many samples will be needed for your project and what the charge is for each sample. Philip Maltaghati, is a public insurance adjuster with United Public Adjusters and Appraisers, a company that helps owners deal with complex insurance claims. "You could easily spend thousands and thousands of dollars," he says.
"It will be a few thousand dollars just to get started," Hassard agrees. 
Questions to ask a mold assessor
Maltaghati recommends asking the mold assessor lots of questions up front, such as: What does the survey cost? What is the cost charged per sample? How many samples will my project need? Is the cost of the report included in the price? Will you be able to identify the source of any leak?
Your best bet is to find a mold assessor who is licensed to operate in New York.
Finding the source of a leak
Maltaghati says most air quality reports will comment on the source of the water and this is important because if there's an issue you want to know how to start addressing it. Obviously, if the water damage is related to fire, the repairs will involve more than just mold remediation. Sometimes, however, the water damage is difficult to determine, especially if it is behind a wall or under the floorboards. 
As an example, Maltaghati says in his own condo, which he rents out, he identified a smell in the bedroom when he went in to check on the place in between tenants. There was no visible sign of water damage and the only water source in the bedroom was the PTAC heating and air conditioning unit.
When he started investigating he found the PTAC tray was clogged with hair, preventing condensation from escaping. Water had traveled beneath the floorboards around two walls of the room and he had to cut out two feet of mold, remove all the affected material, and replace sheet rock, insulation and flooring as part of the remediation. He then did an air quality test to confirm the mold had been removed. 
Cheaper alternatives for air quality tests
Digital moisture meters can be a good—and cheaper—option if you're trying to figure out if there's an issue. You can buy them easily online and can take readings around a room. For example, if the moisture level is 55 percent on the wall you have concerns about and 15 percent on a wall you believe is dry, that's a clue you might want to get an inspection.
"If you have a moisture problem, then you are definitely going to have an air quality problem, so you have to deal with the moisture problem," Hassard says. On the other hand, he says: "If you don't have a moisture problem, chances are you don't have an air quality problem."
Another test you can do easily is with a relative humidity meter. 
Maltaghati says he's working for a client who owns a hotel where a sprinkler went off in one room and because of shared duct work, the water damage spread to adjacent rooms. "That exhaust system is on the roof. It's sucking up the air which has high moisture in it. It is then escaping into other adjacent rooms with the common exhaust system," he explains.
Brick Underground articles occasionally include the expertise of, or information about, advertising partners when relevant to the story. We will never promote an advertiser's product without making the relationship clear to our readers.