Live
Six degrees of celebrity connections: Does a minor association with fame help an NYC apartment listing?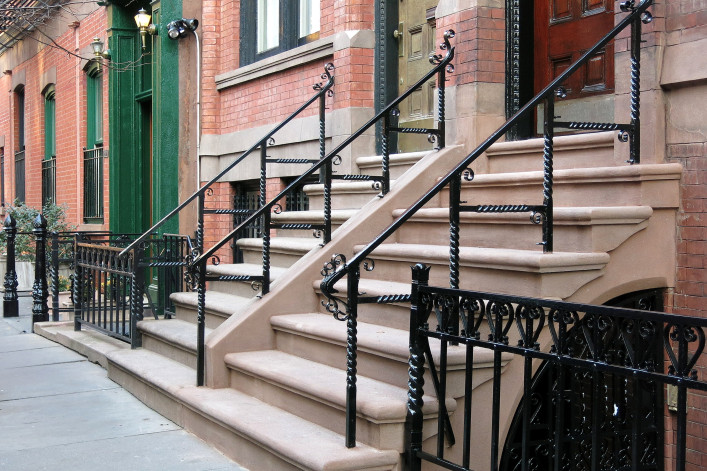 It's not only rough out there for apartment-seeking New Yorkers: When it comes to attracting the attention of potential buyers and renters, brokers face fierce competition, too. According to the Huffington Post, NYC is home to a whopping 27,000 brokers, and in order to distinguish themselves in such a crowded playing field, they sometimes have resort to creative tactics.
One way to make a listing stand out? Name-dropping. But while it makes sense that apartment-hunters would be intrigued by the idea of living somewhere like this West Village townhouse, where Taylor Swift is renting until the renovations on her Tribeca penthouse are complete, would they be as interested in buying the loft of one of her friends?
A recent listing for a one-bedroom Greenwich Village co-op notes that it's the home of Swift's vocal coach, which suggests that the pop star has, at some point, belted out a few songs within its four walls. (The fact that the apartment includes a soundproof recording studio might be a bigger potential draw.)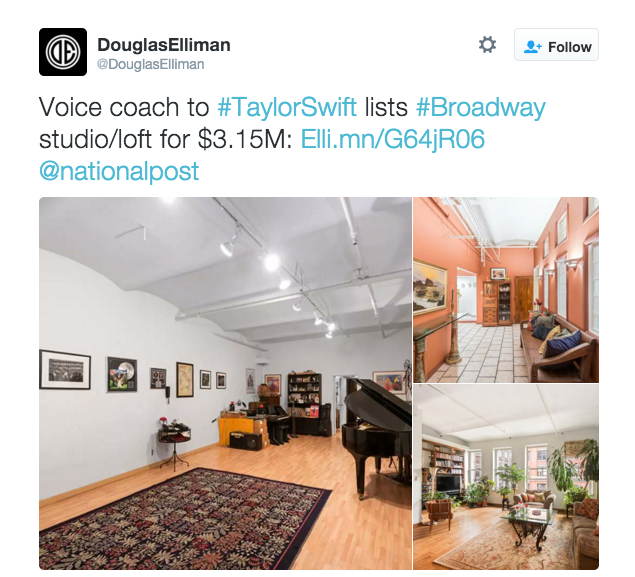 Other brokers, too, seem to be banking on tangential celebrity connections to give their listings an edge. A press release announcing that this four-bedroom Park Avenue co-op was on the market mentioned that it was owned by Martin Bregman, a film producer whose credits include Scarface. 
And another promotion—for this three-bedroom SoHo penthouse—touted the fact that Heidi Klum used the apartment as the setting for her annual Halloween party.
Barbara Fox, founder of Fox Residential, questions how much a second- or third-degree link to a luminary impacts a sale. "I think that's pushing the envelope, to tell you the truth," she says. "If it belongs to a famous celebrity and they're okay with using their name, that could be a plus for the listing, but it's pushing it when it's far removed."
Dalila Bella, a broker with Citi Habitats, has represented apartments previously owned by the famous, including a former home of the director of Spiderman, and the two-bedroom Morningside Heights rental where Barack Obama lived when he was a student at Columbia University.
In both cases, the apartments' open houses drew plenty of visitors eager for a little brush with fame. Obama's student digs were especially of interest, as he was already in the White House and people were curious to see a past residence of their president.
"They were inspired by it," Bella says. "I've never seen so many people interested in an apartment."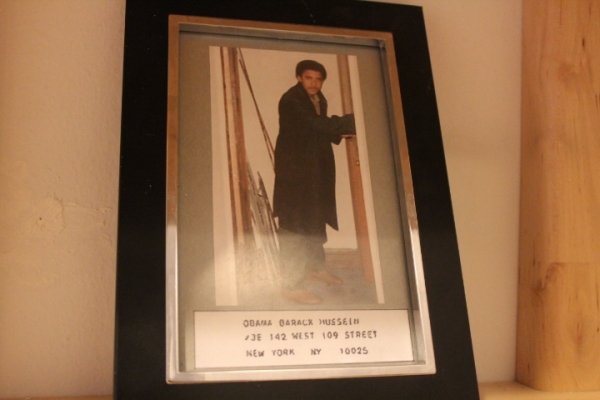 An old StreetEasy listing for the apartment reveals that its connection to Obama was featured prominently; among the images of the space itself is a photo of the president as a young man. The New York Times wrote about the rental when Bella represented it in 2010, but interestingly, when the unit went on the market again in 2014, its price actually went down a bit, from $2,500 to $2,300 per month.  
Perhaps a celebrity back story can only take brokers so far. Fox, for instance, recalls selling a Central Park West apartment that had formerly belonged to Barbra Streisand, and says that the eventual buyers couldn't have cared less about the property's celebrity bona fides.
"I think it's more appealing to brokers than it is to anybody else," Fox says. "They can make the apartment stand out if they can drop the name."
So while a famous name might get the curious through the door, apartment-seekers still have the same priorities for their future home that they always do: a good location, a decent size, and increasingly, a suite of upscale amenities. There may be some instances, though, in which a celebrity association can raise the value of a home—Market Watch reports, for example, that since the election, the estimated worth of Donald Trump's childhood home has soared. 
"I don't think anyone's going to buy an apartment just because someone famous lived there," Bella says. "It will get them through the door and into the open house, but beyond that, a celebrity owner is just a dinner conversation."
And as the link to a famous former resident grows increasingly tenuous, the less likely it is to move an apartment off the market. "I don't think it holds water at all," Fox says. "It gives a broker the opportunity to drop a famous name, but it doesn't have any validity."
Brick Underground articles occasionally include the expertise of, or information about, advertising partners when relevant to the story. We will never promote an advertiser's product without making the relationship clear to our readers.