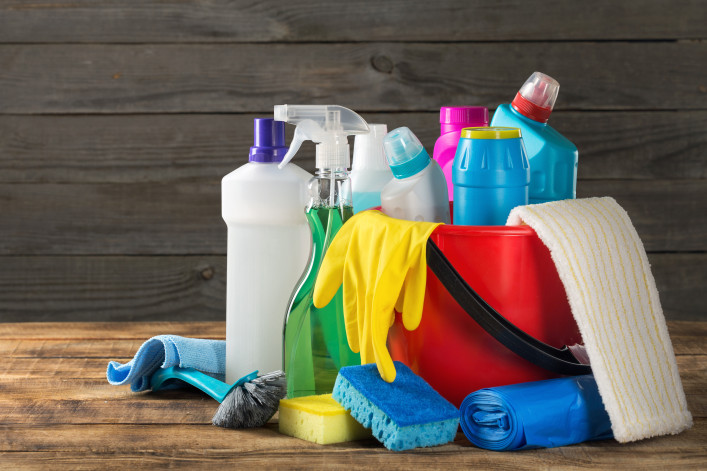 Amazon has become something of a hydra, having expanded from its humble beginnings in the book business to become a commerce beast, with its founder, Jeff Bezos, briefly outranking Bill Gates last week as the world's richest man. Now, the retail giant can not only send you practically any object you desire, but it can also provide most in-home services you might need, without your having to step outside your front door or (heaven forbid) speak to anyone on the phone. (Amazon began rolling out its home services marketplace in 15 cities in 2015, writes Consumerist, and today is available across the country.)
One of its newer offerings is home cleaning, which in NYC is certainly a crowded field; see our previous round-up of options for New Yorkers. We decided to test-drive Amazon's house-tidying service and see if the mega-company is as efficient in this department as it is in (somewhat disconcertingly) so many others. 
How it works
I started by heading to Amazon's house cleaning page, where I entered my Queens zip code--the service is available throughout NYC--and the size of my apartment (three bedrooms, one-and-a-half baths—though there's no half-bath option in the menu, so I just put one.) I also got to choose which types of cleaning products I'd prefer; I chose "standard" rather than "eco-friendly" or "customer provided," though this didn't exactly pan out as I expected. (More on that later.) 
I only wanted to have the common areas—the living room, dining room, kitchen, hallway, and bathroom—cleaned, rather than any of the bedrooms, as my roommates and I prefer to handle that ourselves, though there was nowhere to specify this on the form. Surprisingly, given the size of my apartment, Amazon estimated the cleaning would take only two hours, at a cost of $91.39. (I wasn't charged until after the cleaning was completed.) I was then able to select a date—the soonest was for about a week out—and a two-hour window for arrival times. 
Soon after reserving my date and time, Amazon emailed me with specifics. A bit frustratingly, I was given a three-hour window for the house cleaner to arrive—any time between 12 and 3 pm—which put a bit of a damper on my plans for that day. (Amazon requires that you be in the apartment the whole time the cleaner is working there.) 
For its house cleaning, Amazon subcontracts to third-party providers; in my case, I was matched with a company called Cleaning Master. Upon checking their site to see what they would charge for a two-hour cleaning if I went to them directly, I was given an estimate of $59, much lower than Amazon's $91. I was saved the trouble of finding (and vetting) a cleaning company myself, but I'm not sure that's worth an extra $32.
It certainly seems like a flaw in Amazon's business model, as customers could just cancel their appointment and go directly to the provider, especially since there's no cancellation fee. 
The cleaning
Fortunately, I didn't end up having to wait around for long on the day of my appointment: A woman named Anna arrived to clean shortly after 12 pm. One small hiccup was that she didn't bring cleaning products with her, which I'd expected since I didn't choose the "customer provided" option when I booked. Fortunately, I had plenty of supplies already. 
Anna was quick but definitely thorough, dusting, sweeping and mopping the hardwood floors, and vacuuming throughout the common areas—which was very much needed, thanks to one prolifically shedding resident cat. She scrubbed our kitchen counters, sink, and range, and even cleaned out our appliances and drying board. She also made nearly everything in the bathroom, from the counters to the toilet to the tub to the vanity, pristine, save for the wall tiles in our shower, which still look a bit mildewed—though the fine print on Amazon's booking page only mentions "vanity, tub, and toilet cleaning" for bathrooms, so everything was as advertised. 
Best of all, this was all finished in two hours, and ended up costing the $91 I was quoted, not including tip, which I paid in cash (there's no option to do so online.) My roommates and I were all satisfied with how our place looked (and smelled), and happy to be spared a lengthy deep cleaning session ourselves. But Amazon's price is a bit steeper than other NYC services like Handy, which offers an estimate for cleaning a three-bedroom at about $30 an hour, and definitely more expensive than it would have been if I'd just booked with Cleaning Master directly. 
Bottom line 
This was my first time having my home professionally cleaned, and I felt that the time and effort saved on a monthly deep scrubbing was well worth it—but next time, I plan to book directly with the company, rather than use Amazon as a pricey middle man. 
Brick Underground articles occasionally include the expertise of, or information about, advertising partners when relevant to the story. We will never promote an advertiser's product without making the relationship clear to our readers.