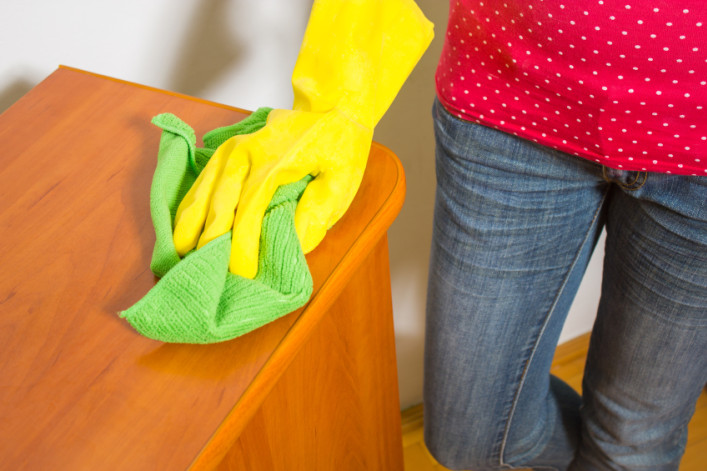 Yesterday, we published a room-by-room guide for spring cleaning your apartment top to bottom, but if that seems too daunting—or if you'd rather just throw money at the problem—there are countless services for hire that'll happily come in and do your dirty work. However, if you've never turned to a cleaning service before, the process can be fraught with etiquette issues. With that in mind, we asked the pros for their perspective to make sure the whole process goes smoothly for everyone involved:
Should I tip my house cleaner, and how much?
Opinions on this vary, but if you are going to tip, the standard range of 10 to 20 percent is appropriate, says Kadi Dulude of Wizard Homes NYC. "Professional companies don't usually require or expect gratuity," notes Gary Hu of Synergy Maids, who adds that it's more common practice if you're hiring an individual cleaner. "Keep in mind that it's always your decision," he says.
Should I pre-clean or do any prep work before your house cleaner arrives? 
There's a reason the phrase "cleaning up for the maid" exists: Depending on what kind of cleaning you want done (and how much time you're willing to pay for), it can be helpful to clear up clutter ahead of time so a cleaning service can focus on a thorough sweep. "Try to corral that first layer of clutter, otherwise it will take your cleaners twice as long," says Brooke Stone, CEO of personal assistant concierge service GYST. "Any time spent picking up is time not spent cleaning."
So if you only have a half hour before your service shows up? "Pick up clothes and toys," advises Dulude. "Figure out which newspapers and magazines you need to keep and put the rest in recycling. Put away fragile things and irreplaceable heirlooms. If you can't put them away, point them out to your cleaner so they know to be extra careful around them."
Still, don't worry that anyone's side-eyeing your mess. "We honestly don't judge you if your home is dirty," says Dulude. "Chances are, we have seen worse (dead pigeons under the bed, anyone?)."
What should I look for in a cleaning service?
Naturally, you're going to want a trustworthy company with a proven track record. And while online reviews are a solid place to start if you want a sense of the company's history, this is one industry where word of mouth is still king. "Turn to your friends on social media," Dulude recommends. "Ask them about specific companies or to refer you to their favorite."
And if your home might have special requirements, be sure to read the fine print. "Our clients tend to look for someone who knows how to clean properly," says Stone. "For instance, knowing which chemicals can't be used on prewar fixtures, brick, or luxury finishes."
Can I be home while someone cleans my apartment? What about my pets?
This varies from company to company, so again, read the fine print before you book. "Some services require clients to be there the entire time, some not," says Dulude. "Wizard of Homes encourages people to stay out of the apartment for as long as possible" in order to minimize distractions and ensure a more thorough clean. 
As for your four-legged friends, "make sure the service is aware of any pets," says Hu. "Some cleaners might have allergies." Chances are, most cleaning services have plenty of staff on hand who have no problem with pets (provided they're well behaved). Dulude adds: "If your pet is friendly then we have no problem."
Are there any tools or information I have to provide to a house cleaner?
"If you prefer to use your own cleaning products, leave them out so the cleaners can use them," says Hu. And if you're not so picky, just check with the company ahead of time about what they do and don't provide—chance are, they'll do most of the heavy lifting.
"We bring everything except a vacuum cleaner and paper towels," says Dulude. "We use a Swiffer mop with a wet rag/cloth to wash floors, but always prefer to use an actual mop if you provide it. We can also bring a vacuum cleaner or any other special equipment if requested ahead of time."
Hu also recommends providing a step stool to help cleaners get to hard-to-reach areas, and give them a heads-up about appliances and fixtures that are in disrepair. "Let the cleaners know of anything that's broken. For example, if a sink doesn't work, let [your cleaner] know so we don't have to worry that we broke it!"
Any other common misunderstandings or mishaps that people have when hiring a cleaning service for the first time?
As with most things in life, the key here is really to manage expectations. Be clear about exactly how big—and exactly how dirty—your apartment is, so you can book the appropriate type of service and amount of time. "If you have not cleaned a single thing in six months or years or maybe you have a ton of clutter everywhere, please let us know," says Dulude.
Also, double check your service agreement for all the details mentioned above, and also to know exactly what's included in your flat rate. ​
Related: 
Your room-by-room guide to the ultimate spring cleaning regimen
A chart to schedule chores (so you might actually do them)
Professional organizer Lisa Zaslow shares the secrets to staying clutter-free
8 winter items you can evict from your apartment—so you can get ready for spring (sponsored)
A doorman speaks: the cleaning lady routine
Brick Underground articles occasionally include the expertise of, or information about, advertising partners when relevant to the story. We will never promote an advertiser's product without making the relationship clear to our readers.