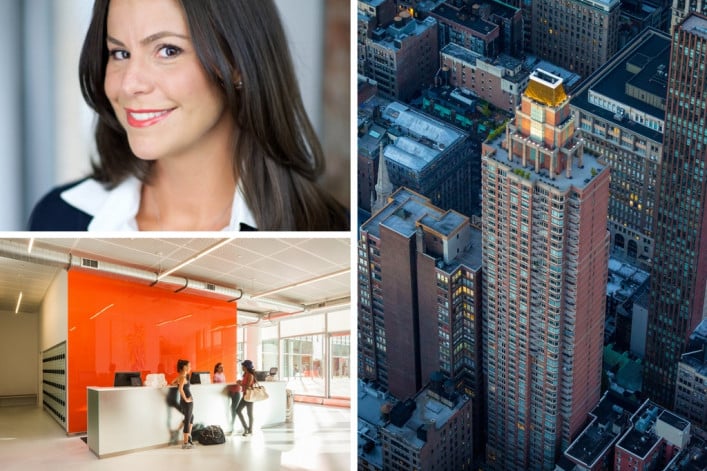 In our "day in the life" series running this week, we check in with the men and women who keep New York City's rentals, co-ops, and condos safe, clean, and secure, and who ought to be on most everyone's tipping list. Yesterday, we chronicled the day-to-day of a Manhattan doorman, and today, we're checking in with Caitlin Porpora, the concierge at Instrata Lifestyle Residences, a group of five different luxury rental buildings located in Brooklyn and Manhattan.
No two days are the same
What I do on a daily basis completely differs, particularly because every week I'm based in a different one of our buildings, since I want to make sure I'm on site and available to the residents. So sometimes I'll be at one of our Brooklyn locations only seeing nannies and kids all day, and arranging things like a storytelling hour. And then the other week I was at the NoMad building, and had a resident with a newborn baby who couldn't get a sitter, and asked me to pop over to the Diane Von Furstenberg sample sale to see if there was anything she'd want to sell in her online consignment shop.
I also organize events with businesses in the nearby neighborhood that I think would resonate with the residents of each building, and it varies. The Brooklyn buildings are more family-oriented, whereas Manhattan skews toward young professionals. For instance, at the NoMad location, I recently did a fitness [event] where residents got classes and promotions from Flywheel.
If someone's having an emergency and it's the weekend, I can't help it, I'll answer the phone. You develop relationships with residents and know their families. It's a full-time job, but it keeps you on your toes, it's fun.
There's no such thing as an "impossible" request—or a tipping requirement
The bulk of our requests are for restaurant reservations, we get at least 50 a day. We also do hotel-style concierge services, such as arranging theater tickets, or setting up residents with a dog walker or cleaning services. I do receive quite a large number of Hamilton requests and can always find a way to get the resident the tickets they want, but they most likely won't come cheap! The role of the concierge is always to offer access, but not necessarily discounts.
I also get unusual requests every single day. Probably the most bizarre one was a young woman who seemed lonely, and liked having staff in her apartment. And she requested [we] have people come into her apartment and fill up bean bags with the little white styrofoam balls. I don't know why she didn't want to purchase bean bags pre-filled.
We also had a very wealthy resident who ran his own business, and at the last minute, needed me to charter a private jet to get him and some friends to Miami, set up courtside Miami Heat tickets, book restaurant and hotel reservations, and arrange for them to be back the next day. And another resident called me last week—he'd decided to go to Bologna with his frequent flier miles, and needed a whole travel itinerary put together.
Everyone has always been very friendly about it, I've never had a resident be angry or upset, or who wanted something ridiculous in a way that's made me nervous. It's all been positive. And we try to stress that the sky is the limit—if people want something done, unless it's illegal, we're going to get it done.
As for how residents tip a concierge, it depends on the building's demographics, what types of task the concierge is doing, and the extent of their relationship with residents. However, tipping isn't something that should be encouraged.
On playing matchmaker
People are very comfortable being asked to be set up. I've actually set residents up, but since we have five buildings to choose from, I make sure they're not in the same building, in case things don't go well. 
I actually have a young woman coming to my office soon to meet one of the residents in another building. He's working out, she's here for a meeting about an unrelated request, so there's no pressure. I have a huge window in my office, and if they like what they see, I can help them take the next step.
Brick Underground articles occasionally include the expertise of, or information about, advertising partners when relevant to the story. We will never promote an advertiser's product without making the relationship clear to our readers.