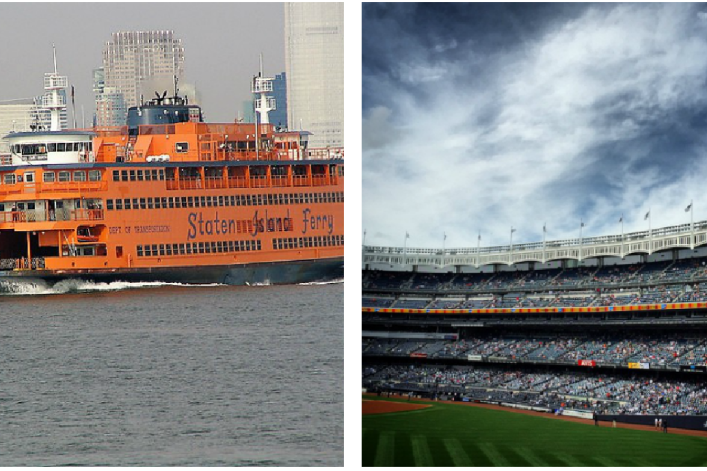 Let's face it: As New Yorkers you are pretty loyal to your home borough. And when it comes to those of you who live in the Bronx and Staten Island, the loyalty can be strong. So, if you had to make a quick case for why your outer borough is best, what would you say? What's the best part of living in the Bronx or Staten Island? Read on as five New Yorkers share their take:
Can I sip a beer on the subway? I think not
"If so, Staten Island gets my vote. Instead of sitting in a packed like a can of sardines subway I can travel instead on a scenic ferry with a beautiful view of the water and a stand serving beer and snacks!"—Amos Cader, Inwood
I'm all about the Bronx Bombers
"I would rather live in the Bronx because who would pick Staten Island over a beer and hotdog at Yankee stadium? Take me to the ball game before taking me on that ferry."—Amanda Rose, Chinatown
Any trip that involves a boat feels like a vacation
"I'd want to live in Staten Island because then at least you can pretend you're on vacation when commuting to the city via the ferry."—Norma Kaye, Midtown
I need to get to work—fast
"I love the idea of the Bronx and its history and all, but my friends [there] who commute are always complaining about how long it takes to get to work and I work in the Financial District. When's the last time you heard about the Staten Island Ferry breaking down in the middle of the Hudson?"—Rob Frank, Fidi
Let's talk about where the cool celebs are from
"If I had to choose between the Boogie Down and the Forgotten Borough, I would pick the Bronx. The Bronx can claim J.Lo, Fat Joe, Ralph Lauren, etc. and all Staten Island has to offer is the Jersey Shore cast."—Meagen Helmlinger, East Village
VERDICT: By a slim majority, Staten Island cruises to the top.
Brick Underground articles occasionally include the expertise of, or information about, advertising partners when relevant to the story. We will never promote an advertiser's product without making the relationship clear to our readers.