Would You Rather?
Would you rather live next door to a professional musician or a part-time party animal?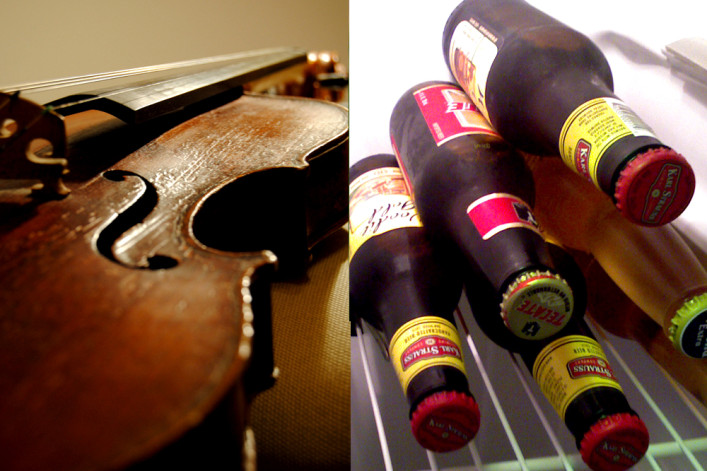 Which neighbor would you rather share a wall with: A professional musician who practices daily or the host of a monthly bringing-down-the-house kind of party? 
And our informal BrickUnderground survey says....
Professional musician: "I used to live above a professional musician. He was the musical director for an off-Broadway show, so he was asleep most mornings, gone all night and only played in the middle of the day. So I only heard him occasionally during the week and on some weekend mornings. I really liked  waking up to his awesome piano playing.  It wasn't intrusive at all." -Alden, Park Slope
Party people: "I live next door to a professional musician. I almost never hear him play. He has a young son, however, whom he and his wife encourage to try as many instruments as possible, so he has a whole collection of noisemakers.  There's a  horn, some kind of flute, and I think there's also a violin. I can't tell. They all sound pretty much the same--awful." -Martin, Morningside Heights
Professional musician: "I think beautifully played music is lovely to live next door to. I live in a brownstone, and when I'm hanging out on the balcony in the back of the building  I often hear somebody sing opera. It echoes throughout the avenue of backyards and sounds great. I like the sense of community it gives our row of brownstones. On the other hand, the couple next door to me love to throw huge garden parties and their friends take turns on the DJ table and nobody on the block can sleep." -Susan, Harlem
Party people: "I'd take the occasional partiers over the constant playing of a professional. I don't like loud sounds coming from neighbors, but at least a party can be broken up. If it gets too loud, you can ask them to tone it down. And parties eventually end. But I doubt a professional musician would (or could) stop practicing." -Sara, Williamsburg
Professional musician: "Our co-op has a rule that you can't play instruments after 10 p.m., but there is no such rule for parties. When you come back exhausted from a business trip, the last thing you want to hear is the thud of a bass till midnight.  I'll take a professional musician over loud partiers any day." -Jeremy, Upper West Side
Party people: "I've had both situations. I lived next to a musician who was not very friendly and complained about my dog to building management because he would occasionally bark. Now, my new neighbor throws loud parties every once in a while, but he always invites us to them. Their parties are fun, though not my crowd. Still, their neighborliness goes a long way with me." -Frank, Upper West Side
The consensus: Professional Musician - 3 , Party People - 3. The Winner: Split decision!
---
Related posts:
Would you rather...have a two-bathroom apartment or a one-bathroom with a washer-dryer?
Would you rather...live in a fabulous 4th floor walk-up, or a plain-vanilla elevator building abode?
Is your neighbor driving you nuts--or worse? Here's what to do
Brick Underground articles occasionally include the expertise of, or information about, advertising partners when relevant to the story. We will never promote an advertiser's product without making the relationship clear to our readers.