How does a lifelong New Yorker adjust to a new life in the south? Here, one former resident, Penina Schoenfeld, shares her story with Brick Underground senior contributing editor Lucy Cohen Blatter: 
I grew up in Manhattan and never planned to leave; I even went to college there. I moved to Forest Hills when I got married and that was hard enough. My husband, who'd grown up on Long Island, convinced me that we'd get a lot more space for our money, and it was true. But even that felt suburban to me compared to the Upper West Side.
We lived in a large three-bedroom in Forest Hills, but a lot of our friends started to move to the suburbs and we wanted to figure out our next move. None of the suburbs of New York spoke to us. The commutes to and from those places were not appealing. Living in Forest Hills and working full-time I felt like I barely saw my kids (I have three). I would see them for about half an hour in the morning and an hour-and-a-half before bedtime. My husband travels a lot for work and often goes to Florida and California, so we considered both of those places. 
If we moved to Florida, I knew I could work less, since the cost of living is lower. In New York, we needed two salaries, in Florida we don't. We decided to go with Boca Raton, partly because it was an easier trip back to New York to visit our families, and because we liked the Jewish community here (my kids go to private Jewish Day School).
Honestly, at this point, I can't imagine moving back to New York.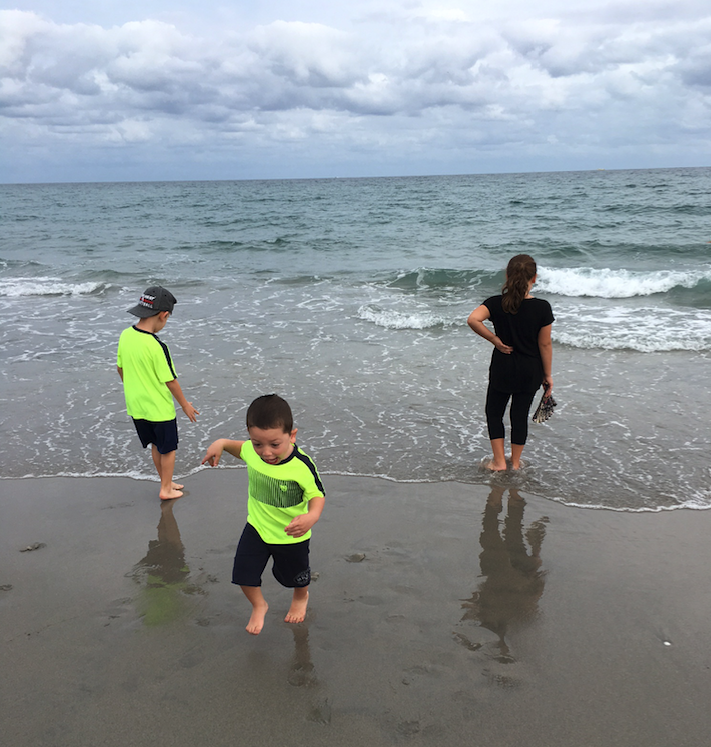 Pictured above: The beach in December. Penina's three kids—recent NYC transplants.
On learning to drive
I had my driver's license when I moved here, but being from New York, I never drove much. In fact, Boca Raton appealed to me because people said I wouldn't have to drive on highways much. At first, we thought we'd get one car, but it's turned out we actually need two.
In all honesty, I find the driving here to be so much less stressful than New York. The roads are larger, and I don't think I've parallel parked once since I moved here. It certainly took getting used to having to get in your car for everything, and for the first few months that felt super-annoying, but I've gotten so used to it. I like being able to go to Trader Joe's, filling up my car, and bringing everything home easily. Any shopping center in New York that we'd go to was always so packed and parking was impossible.
On real estate and why it's such a persuasive reason to decamp

When we moved we decided to rent a townhouse, which offers maintenance services. That was [perfect] for me, having grown up with a super. We have four-bedrooms, three-and-a-half bathrooms, and a two-car garage with space for two cars outside. We're paying $2,800 a month and were paying $2,700 a month for our apartment in Forest Hills. The community has playgrounds and two pools.
House prices are inflated at the moment, and we're hoping the market calms down a bit before we buy (which we plan to do). There are lots of different options for houses—townhouses, detached houses, and houses of different sizes. I find that a lot of people like us, who came from New York, opt for smaller houses—three or four bedrooms—and larger outdoor space. My kids still share a room so I can have a guest room. For me, that's more important.
The pace
Here, life is very slow. In New York everyone's always rushing to get places. People don't want to talk to you, and if a stranger talks to you on the street, you're suspicious. It's not that way here.
And people don't work as long hours, not by a long shot. Even people who work in corporate offices can usually leave at 3:30 and take their kids home, and work from home after that. In NYC, the mentality is the longer you stay at work, the better you can do.
Pictured above: Penina's son playing soccer on a Sunday morning at school.
I decided to take this year off, but plan to go back to work part-time. I'm just so much less stressed here, and I can spend a lot more time with my kids and spend it outside. I'm happier and calmer.
In general, salaries here are less,  yes, but the quality of life is so much more.
What we miss out on
Living outside NYC, my kids will miss out on the culture—the museums and historical sites that NYC kids can visit on a daily basis. While we have zoos, science centers, and children's museums here in Florida, we don't have the Met, the Guggenheim, the Museum of Natural History, or any of the iconic buildings like the Statue of Liberty or the Empire State Building. But that just makes it more important for me to take my kids to these areas when we visit NYC (we plan on flying to NYC with our kids three or four times every year).
They'll also miss public transportation (though I don't miss waiting in the subway in business attire in 90-degree weather). We don't have subways in Florida and don't take public buses, but I take my kids on both when we are in NYC as its the easiest and fastest way to get around town. 
Brick Underground articles occasionally include the expertise of, or information about, advertising partners when relevant to the story. We will never promote an advertiser's product without making the relationship clear to our readers.