It took me 34 years to make it from my hometown of New York City to Los Angeles. No one could believe it when I told them that I'd never been there. It's not like I never travel either. But there were myriad reasons LaLa Land was never on the itinerary: First, as a true native New Yorker, I didn't get my driver's license until 25, preventing me from visiting the land where cars are king (more on that later), but I've also tended to travel east toward Europe rather than west.
That said, I've been waiting to hit up SoCal for years. There's the never-ending talk of L.A. being NYC's  sixth borough (yes, I'm aware that many other cities are called that, too) and the fact that I'm an unapologetic lover of pop culture. Most of what I know about L.A. I learned from Beverly Hills 90210. And no, I'm not embarassed to admit that. #brenda&dylanforever
My husband and I recently booked a (childless!) trip to Los Angeles for a long weekend. We lived it up, renting a BMW convertible, staying at Chateau Marmont and the Roosevelt Hotel, and dining out at some of the more expensive, supposedly celebrity-heavy restaurants like The Ivy (sorry to report, no sightings there).
I wondered if maybe I'd hate L.A. since, there is always a bit of a competition between the two cities and I'd heard that it was basically just a whole bunch of suburbs lumped together and called a city. Now, I am by no means an expert, having spent just four days there, but here's my verdict: I loved it. Call me a New York traitor, but there you are. Here's why:
The weather, my god, the weather
We have to talk about the weather, obviously. Even though we didn't have the best weather during our trip (it was the very beginning of March, after all), and we spent a rather cloudy/drizzly day at Venice Beach, I was sold. New York is lovely in spring, early summer, and fall, of course. But I could do without the rest. There's just something about that gorgeous L.A. sun and the light it gives out. It's bright, it feels wonderful on your skin and somehow it just makes you feel good.  
Even things that should be underwhelming, like The Grove (which admittedly I knew about from TMZ reports), which is basically an outdoor shopping mall, is amazing because there are plenty of places to lounge around and take in the sunny and dry weather. (And the food is incredible there, too—a bunch of small and eclectic stalls that felt oh-so-Brooklyn Flea-like.)
One major reason I loved L.A.: the sky, which I could actually see from the street. I live in Manhattan, sandwiched between tall buildings. The fact that L.A. is a huge city with relatively small buildings—though they seem to be getting new high-rises all the time—was a welcome treat. With a sky that beautiful, you want to see it. Maybe New York's skies are that blue and beautiful in spring, I just don't get to see them as much.  Also, I'm now a believer that palm trees make people happier.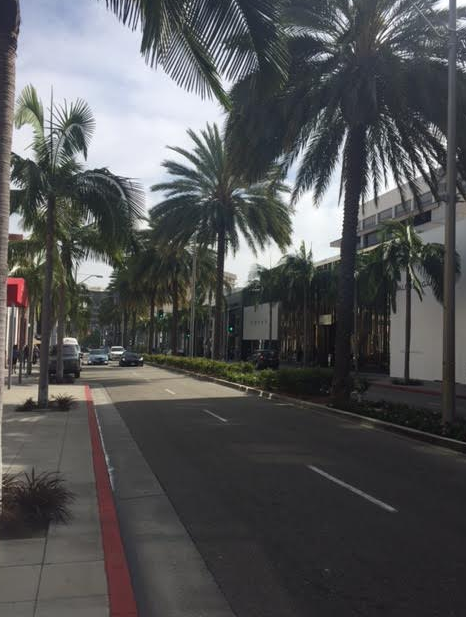 A more relaxed vibe
I noticed restaurants seemed to be full from morning to night, with people imbibing wine at what seemed like all hours. And people didn't seem to be rushing either, they seemed to be enjoying eating out and taking their time doing it there. Maybe it's a business lunch culture? Or maybe we happened to be going to touristy places and sitting among other vacationers? 
Service is slower than New York, but that's a good thing. The pace felt slower. Yes, we were on vacation of course, but I'd imagine that that slower pace is always there to some extent. There's a reason it's called a New York Minute, after all. When we first arrived my husband and I remarked on the slow service at lunch at Chateau Marmont, by day two we expected it and embraced it. 
At the same time, though, L.A. has energy. That's one thing that can be hard to describe but is amazing about New York. And L.A. has it, too. There are so many people and so much life.
Unlike parts of Northern California (Palo Alto to be exact, where I've spent some time), which feel very clean, homogenous and suburban, L.A's got character, it's got culture (the museums, the history), it's got color and, yes, energy. I loved the old (and often sort-of-faded) Hollywood glamour too: Grauman's Chinese Theater, the faded marquees.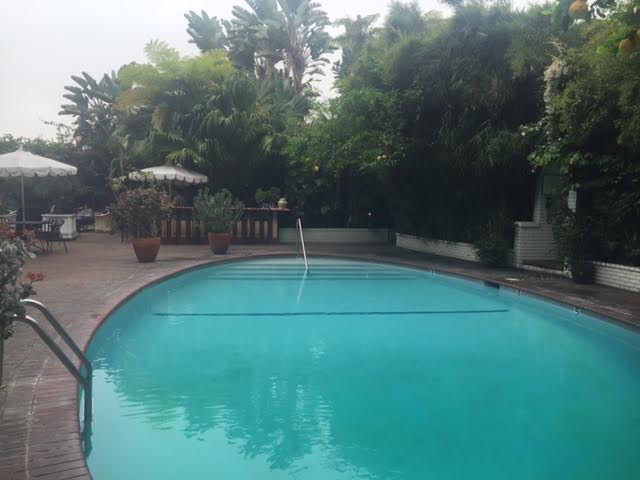 The great outdoors
On Sunday morning, we hiked Runyon Canyon and if I didn't love L.A. before, that was the clincher. It was such a lovely way to get exercise (although I'll admit we didn't exactly go for the hardest trails), and so much better than working out in a gym. The views are to die for.  L.A. is a city where it's easy—and lovely—to be outside a lot. Just ask the people working out on Muscle Beach or biking in Santa Monica. There are a lot of them.
About all that driving...
Now, a quick note about the traffic. Yes, you have to drive everywhere, and yes, I can imagine that gets super annoying in the long run. This is definitely one of the more negative things about being in L.A. from what I've heard and now seen with my own eyes. 
One L.A. resident told me that the city can feel isolating — you basically go from your car, where you're alone, to the gym, where you put on headphones and don't talk to anyone. In New York, on the other hand, thanks to our dependence on mass transit, you can't help but interact with people on a daily basis, actually several times a day.
And I can't ignore the environmental impact of all that driving everywhere (not to mention the impact on your wallet considering how much gas L.A.-dwellers must go through).
I also realize that it takes at least 20 minutes to get anywhere, and often much longer, and that traffic happens at all times of day and night (we had traffic traveling from Santa Monica to Hollywood on a Saturday night). But as long as you have a car you love (like our aforementioned convertible) and an ability to multi-task while sitting in traffic, we imagine this problem isn't insurmountable.  That said, I'd imagine you have to live close to friends and family or risk never wanting to see them. 
You seem to get more for your money
One receptionist at a hotel in Santa Monica told us that thanks to tech companies coming in to the area, the $2.5 million three-bedroom has become a reality. L.A. is feeling the pinch of high prices just like we are here in New York City (it's bound to happen in a place where a lot of people want to live, of course). Apparently the noticeably walkable downtown L.A. is now getting more and more high-rises, too. That said, almost everyone I talked to said that while the prices were on par with New York, you'll likely get a bit more for your money in L.A—maybe a second bathroom, some outdoor space, and, of course, the much needed parking spot. Just check out this new condo in a downtown L.A building ($475,000), which has a balcony and a washer and dryer.
Of course, it's not utopia
Apparently school admissions in L.A. are crazy. A friend told me she's had to apply to 10 charter schools for her son for kindergarten and is dealing with a lot of waitlists. Sounds familiar, right? And the traffic issue is hard. Plus, the fact that everyone is in the entertainment industry/waiting for their big break could likely get tiring, especially for those of us not hoping to become reality TV stars (though I'm not too good to admit I watch them, and yes, I did go to dinner at Sur, of Vanderpump Rules fame). Also, so many people are gorgeous and perfectly fit, and I think it's hard to underestimate the pressure to look good there.
So, for many reasons, I'm not planning on packing up my stuff, my family and my life and moving West to L.A. anytime soon. And I also realize that I may still be experiencing my first-time-in-L.A. high.
But the bottom line for me is that Los Angeles definitely has its perks — it feels New York City-like in the good ways (the energy, the diversity) and it's negatives? Well, for a short-term tourist they were no big deal. I can imagine in the long run they might be.
So, while, my allegiance stands with New York in the East Coast-West Coast feud, I really wouldn't mind being bi-coastal, spending more time in Los Angeles on a regular basis. Or at least more than once every 34 years. 
Brick Underground articles occasionally include the expertise of, or information about, advertising partners when relevant to the story. We will never promote an advertiser's product without making the relationship clear to our readers.