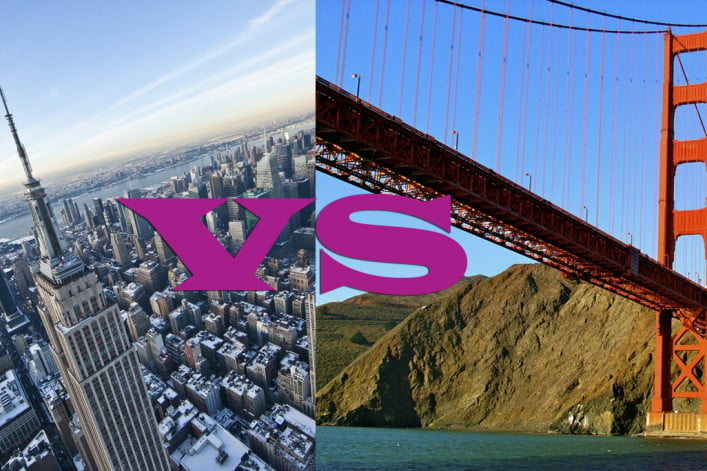 New York City and San Francisco are constantly being compared as rival tech hubs. And now that even more start-ups are blooming here in Gotham, we predict an influx of West Coasters making it over to our shores.
So when we found this (seriously addictive) Cost of Living Calculator at CNN Money, we immediately got started comparing the costs of the Big Apple and the City by the Bay.
Here's what we discovered:
You can live in NYC and still pay less for housing than in Frisco--provided you don't mind bedding down in Queens, which is 23% cheaper than that other city by the bay. If you choose to reside in Manhattan, you'll pay 52 percent more than in San Francisco, versus just 10 percent higher if you bed down in Brooklyn.  (Important note: The calculator only estimates "housing costs," so no word on the effects of renting versus owning.)
If you're bringing in an annual salary of $100,000 in San Francisco, you better ask your NYC employer to pay you around $136,000 to live a similar lifestyle (at least if you plan to live in Manhattan).
Apparently, utilities in Queens are the priciest of the three boroughs covered. Compared to San Francisco, utilities in Manhattan cost 38 percent more; in Brooklyn they cost 29 percent more; and in Queens, they cost 39 percent more.
Interestingly, we also discovered that Manhattan housing is 72 percent more expensive than Honolulu's--reportedly the second most expensive city in the country.  Brooklyn is 24 percent more and Queens 12 percent less than the Hawaii capital. 
And moving from the least expensive city--Danville, Illinois--to the most (NYC) would require a 545 percent increase in your housing budget. Yowza.
If we haven't scared you away yet, check out Brick's own guide for helping the NYC newbie find an apartment and a more detailed exploration of how much it'll actually cost you to rent a place here.
Related posts:
Don't even bother asking your broker this
BrickUnderground's Renter's Survival Kit
The Real.Est.List -- the ultimate NYC resource directory
How to rent a NYC apartment for your grown kid
How to buy an apartment that's not for sale using PropertyShark.com(sponsored)
16 tips for an (almost) stress-free moving day
Rejected by a landlord lately? Want to get that apartment faster? Here's your secret weapon (sponsored)
3 high-tech ways to make your moving process easier (and cheaper)
7 things to ask the neighbors before you move in
How to negotiate with a NYC mover: 7 tips that may save you bigtime
Confessions of an on-site leasing agent
Relocating to NYC? FAQs brokers can (and can't) answer
The 20 deadly sins NYC rental agents should never commit (but do)
12 NYC real estate holes-in-one
Brick Underground articles occasionally include the expertise of, or information about, advertising partners when relevant to the story. We will never promote an advertiser's product without making the relationship clear to our readers.