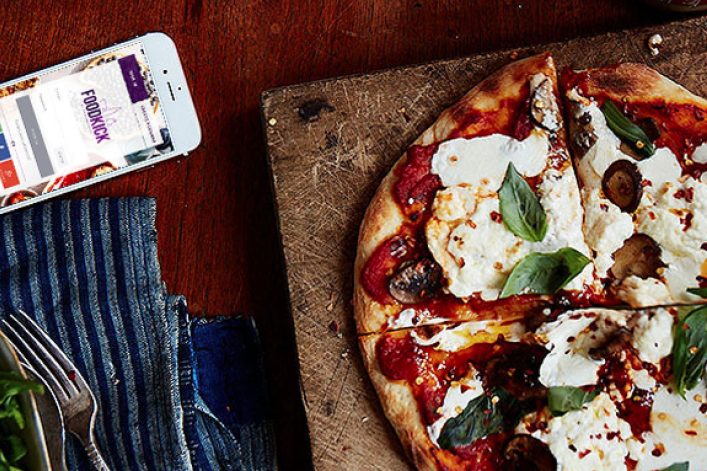 We're big fans of simply ordering up our pantry supplies online, especially as we head into the dog days of summer, when schlepping grocery bags full of melting treats through a sweltering subway station becomes increasingly intolerable.
So naturally, when we heard about FreshDirect's new, hipper offshoot FoodKick, we were eager to take out for a spin. How does the new site stack up to its parent company, the granddaddy of NYC grocery delivery sites? Below, our review:
Price:
By and large, prices on FoodKick were comparable to, or slightly cheaper than, our neighborhood Brooklyn grocery store, with good deals on produce thrown in. (The day we ordered, for instance, there was a two-for-$6 deal on containers of organic strawberries.) Their wine selection also includes some moderately priced options, and six-packs of beer are generally a few bucks cheaper than they'd be at a typical deli or grocery store.
There's a $3.99 delivery fee (tip not included), unless you want your delivery to arrive within the hour, in which case, the price goes up to $5.99. There's also a delivery minimum of $20. Also worth noting: As of press time, they have an offer going where new customers get 30 days worth of free delivery.
The lowdown:
Billed as the cool younger "sister brand" to FreshDirect, FoodKick has squarely set its sites on the millenial demographic. (Hence, that since it's currently still in beta testing, delivery is only available in Brooklyn and Long Island City.) Their aggressively young branding means there are some eye-roll-y attempts at hipness (terms like "halp" and "squad," and hashtags like "#mood" are peppered throughout the site), and you can only place orders through the app.
There's also a slightly increased focused on pre-prepared meals or meal kits (a la popular services like BlueApron), as well as the option to pull up suggested beer and wine pairings, and order up cocktail kits. With one-hour delivery and offers like having a delivery person meet you at the gym post-workout, convenience is the name of the game here.
Delivery hours are from 7 am to 12 midnight daily.
The experience:
Even though you're forced to do your searching through the app, the user experience on FoodKick is already a breeze. (They definitely seem to have benefitted from the institutional knowledge that no doubt comes from their parent company at FreshDirect.)
You can browse around through categories including "beer and beverages"; "wine & spirits"; "meals"; "fresh" (which is mostly produce); "today's picks" (a mix of pantry items, butcher cuts, produce, etc. that are being showcased or are on special that day); "snacks"; "grocery"; "home & drug"; and "baby."
It's easy to find whatever you're looking for, but also pretty tempting to start to browse through white wine pairings, pre-made salads, and the like. Once you've got everything you need, simply check out, pick a delivery time, and wait. We didn't opt to take advantage of the one-hour option, but the food showed up when it was supposed to with a professional, friendly delivery person. (FoodKick is currently partnering with courier services SprintShip and Breakaway to coordinate deliveries.)
By and large, though, the selection doesn't seem too different from what's already on FreshDirect. (For instance, FreshDirect also offers pre-planned meals, local craft beer, and the option to buy a one-off CSA box.) Beyond extras like cocktail kits or suggested drink pairings, the main difference with FoodKick seems to be the marketing and user interface, more than the actual product. This is a potential source of annoyance if you're a millenial who's not eager to be pandered to, but the service is easy enough to use that it's not a dealbreaker.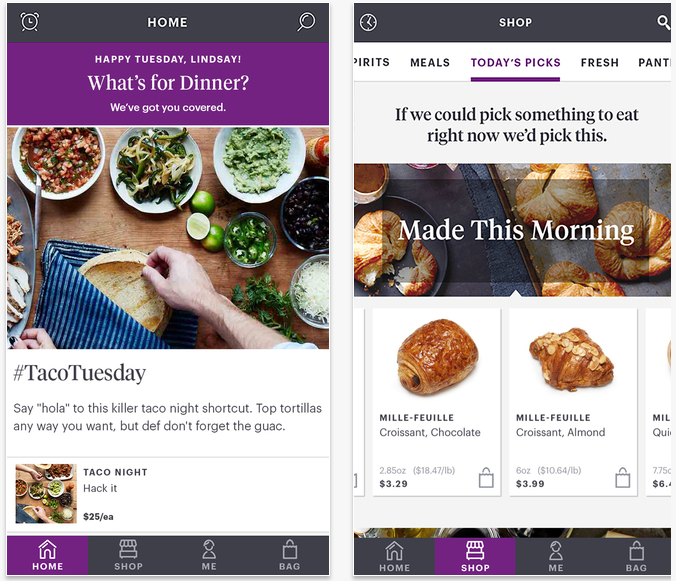 The bottom line:
FoodKick isn't too different front FreshDirect, but if you're interested in speedy delivery, experimenting with new meals and cocktails, and prefer the easy interface of ordering from their app, then this is definitely the way to go. 
Number of stars (out of 5): ***** 
Gimmicky marketing aside, FoodKick has come out of the gate strong with a well-designed, convenient service. It's a refreshing change of pace given the "build it now, fix it later" ethos that runs rampant in most startups.
Brick Underground articles occasionally include the expertise of, or information about, advertising partners when relevant to the story. We will never promote an advertiser's product without making the relationship clear to our readers.