Products + Test-drives
FreshDirect, Instacart, Peapod or Max Delivery? Find out which grocery-delivery service is best for you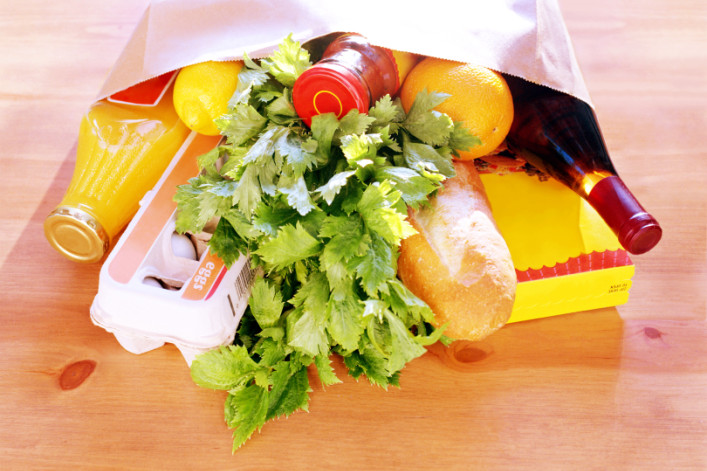 Yes, one of the joys of NYC living is that you can pretty much buy anything anywhere at anytime. Theoretically, food-shopping would be a cinch. But finding the time for a massive grocery run, let alone finding a way to get all of them home (unless you're okay with delivery sometime later that same day)—good luck with that. Not to mention the narrow store aisles that make navigating a food-laden cart feel like a losing game of Frogger. All of which is to say grocery delivery services are perfect for New Yorkers, and there isn't just a single service to go with anymore. But which one to choose? We tried out a handful for you:
Price: There's a $5.99 delivery fee across the five boroughs for every order, but if you're a regular customer, it's probably worth paying the $12.99 One-Month DeliveryPass, which allows for unlimited deliveries. Tip is not required, but is encouraged.
The lowdown: The first of the food-delivery services in New York City, FreshDirect has come a long way. It now has a nicely curated group of local products (e.g. local produce, locally-made ice creams) and has gotten much more responsible about its packaging (long gone are the days when you'd get one orange per cardboad box). Plus, there's a nice new perk: CSA boxes, which let you try out a farm-share without the usual multi-month commitment (we paid $28 for one box with an assortment of Lancaster County-grown organic vegetables, which included kale, spinach, rhubarb and much more).
The experience: FreshDirect is a godsend when you're short on time. And we once did a price comparison with Fairway, and FD was only marginally more expensive (of course, there's tip and delivery, to consider, too). Plus, in some ways you save money because you don't do as much impulse shopping as you do at a big supermarket like Fairway or Whole Foods. Sometimes the produce isn't great, though (except the grapes -- grapes are great for some reason) and we know plenty of people who order everything but fruits and vegetables from FreshDirect. But that's also improving. And customer service is great. Any time we've ever been less than satisfied with a product they credit us back.
Bottom line: FreshDirect is a staple in our lives. Especially since New York City grocery stores are so small, packed, expensive and just uninviting. It's worth any extra cost if you ask us.
Number of stars (out of 5): *****
Price: The cost of your groceries, plus a large tip, and delivery fees that range from $3.99 to $9.99 depending on the size of your order, and whether or not you want it within the hour. "Busy pricing" can also apply, and varies.
The lowdown: With Instacart, you place orders for groceries from one of your local grocery stores, and a personal shopper goes out, does your bidding, and brings everything to your doorstep. (They deliver alcohol, as well.) For those of us who are particular about our groceries, there's the option to be put in touch with the shopper directly, so they can text you if something you've requested isn't in stock to inquire about possible replacements or price changes.
The experience: Admittedly, this service is a godsend if you live in a relative food desert; the option to have goods from Fairway, Costco, or Whole Foods delivered to the middle of Brooklyn is a game changer. The ordering process was easy enough—and we liked that the personal shopper texted us pictures of possible replacements for items Whole Foods didn't have on hand that day. However, the site encourages you to tip the personal shopper as much as you would a waiter at a restaurant, meaning that if you're using the service for a sizeable grocery run, you'll be adding a considerable amount to your bill.
Bottom line: If you're willing to pay extra for the convenience and personalized experience, this is a good way to go. (And the ability to order Costco as a non-member is awfully enticing.) As for us, though, we'll keeping doing our own personal shopping for the time being.
Number of stars (out of 5):
***
Price: Items are identical to what you get from a brick-and-mortar Stop & Shop. There's a minimum order of $60, plus $9.95 delivery fee for anything up to $100. Orders above that are charged a $6.95 for delivery. Pick up your items yourself from a few available locations and you only pay $2.95. As with the store, there are weekly specials, and coupons are accepted.
The lowdown: To be clear, Peapod is part of the Stop & Shop universe (both of which are owned by the Netherlands-based Ahold), which means you're basically shopping from that store alone.
The experience: We don't know about you, but for many of us, Stop & Shop feels pretty much like the quintessential suburban grocery store: big, bright, easy, well-stocked. It has tons of items, from antacids to water filters. We don't know how Peapod does it, but somehow it manages to replicate that experience online. (We've tried it a handful of times, too.) Shopping feels straightforward (you can buy items from previous orders) and stress-free. Still, like suburban grocery stores, it doesn't feel super-specific, like many NYC grocers do. We have yet to find that one specialty item we can't live without that's only find-able at Peapod, for instance. We know we can get yogurt, but it'll be the usual big-store labels like Fage, Chobani and Dannon, but not, say, the Australian label Noosa.
Bottom line: Consider it a reliable addition to your online-grocer rotation.
Number of stars (out of 5): ****
Price: Varies depending on what's ordered but prices are competitive with local supermarkets and FreshDirect: a half-gallon of organic milk is $5.57, a dozen free range eggs comes to $5.19 and a Balthazar baguette is $2.39.
The lowdown: Chris Siragusa, CTO of Kozmo.com, an urban delivery startup that failed in the 1990s, retooled the idea of a flash delivery service for lower Manhattanites, launching Max Delivery in 2005.
The experience: The food selection is good: Not as extensive as FreshDirect (which can be overwhelming to some) but broader than expected thanks to items from local shops like Sugar Sweet Sunshine, Murray's Cheese Shop, Jacques Torres, Doughnut Plant, not to mention areas devoted to drug store, household and more. Adding items to the cart is a cinch and delivery is lightning fast. An order placed at 7:07 pm and arrived at 8:05 pm (two minutes in advance of Max's estimated delivery time). Very impressive.
Bottom line: Virtual shopping has its pitfalls (you aren't able to, say, squeeze the avocados or select the perfect bunch of bananas) but for must-haves in minutes, Max Delivery can't be beat.

Number of stars (out of 5): **** (We'd give it a 5 for being so fast, convenient and efficient, but we're going with 4 because of limited selection.)
Related: 
Your prayers have been answered: Whole Foods is launching a new, cheaper spinoff
​Forgot to sign up for a CSA in the city? These alternatives will sate your fruit-and-veggie thirst
Brick Underground articles occasionally include the expertise of, or information about, advertising partners when relevant to the story. We will never promote an advertiser's product without making the relationship clear to our readers.