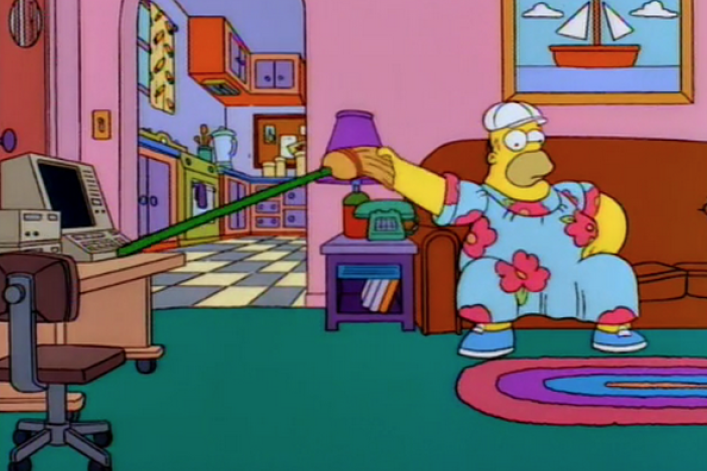 It's a dangerous business, going out your front door. In New York, that's especially true. You might get bumped by a Nikon-wielding tourist, lose a seat in the subway to manspreading, or throw out your back by trying to schlep things to your tiny apartment. But thanks to the city's booming gig-economy, the most you'll have to do is lift a finger to place an order, and everything, from handymen to hair stylists, will come straight to your home.
Frazzled with the daily hustle of fighting for units at the Laundromat and queuing for hours on end at Whole Foods, I was struck by a peculiar thought: Was it possible to forgo the crowds entirely and live (most of) my life from my comfortable apartment? Since I mostly work from home these days anyway, I decided to test out the hypothesis. The results? Two words: mixed bag. (I also found other services that, though I didn't get to try them, might be good options if you decide to live like a well-funded shut-in.)
• The task: Getting groceries
The need: This agoraphobe has to eat.
The players: Good Eggs*, FreshDirect, Rustic Roots, InstaCart
The story: I'm a big fan of supporting local produce, and having just moved to Brooklyn,  I'm eager to check out the local farmer's markets and CSAs (I have accepted that I am now a cliché). But I also wanted to not leave my home in search of them. Enter Rustic Roots and Good Eggs*, which came to Brooklyn by way of San Francisco last year. Both offer farm shares without any season-long commitment.
Good Eggs* is a more user-friendly operation with a wider selection of fruits, veggies, and artisanal goods, letting me pick delivery windows in two- to four-hour increments and charging $4.95 for the cooler bags and free delivery for orders over $75 (they charge up to $7.95 below the minimum delivery charge, though no tips are necessary).
Rustic Roots, meanwhile, charges a hefty $20 cooler fee to start and delivers between 3 am to 6 am. While this would be fine if I were in a doorman building, I don't trust my produce outside, and had to be stirred awake to get it.
FreshDirect and InstaCart, meanwhile, were perfect for my more basic grocery needs like canned goods, spreads, spices, and cereal. Their produce is usually pretty great too, and I supplemented my Good Eggs order with bananas, scallions, and a fresh basil plant. So far, so good.
*Good Eggs announced that it's shut down service in Brooklyn as of August 6.
• The task: Buying in bulk
The need: With more space and plenty to clean after a move, I need paper towels and cleaning spray in piles.
The player: Boxed.com
The story: The reason I moved to Brooklyn was to get more space, and space I got, in the form of a second bedroom/home office that is now my hoarding room/landing space for things without permanent homes. It also means I can stock up on necessities like 12 rolls of paper towels, 30 rolls of toilet paper, liters of mouthwash, and other sundries. But instead of having to go to BJ's or Costco, these suburban comforts come to me by way of Boxed.com.
I bought two gigantic boxes worth of stuff, and admittedly had to make multiple trips up to my apartment, but the whole hassle of renting a Zipcar to get to Costo and back was no more! For reference, 12 Bounty paper towels were $17.99 on Boxed and $23.99 at Costco. Amazon Prime offers similar prices to Boxed, but I couldn't find any Prime free shipping, so that was a no-go. In my order, I also got cereal for days, meaning there was need to go to the corner bodega. I got to remain in my yoga pants and old high school track shirt, and no one had to see me in it. Everybody wins! 
• The task: Gourmet New York meals and snacks
The need: Sure, I could just use Seamless or Delivery.com during my three-day home stay, but I want something less greasy, and actually healthy, that I could have purchased, say, from a gourmet market around the city.
The players: Indie Fresh, The Purple Carrot
The story: Newly-launched Indie Fresh takes executive chef Akhtar Nawab (of Gramercy Tavern and La Esquina) and puts his kitchen creativity to use making truly delicious soups, juices, salads, and smoothies. I tried the paleo program of summer shakes, salads, and soups. The company gave me a day's worth of made-that-day meals (usually $46) delivered to my own familiar stoop, with a somewhat spicy blueberry cayenne shake for breakfast, a delicious chicken salad with quinoa and mushrooms for lunch, an almond cacao nib shake for my afternoon snack, and chilled zucchini chicken soup for dinner. The food was delicious (and, super buzzy by being gluten-free and paleo), and I had zero regrets about indulging.
The next night, I brought the restaurant home with The Purple Carrot ($57 for a meal, a snack, and a dessert), the Blue Apron of vegan meals. Included in the menu was spring vegetable Thai green chili and kale and rhubarb salad with candied hazelnut. Blueberry muffin energy bites served to satiate my sweet tooth, and the whole service had the added bonus of taking up time that would otherwise be spent watching Netflix.
After spending all day camped out in the living room, it was nice to take a break in the kitchen to play sous chef, but I also loved the simplicity of simply of having my meals already prepared (and largely in liquid form) from Indie Fresh. 
• The task: Laundry without setting foot in a Laundromat
The need: It turns out, without washing and drying clothes, they get smelly
The players: Cleanly, FlyCleaners, Juliette Laundry, Boomerang, Washio
The story: Turns out, I live in one of the parts of Brooklyn that has yet to embrace on-demand laundry, or the laundry startups have yet to embrace Bed-Stuy. My corner Laundromat won't even do free pick-up, so I guess this is one thing I have to leave my apartment for and do myself. Sigh. (Note: We've reviewed some of these services before. Take a read here.)
• The task: Get pretty and pampered for a night in with friends
The need: Sometimes, you just need to kick back and relax
The players: Priv, Glamsquad, Bella
The story: In the last few years, on-demand beauty apps have taken off, allowing women (and men) everywhere to get pampered and primped wherever they are. Glamsquad and Bella both offer top-notch hair and makeup appointments, including glossy blow-outs, while Priv offers all of that and more — including at-home massages, workouts, and even spray tans. Unfortunately, Priv doesn't come out to Bed-Stuy yet either, but here's hoping it'll happen soon! Prices vary by company, but a blowout is $50 at both Glamsquad and Priv, and $100 with Bella.
• The task: Get a medical check-up
The need: It's good to stay healthy, and even better if the doctor comes to you
The player: SickDay
​
The story: Though I remained in perfect health during my 72 hours of solitude, home-call companies like SickDay send doctors straight to your home, just like in the olden days. Most major insurance plans are accepted and cover the $275 flat fee.
• The task: Get wines and liquors without setting foot outside
The need: It's 5 o'clock somewhere
The story: Being cooped up for three days means a serious need for some sauce. Services like Minibar and Club W cater to my love of instantaneous delivery (Minibar) and a digital sommelier (Club W). The former delivers straight to your door in under 60 minutes, while Club W ships within 2 business days, using your taste preferences for things like coffee and spicy food as a litmus test for what kinds of wine you want.
• The task: My afternoon iced latte
The need: Without it, I become a zombie
The player: Postmates 
The story: Yes, I can make my own iced latte, but if I were out and about all day, I'd splurge on a deluxe one. Enter Postmates, which also delivers things like Momofuku's famous cereal ice cream to peckish foodies (for a hefty fee, mind you). The startup also delivers other items, from specialty juices to dim sum to basics from Walgreens. My two chai lattes (please don't judge) arrive at my door via delivery man within 15 minutes of ordering, still cold, and still very delicious. Since Starbucks was offering a promotion, the coffee was free, but delivery was $13 (full disclosure: I was given a media promo code so my coffee was free). Sure, I didn't have to wait in any long lines, but it feels wrong to make a delivery man bike 2 miles just so I can get my caffeine fix.
My three-day takeaway: With all of these luxe services at my fingertips, 72 hours passed relatively quickly, and armed with leftover smoothies and snacks, as well as a full Netflix queue, I could have turned my three-day sojourn into one that would make Boo Radley proud (if it weren't for the need to do laundry, that is).  
But it's also extremely cost-prohibitive. I was lucky enough to have coupons or gift certificates for some of the services and had press trials for others, but for the Average Joe hoping to have every modern amenity from New York's exploding service industry, it's a fair chunk of change. And, at the end of the day, these are all really luxury services. You technically don't need someone else to wash and fold your laundry, pick up grocery items for you, or come over to style your hair. 
Still, the trade-off for many New Yorkers is convenience over cost, so in the city where time is money, it's easy to understand how so many people are wooed by the ever-growing service industry.
Related:
Wash and Learn: Our testers take NYC laundry services for a spin
Two new food delivery services up the chance you'll never leave your home to eat again
Skip the grocery schlep with these personal chef substitutes
A new reason to consider kicking your seamless habit
Stock your cupboards with your smartphone: Our review of the new grocery-delivery apps
Brick Underground articles occasionally include the expertise of, or information about, advertising partners when relevant to the story. We will never promote an advertiser's product without making the relationship clear to our readers.