NYC Renovation Q's
What is the difference between a muntin and a mullion and are they still used in windows?
Muntins divide panes of glass (called lites) within a window frame or unit
Mullions are rods that join separate window units together in a larger expanse
Both are still in use on all types of windows: Double-hung, casement, and fixed glass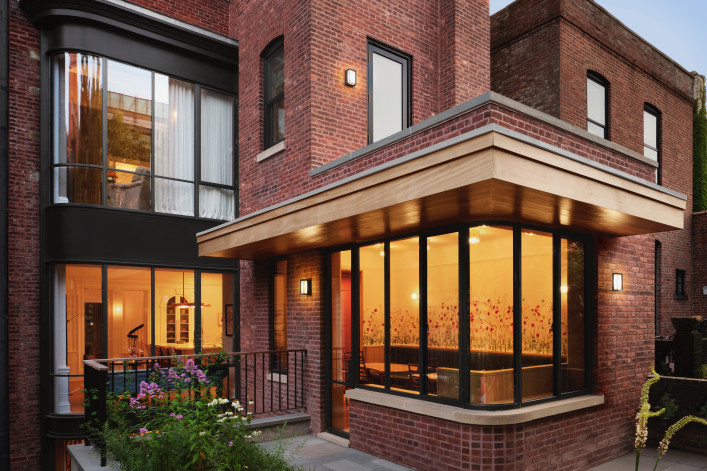 What is the difference between a muntin and a mullion and are they still used in windows?
It's easy to get these two elements confused because they both divide a window into segments, only in different ways.
According to Brendan Coburn, principal of architecture and design firm The Brooklyn Studio, muntins divide panes of glass (called lites) within a window frame or window unit. Mullions connect entire window units. Both are commonly made of wood, steel, or aluminum and can run vertically or horizontally.
Originally muntins and mullions were borne out of necessity. As Clai White, principal of renovation and restoration company Historical Windows of New York, explains it, before the Victorian era, it was impossible or impractical to fabricate large sheets of glass, so muntin rods allowed people to cobble smaller panes into larger grid patterns. Mullions were required to support the structure of the heavy stone and brick facades around the openings.
By the time massive sheets of glass could be made and shipped without risk of breaking, the look of windows with these details had caught on—and muntins began to mostly be used for visual interest, while even mullions were no longer always essential supports given advances in building technology.
Since then, they've continued to evolve and take on new iterations as well as terminology. White for instance prefers to refer to windows with muntins as either TDLs (true divided lites) or SDLs (simulated divided lites)—which can add to the architectural jargon confusion.
Are they still used today in NYC?
You bet. The classic four- or eight-light window has certainly stood the test of time and is for many people the default, especially if the rest of the building skews toward tradition. And if you live in a historic district, good luck getting new windows approved without them (more on this below). 
But muntins and mullions have modern applications, too, with the lines forming all manner of patterns, including asymmetrical iterations. And they have applications for all types of windows—double-hung, casement, tilt and turn, fixed, you name it.
For example, in the photo at top, the wrap-around window on the first level and the three-story bay windows have vertical mullions and the bays also have slim horizontal muntins. "Mullions can be structural, but in this image they are not—they are only holding the separate window units together and stiffening the overall curtain wall," Coburn says. 
Referencing the same project, he explains that the addition of the wrap-around window was inspired by the observation windows found on early 20th century passenger trains and is a subtle nod to the home's era. This same design language was then applied to the three-story bay window (it extends to the garden level), replacing the traditional bay window, which had large mullions and small panes, with modern curvilinear panes that extend from floor to ceiling.
White says Historic Windows just did a Tribeca cast-iron building, "which you might think is just a replica of a 200-year-old window but in reality is a high-performance window with sound insulation, energy-efficient glass that's still respecting the architectural detail of the building."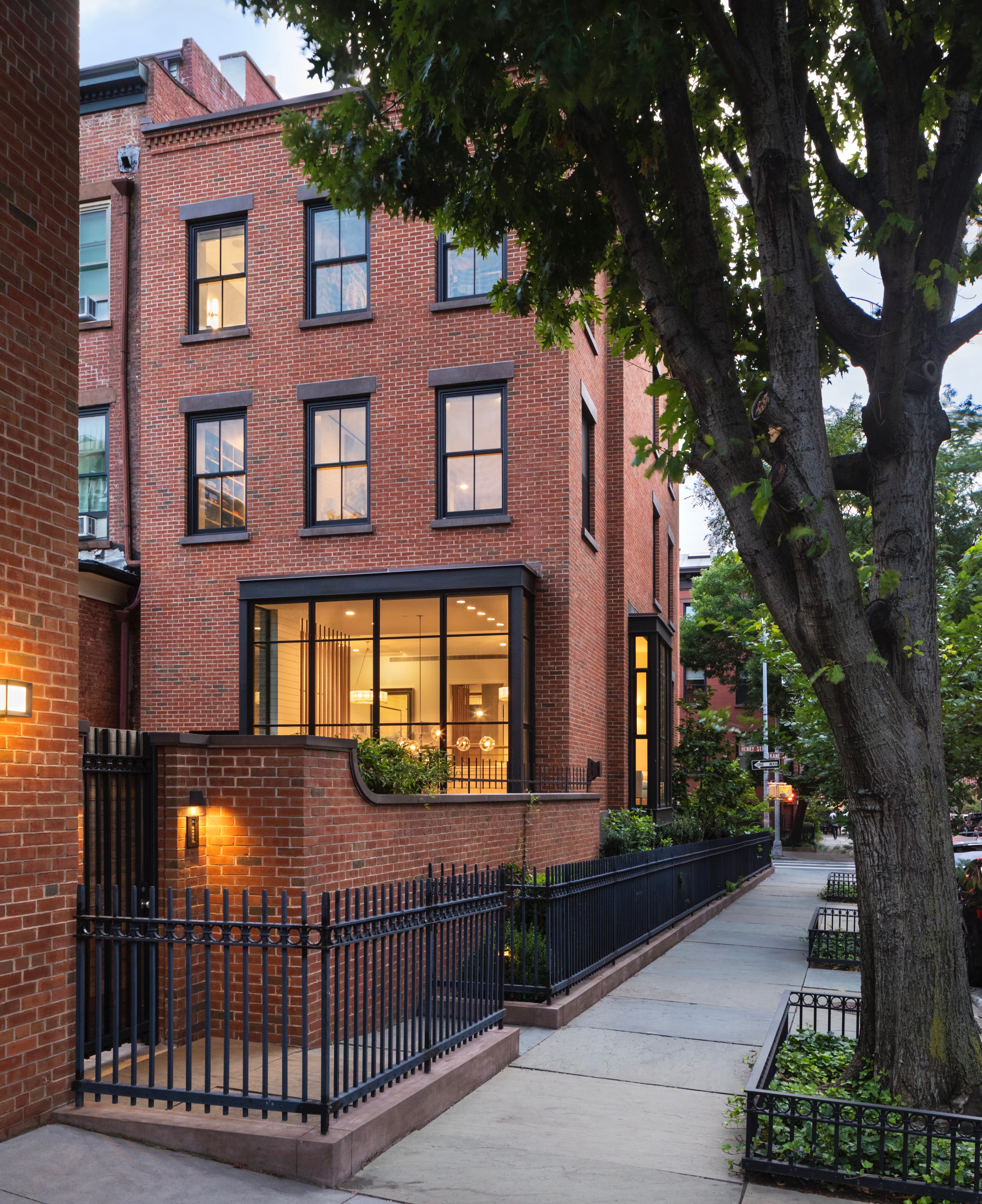 What about in historic districts? 
Absolutely. In the Cobble Hill townhouse above, The Brooklyn Studio combined traditional details with modern techniques, which is "especially apparent in the building's windows: the lintels and sills are made of brownstone, while the oriel window and rear bay are made of steel and glass. The juxtaposition of classical and contemporary creates an elegant structure rooted in a deep knowledge of the local vernacular," Coburn says.
Now that double-strength (insulating) windows are the norm, White says SDLs are much more prominent than TDLs—including in landmark properties. (Yep, even the Landmark Preservation Committee approves faux muntins.) 
That's because White doesn't recommend doing TDL with double-pane windows because you are upping the risk of seal failure, which is when the glass starts looking dirty and gray. "But if you are ok with single-pane windows and are trying to do the most historic of historic of windows, then you can do old-school, single-strength, restoration glass TDLs." 
He says you'd have to look hard to realize SDLs are not the real deal: "On the exterior there's a clad profile that's taped under the glass, then there's a spacer bar in between that gives you the look of a TDL; on the interior is a piece of wood that reads like a traditional 1810 window as best as possible knowing it's two pieces of glass rather than a single pane."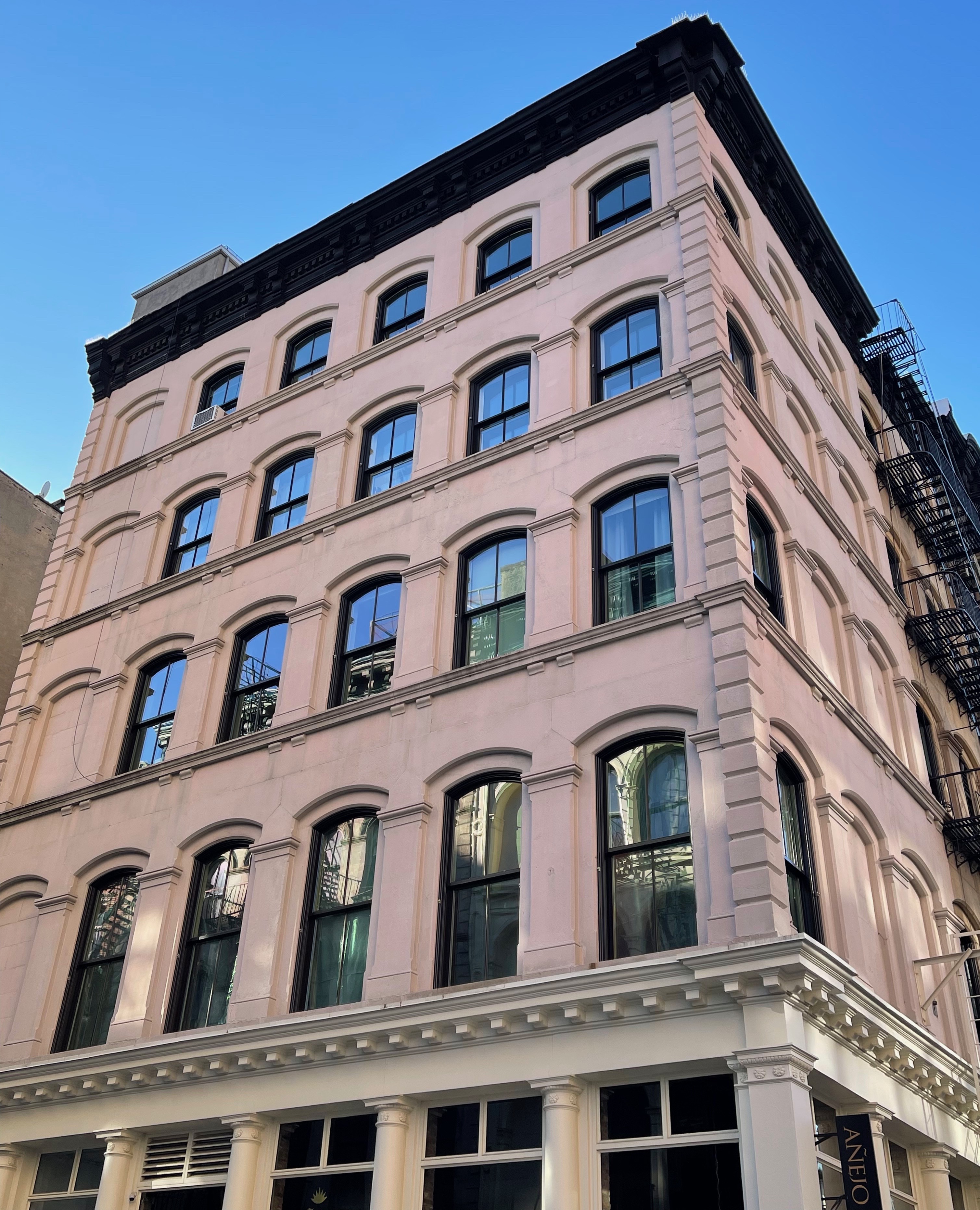 As proof, check out the historic Tribeca loft building above, in which Historical Windows of New York put doule-hung SDLs with vertical muntins in the original arched sashes. 
Do they affect pricing?
Again, the answer is 100 percent (per White), though how much depends on lots of variables. 
Both TDLs and SDLs require more material than a fixed piece of glass—the more lights, the higher the cost, though not by much (per Coburn). The cost of mullions depends on whether they are purely visual or providing structural support, which will be more involved.
In terms of simulated muntins, White explains the cost will vary according to whether you go with single or double-pane windows, with the latter being more expensive because it's a different process in lining up the exterior pieces to the spacer in between. Plus, you can only buy double-pane units with divided lights from a select few manufacturers. 
The quality of the glass itself matters, too. "If you do a diamond light SDL, there's a ton more labor that goes into laying up that lattice pattern," White says. 
Finally, White says you can get wood muntins that are morticed into the sash and actually affixed (at the higher end) vs. something that is simply taped to the surface (at the lower end).
Suffice to say there's a muntin and mullion solution to meet practically every budget and design aesthetic. 
Unless that is you just don't want anything obstructing your sightline, in which case you can go without either element. 
Brick Underground articles occasionally include the expertise of, or information about, advertising partners when relevant to the story. We will never promote an advertiser's product without making the relationship clear to our readers.