Are your NYC building's radiators too hot in winter? Steam balancing may be the solution
Steam balancing regulates the temperature so all residents are comfortable
It's an important step towards cutting energy use and reducing emissions
The cost for building-wide steam balancing will be tens of thousands of dollars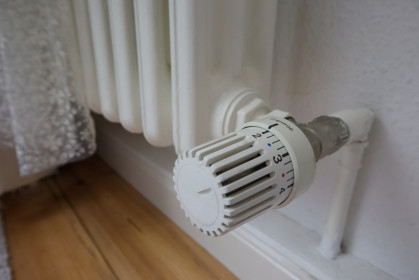 If your New York City apartment has radiators that make some areas uncomfortably hot in winter, you may have found yourself wondering if there's a more environmentally friendly solution than opening a window and letting the heat escape.
Turns out, there is. The solution is called steam balancing, a practice that not only creates a more comfortable environment but also reduces energy use and emissions, and might even help sell your apartment, if you can convince your landlord or board to implement it.
Heat season in NYC, which runs between October 1st and May 31st, requires your landlord or building management to provide heat and in some cases this means the boiler churns out steam but some residents can be too hot and don't have a way to control it.
Steam balancing involves regulating the temperature in a steam heating system so all the residents in a building—as well as individuals in an apartment—are equally comfortable at the same time. As co-op and condo boards address energy efficiency and emission requirements under Local Law 97, there's an increasing interest in steam balancing as a way to meet these goals. 
The benefits of steam balancing 
Steam balancing sounds simple enough but in prewar buildings with old pipes of varying thickness, apartments with different types of radiators, variations between one- and two- pipe systems, and combination units, Daniel Wollman, CEO of the property management firm Gumley Haft, says it's a "massive challenge."
"Balancing may be expensive, and its effectiveness is also very complicated," he says. Even so he's always trying to achieve it and it's an important step towards cutting energy use and reducing emissions. A 2019 report by the Urban Green Council found retrofitting steam systems in buildings of more than 5,000 square feet in NYC would cut their emissions by 26 percent.
Penalties for non-compliance with Local Law 97 emission goals will be issued in 2025, adding further motivation to make steam heating more efficient. 
Resident comfort is also a value you can leverage when you want to sell your place. Kimberly Jay, a broker at Compass, recently told Brick she's worked with numerous buyers who won't purchase an apartment in a building where the AC is turned off in the winter months—they don't want uncomfortably hot apartments where the only solution is to ventilate with cold winter air from an open window. This is something steam balancing also tries to address.
Steam balancing in your apartment 
Retrofits at the apartment level are a first step. Thermostatic radiator valves (TRV) on your radiator can give you a level of control over the heat in your apartment. They allow you to set the temperature for the radiator so you can turn it down or up depending on your level of comfort.
Whether you have a one- or two-pipe system will determine the valve type as well as any additional equipment you'll need in order to be able to regulate the heat. This might include orifice plates to constrict the flow of steam and reduce overheating. The cost, including installation, can range from $200 to $500 per radiator.
Another popular product are thermostatic radiator enclosures (TRE) or insulated radiator covers that help better distribute and regulate the heat. 
Building-wide steam balancing
Going further than regulating the temperature in your apartment might involve the installation of an energy management system (EMS). This adds a network of sensors so the heating system can optimize the boiler operation. To further optimize a steam system, "master venting" is required, where high capacity air vents flush trapped air to ensure steam reaches all apartments evenly at low pressure. Pipes can also be insulated and the boiler should be "tuned" for maximum efficiency. Making sure your building has the right size boiler can also help to conserve fuel.
Information provided by NYC Accelerator puts the building-wide cost and benefits to steam balancing retrofits at "moderate" for both the one- and two-pipe systems. The actual cost will vary depending on the size of the building. 
Energy savings will also vary based on a number of factors, the greatest one being how well or poorly the systems operate right now, says a spokesperson at NYC Accelerator, the city-sponsored body helping buildings cut emissions in line with Local Law 97.
To meet these compliance goals, co-op and condo boards are being encouraged to electrify their systems but in addition to energy savings, the value in steam balancing is that it buys you time—extending the life of your boiler. 
"Steam balancing and related system maintenance keep existing steam systems operating as effectively as possible. A transition to electric heating and cooling may still be considered in the future, particularly when the steam boiler, burner, piping, and other components are near their end of useful life," says Larry Katz, lead energy engineer with NYC Accelerator. 
Other ways to achieve balance are by standardizing the equipment in the building. For example Wollman encourages his co-op and condo board clients to have residents install cast iron radiators when they do alterations because they hold heat longer than other types of equipment.
"When you you have similar systems in a building it's much easier to operate and easier to achieve [resident comfort]," he says.
Alteration agreements are a good way for a boards to address energy consumption in apartments and can also mandate energy efficient appliances be installed when owners or shareholders renovate. 
Wollman also encourages owners to change their windows so the apartments are better insulated. Double- or triple-glazed casements are more energy efficient than single-pane windows.