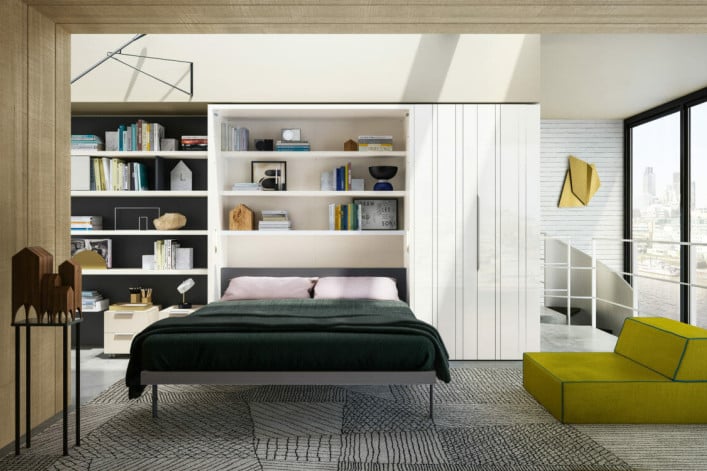 Clei & Resource Furniture
Murphy beds have long been a way to wring the most square footage out of space-deprived NYC apartments, and lately they've been staging a comeback. You may well be wondering: Do they really stack up? How much do they cost? 
There was once a time when these hideaway sleepers were saddled with downsides—namely, being cumbersome and uncomfortable. My own starter studio came with a Murphy bed that folded up into a recess in the wall, leaving people who stopped by to wonder, "Where the heck do you sleep?" Back then (the late '90s) it was difficult to hoist the heavy (and squeaky!) spring-loaded frame. I was also stuck with dead space when the bed was not in use. Often I would just leave it down.
---
[Editor's note: A previous version of this post was published in November 2019. We are presenting it again in case you missed it.]
---
Today, Murphy beds, commonly known as wall beds or transforming/convertible furniture, have been completely modernized. They are much easier to maneuver, some even by remote control, and come in horizontal or vertical positions and a whole lot of disguises—think bookshelves, cabinets, and closets. There are even freestanding, no-mount units for renters. 
And unlike sofa beds, which you have to "pull out with great, back-breaking difficulty and need to make up, wall beds can enhance a small room without overwhelming it," says Harriet Kaufman, a broker at Warburg Realty. 
Best of all, they are multi-functional, with integrated desks or dining tables, sofas, or benches, so you don't lose that precious square footage during the day. "You also have the option of choosing the mattress, fabric, and finish," says Deborah Ribner, an agent at Compass.
You can even take the unit with you when you relocate. "We move at least one or two of our wall beds a week," says Lisa Blecker, director of marketing for Resource Furniture, which sells top-of-the-line, European-made models to individuals and developers.
What follows is an expert run-down of what to consider before buying a wall bed, how it can help you make the most of your space, and what to budget for. Plus a roundup of wall (and ceiling!) beds in a range of price points. 
They're not just for studios 
For Melinda Orlie-Katsiris, founder of Orlie Katsiris Staging & Interiors, Murphy beds play right into the conversation around what she calls "right-sizing," which is the idea that no matter the size of your space, it should be designed efficiently as much as aesthetically. She has installed wall beds for young professionals in studio apartments, single parents juggling multiple kids in a one bedroom, and families in spacious four-bedroom apartments. 
Ribner had a client who bought a one-bedroom apartment in Williamsburg and wanted space for friends to stay over (and not on her couch). The solution? She put in a Murphy bed that transformed into her dining table. "She could fold it up with things still on the table!"
Kaufman described how a wall bed transformed a staff room in an elegant six-room apartment at 1095 Park Ave. that was set up as a charming guest room. "The bed is a perfect size and fits like a glove whether up or down. Murphys are a hit these days!"
Then there's what Becker calls "The Thing," which is the all-too-typical NYC scenario where the parents take the living room and the kids get the sole bedroom. 
Such is the case for owner-slash-designer (and best-selling author) Karen Salmansohn, who installed the Ito Sofa Wall Bed in the living room (her space, shown below) and Kali and Kali Board (all by Resource Furniture) in the bedroom (her 9 year old's).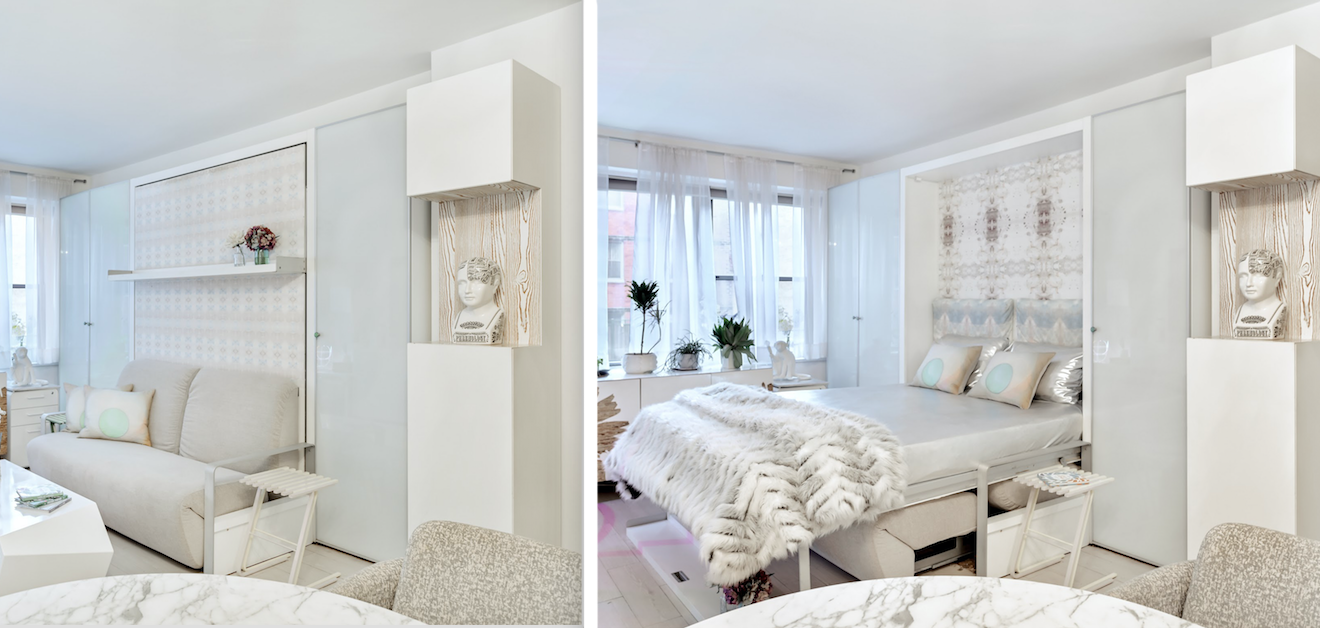 Blecker says another "huge market" are baby boomers who are moving from the suburbs to NYC to be near their grandchildren and need to get creative with a smaller floor plan (goodbye four-bedroom house, hello two-bedroom condo). 
Renter-friendly wall beds don't need installing
Some new developments, like Caesura in Downtown Brooklyn, and co-living spaces, such as Alta+ by Ollie in Long Island City, are building Murphy beds right into the design of their furnished rentals. Why not follow their lead? 
Murphy beds can certainly make it possible for you to live more efficiently in a smaller space. But be sure to do your homework. In a rental, there are very specific rules as to what you can and can't do to the walls, and drilling into a wall is likely to be one of them, Ribner says. "But if you agree to repair any wall damage before you move out, perhaps a landlord will allow one to be installed." 
You will also need to repair any damage in a co-op or condo sale if the buyer doesn't want to keep the bed, Kaufman says.
Better yet, opt for one of many no-mount options. At Resource Furniture, for example, all sofa combinations (except Ulisse) are freestanding. 
Wall beds make a kid's room do double duty
Katsiris, who works primarily with families, reports that kids tend to think "that's so cool, my bed disappears!" Bunk versions are especially popular, with the padding and the detachable ladder making it like a fort, and the extra storage compartment up top for "hiding all their secret stash."
More importantly, given the reality of family city living, multi-functional beds allow the bedroom to double as a playroom or study space during the day, leaving the living room free and clear.
When there are multiple walls beds in a room, Katsiris suggests getting one wall bed with a desk that's long enough to seat two or three kids, and then have another one be a sofa-slash-lounge feature.
She has also found that the beds grow with the family—say, putting in a wall bed when having a second child, then eventually having two or three wall beds (or wall bunk beds) for all the kids. Then keeping the beds once the kids have moved out and you've turned the room into an office or media room so there's a place for them (or guests) to sleep.
Even if space is not an issue, neatness might be. Ribner
had a client whose son thought Murphy beds were so cool that he wanted one with a desk in his (big) room—and could fold it up with books and papers still on the desk. Apparently he loved it so much he actually folded up his bed every single day. "Go figure that a Murphy bed would eliminate the need to nag your child about making their bed!"
Custom-made options suit any space
If you have the budget and wherewithal, you can certainly have a wall bed built to spec. 
Jennifer Morris, founder of JMorris Designs, designed a wall bed for a guest bedroom in a brownstone that was being converted to a home office and den. "We hid the bed so it worked day-to-day for the husband, parking a Ligne Roset sofa in front (and hacking the legs so they could move on casters). When guests stay over, the units on either side have pull out shelves that act as bedside tables and it's a cozy, cool guest room."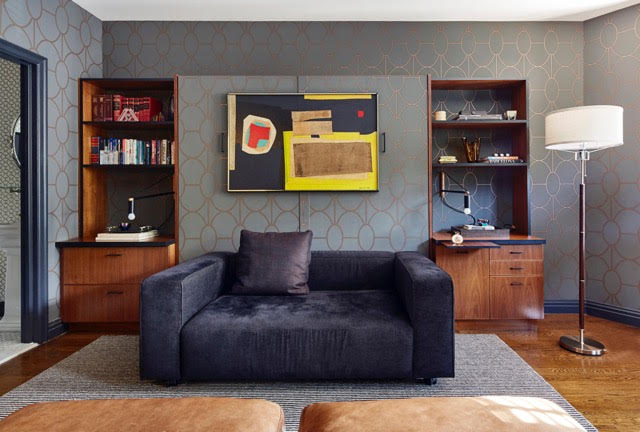 Even if you buy the bed from a bed company, you can add a custom-made sofa or bench so it's not attached and can be pulled away as desired, something Katsiris likes to do. "There's a lot of flexibility when designing around wall beds."
You can of course also enlist your architect or contractor to build custom cabinetry around the bed. Many bed companies offer this service too.
They can save money over the long haul
Starting at around $1,000, the price point for wall beds is pretty steep, and most of the time you'll need to buy a separate mattress and be paying extra for installation (or doing it yourself). 
Though you can find more affordable options (especially for renters), the price of a wall bed is much less money than you would spend year over year in trading up from a studio to a one bedroom or a one bedroom to a two bedroom and so on, Katsiris says. Plus they are not difficult to move. "I know contractors and handy persons who will do the job." 
Those at the higher end will cost you much more. "These are luxury products for sure, but you can trick out a whole room for $15,000 which is basically what it costs to move," Becker says.
Here's a roundup of products. Except where noted, delivery is included but mattresses are separate.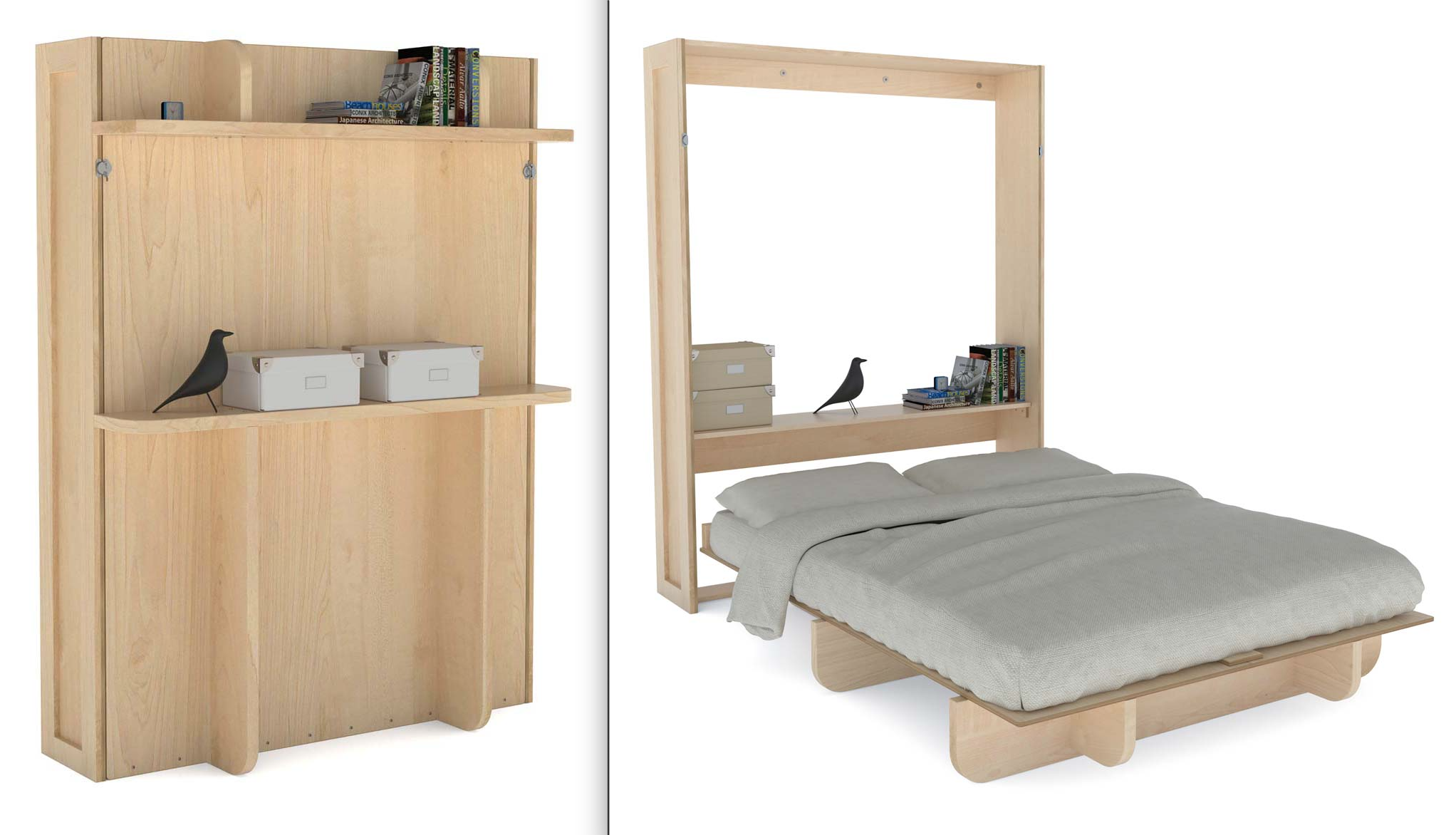 When you're on a tight budget
1) Lori Wall Beds bills itself as the world's most affordable wall bed at $799 and boasts over 5,000 "happy customers." 
The flat-pack kit will be delivered to your door (for an additional $99) and require assembly using their step-by-step video and a basic power drill. All pieces are 100 percent real wood, not MFD. Plus for every bed bought the company plants 10 trees in deforested areas across the world. Caveat: There's no lifting mechanism, just your own strength, but the all-wood look is stylish. 
2) You can buy just the metal frame rails and folding mechanism from Murphy Bed Hardware; each set comes with a "cut sheet" with measurements for you or a carpenter to build out the panel that will house the bed. Prices start at $679 for a twin size and up to $919 for a king bed.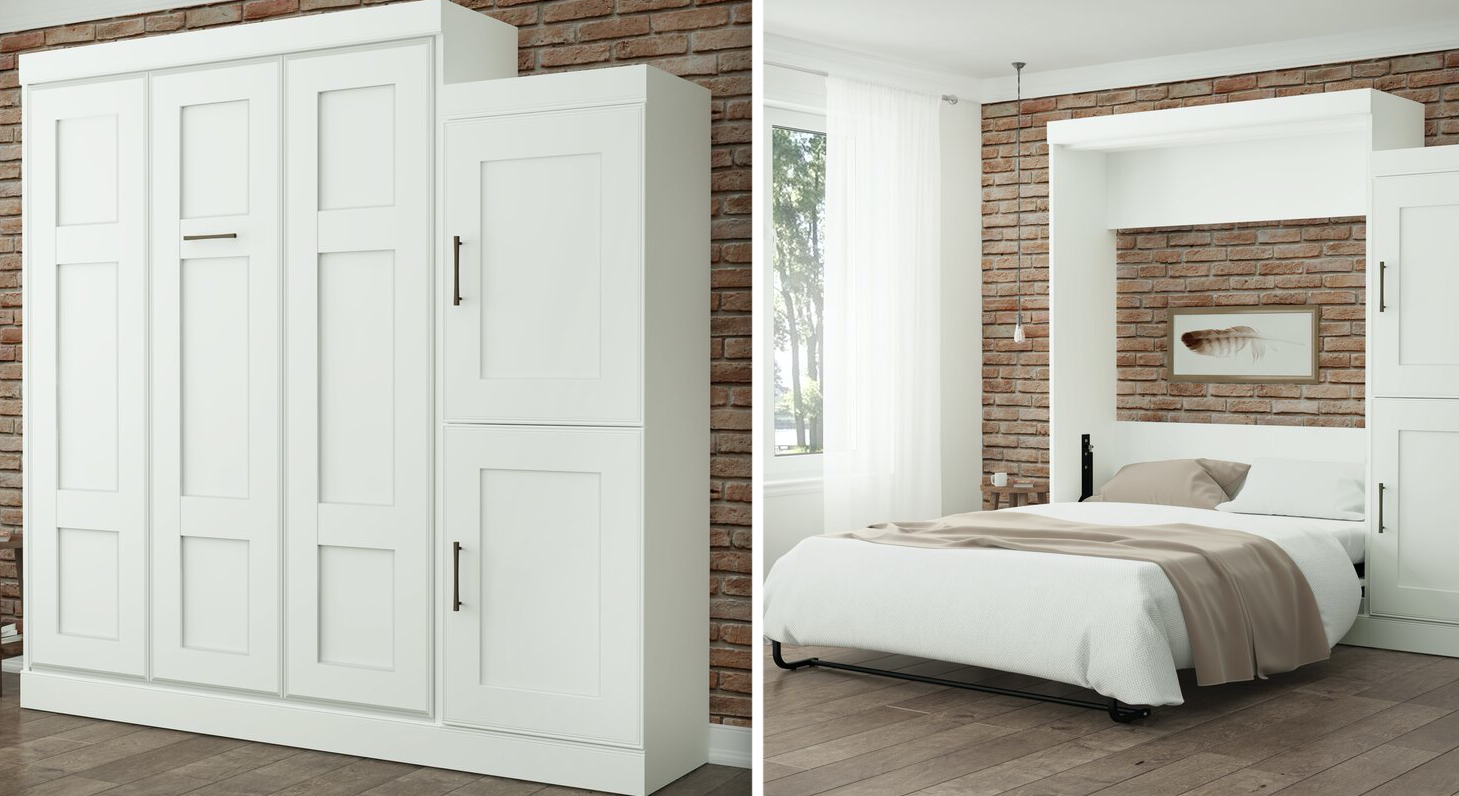 When you can spend $1,000-$2,000
1) Wayfair, AllModern, Homesquare, and Costco offer many of the same options in the $1,000 to $1,500 range (and up to $4,000). 
This queen bed was listed at $1,900 on Wayfair, inclusive of the storage unit.
2) Murphy Bed Express, a family-owned business in Chelsea that makes all its own products, has a basic panel bed with just the frame and fronts (mattress not included) that starts at $2,099. A spokesperson said most of their work is custom, with storage and cabinetry built around the bed. 
3) Breda Beds has fewer models but lots of customizable options. Prices start at $1,100 for a basic model. The Urban Stack Murphy Bunk Bed shown here is $2,320.
4) Murphy beds by California Closets start at around $2,000 for twin and $2,300 for queen in either a vertical or horizontal pull-down configuration. The standard frame is matte white melamine-laminated particle board, and the price goes up for other decorative moldings and trim options. They will of course integrate the bed into a broader design, with wardrobes and bookshelves flanking the bed being popular options. Unlike other companies, California Closets offers a lifetime warranty so long as you have one of its own workers re-install the bed if you relocate (anyone can remove it).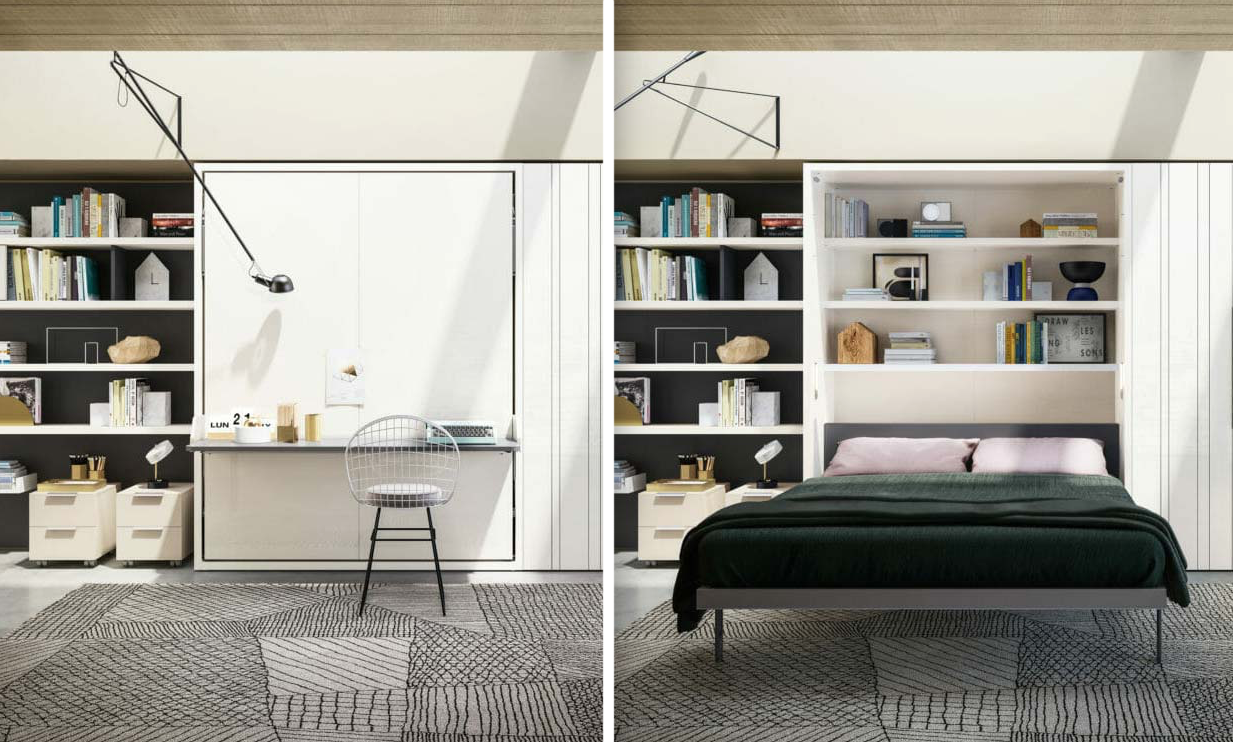 When you can splurge on a high-end wall bed
1) Resource Furniture is credited with fueling the luxury wall bed movement by becoming the first (and still only) distributor of Italian-made Clei wall beds some 20 years ago. It also curates other European furniture. Some beds have electrical mechanisms. All products are sustainable and eco-friendly (no VOCs or off-gases). Mattresses are included but installation is extra.
Becker says the LGM with bookshelves, the most popular option, is about $10,000. It has a rotating bed with library and table. 
The Penelope series starts at around $7,000 (more for the desk option shown in the photo above and at the top), and the Oslo is around $12,000.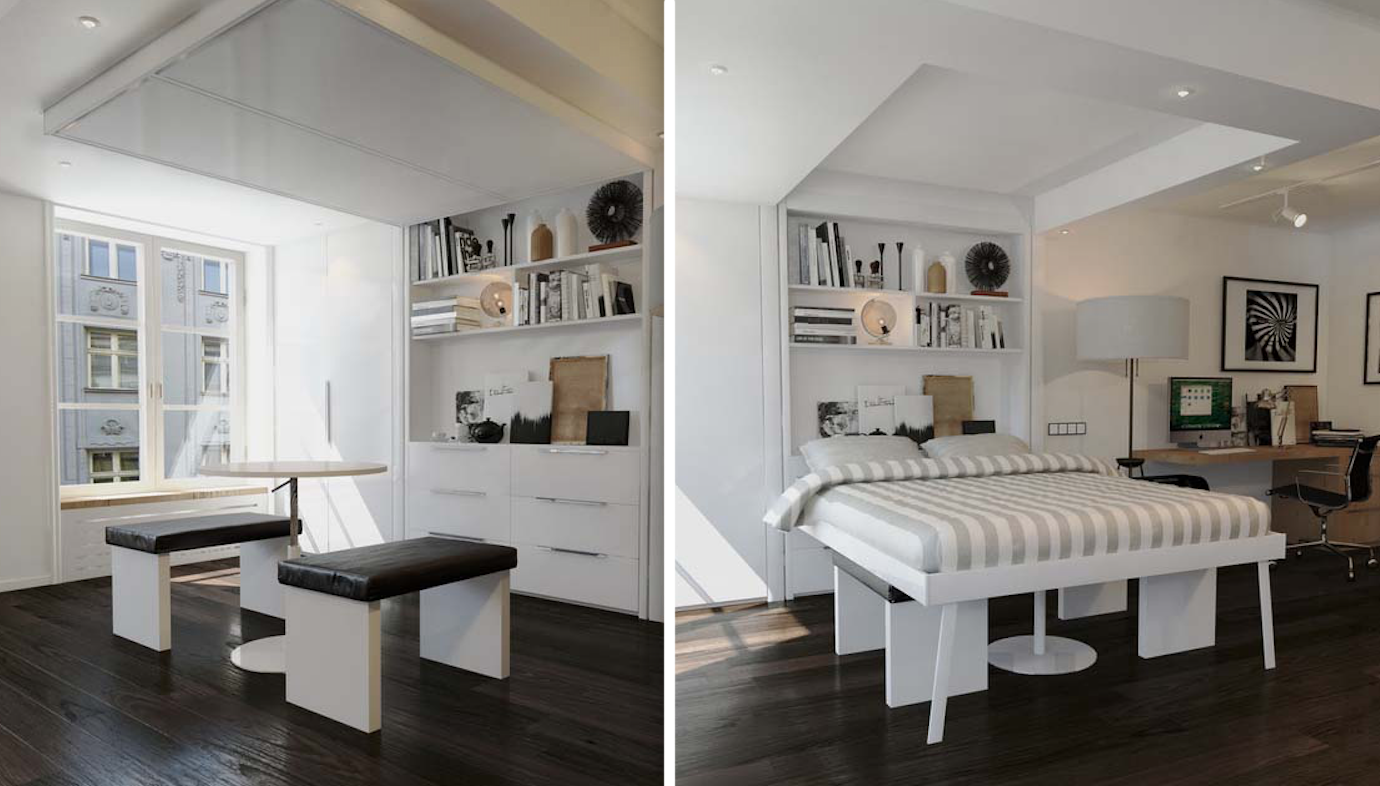 2) Milano Smart Living, which features Italian-crafted furniture for smaller spaces, has all the usual multi-functional configurations plus a remote ceiling bed (appropriately called Up) that runs $10,000. It also offers more than the usual kid-specific designs (check out Child's Play 5).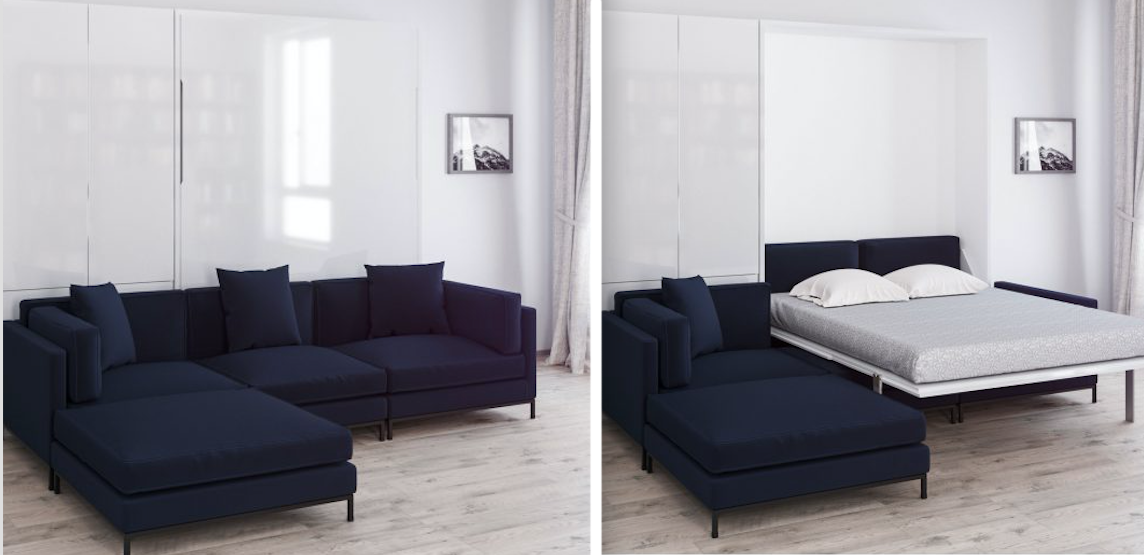 3) Vancouver-based Expand Furniture also imports wall beds with tables, desks, and sofas from Italy, with a decidedly minimalist aesthetic. The Migliore Sectional combo comes in either leather ($8,495) or navy velvet ($7,995). In-home delivery is free but the installation is on you.
What's next for wall beds?
Ori Systems is creating robotic systems including the Studio Suite, designed to be an all-in-one answer to small spaces; they are also collaborating with IKEA on the launch of Rognan, a similar (ostensibly less expensive) concept. A robotic ceiling bed (the Ori Cloud Bed) will also be available soon, the company says.
Brick Underground articles occasionally include the expertise of, or information about, advertising partners when relevant to the story. We will never promote an advertiser's product without making the relationship clear to our readers.