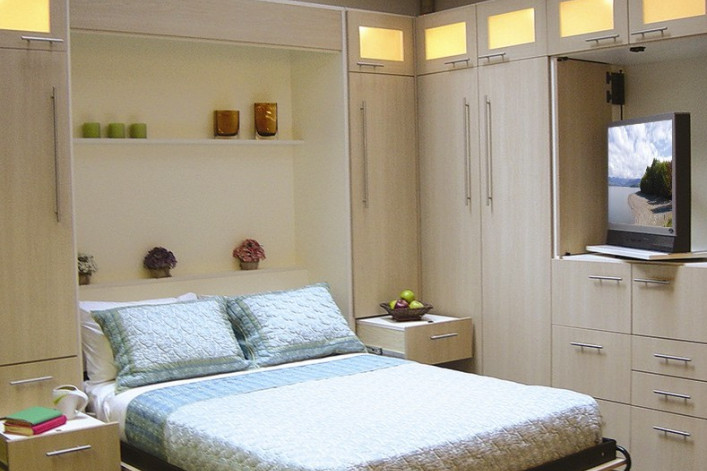 Q. I'm about to move into a tiny studio, and am considering a murphy bed. What should I know?
A. Murphy beds -- also known a hide-a-beds or wall beds -- are most attractive when they're part of a built-in case or cabinet (fixed or attached) to your apartment wall. The idea is that when folded or in the closed position, no one would ever know that the cabinet is indeed a Murphy bed. 
Built-in storage, usually flanking either side of the bed, is completely customizable and designed to work with your individual space. This removes any dorm-like feeling or the hideous "bed in a closet" that has been associated with Murphy beds of yore.
Features such as bookshelves and mirrors on the wall above the bed, as well as built-in lighting, are other available options.
In their upright position, Murphy beds require much less space than even a standard twin-size bed (as little as 20 inches in depth), but when the Murphy is open and visible, you'll require the amount of floor space as a regular bed plus that 20-inch depth of the actual cabinet. Width-wise, the dimensions are the same.
Here are some important questions and answers to review before you start shopping:
I am handy -- can I build one myself?
Murphy bed plans are available online, so technically if you can slap on a tool belt, yes, you could give it the college try. However, in a NYC apartment you may simply not have the floor space to attempt even the smallest construction project. Plus, if you're looking for a professionally designed and installed unit (and one that won't accidentally gobble you up), bite the bullet and hire a pro.
"Professional installation is definitely required," says architect and project manager Gavin Bromell of Techline Studio in Manhattan. At Techline, delivery and installation is included in the bed's retail price. More on costs below.
How quick and easy is it to operate?
No worries about time or muscle -- the Murphy beds of today can be opened and closed with one hand in only a second.
Bedding can stay on the mattress and be tucked in so it's not visible when the bed is folded away. 
What sizes are available?
Murphy beds come in all sizes: twin, full, queen, and king.  If you're lacking the square footage for a vertical configuration (opening and closing from foot to head), the horizontal option (opening and closing from side to side) might work better for your floor plan so long as you don't have your heart set on a king-sized mattress.
Also keep in mind that when two people are in a horizontally-configured Murphy bed, one person will be against the wall and getting in and out of the bed will be more of a challenge. For the outermost person, reading in bed will also be less than desirable with no headboard or wall for support.
How comfortable is a Murphy bed?
The mattress is thinner on a Murphy bed, so they will not be quite as comfy as a regular box springs and mattress.
Still, says Bromell, about 70 percent of his customers use their Murphy beds as their primary bed.
And because Murphys are on a platform with a real mattress, they will usually be more comfortable than the average sofa bed or a futon. Unless enhanced, a sofa bed will have the metal folds of the bed frame, and a futon doesn't utilize a regular mattress (standard mattresses don't fold). So from this perspective, a Murphy would probably provide a more restful sleep.
How much will it cost?
A custom Murphy bed doesn't come cheap. Be prepared to spend about "$3,500 for a basic full-size" in laminate, says Bromell. Depending on size, design, and finishes (laminate vs. wood), cost could be as high as $9,500 for a king. Pricing includes a high quality inner spring mattress, as well as delivery and installation.
Built-ins on either side of the bed and other accessories such as lighting are extra.
How does a Murphy bed affect resale value?
Gordon Roberts of Warburg Realty says if he gets a listing with a built-in bed, he will "assess how well it is visually integrated within the space, and advise the seller to be prepared to remove it prior to sale."
Roberts doesn't see a Murphy bed adding to the resale value of an average apartment. He compares it to a wall-mounted bracket for a flat screen TV.
"Some buyers will be happy to have it (in fact, they may ask for the TV along with it), others not," he says. It's often a similar situation with a Murphy bed. "If the buyer asks the seller to remove it, they should do so, and restore the wall to its original condition."
Can I take a Murphy bed with me?
The good news is that even if your buyer doesn't want it, or you're in a rental, your investment won't be in vain---you can uninstall the unit and reinstall it in your new digs. Bromell says Techline will dismantle your bed and cabinetry at the rate of $195 per hour. It usually takes about two hours to uninstall, and about three to re-install, depending on the design. It is more economical to use a moving company, however, to transport the bed.
---
Tracy Kaler was a designer, decorator and renovator in her last life. Before working as a freelance writer, she held several furniture sales jobs in the Big Apple and purchased a new wardrobe. Now she works in her pajamas and commutes two feet to her desk each day. This is one of the few advantages of living in a New York apartment, and well, so much for that wardrobe.
See All NYC Renovation Questions
Related posts:
Introducing ClickandImprove.com: Easy one-click home improvements & repairs for stressed-out urban dwellers (Sponsored) 
From 1 room to 2: The insider's guide to temporary walls
Brick Underground articles occasionally include the expertise of, or information about, advertising partners when relevant to the story. We will never promote an advertiser's product without making the relationship clear to our readers.