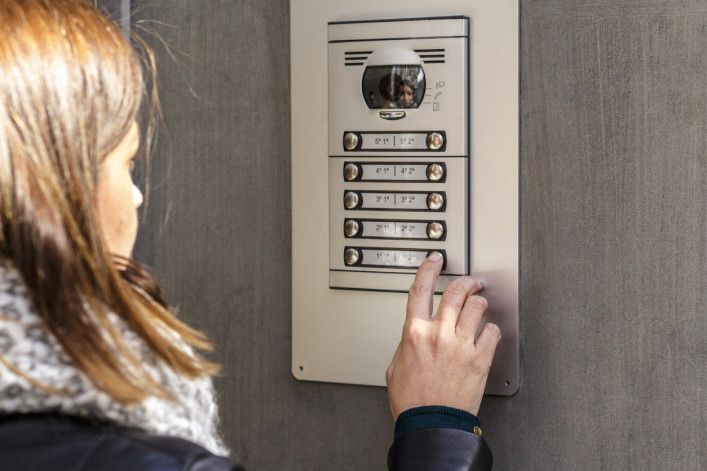 New York City residents depend heavily on building intercom systems: They connect you to the world—your visitors, your packages, your food deliveries. Which is why it's a real pain when they malfunction. 
Brick Underground talked to a few experts for some basic repair tips for old and new systems around the city. Fun fact: Companies that install and repair intercom systems often also provide locksmith services.
Intercom woes
You can't hear your guest, they can't hear you, or the lobby door isn't unlocking. These are common scenarios with New York City intercom systems, but the good news is that sometimes it doesn't mean your system is broken, sometimes the problem is, ahem, you.
"A lot of times it's user error," says Pete Carmello of Brooklyn-based Lock and Tech. "We always ask if people are following the exact instructions they received. Sometimes people aren't pushing a button hard enough, or not waiting long enough, it's different with each system."
So before you call a repair service, consult the manual and try a little patience.
A quick and easy fix
If you are, in fact, doing things by the book, a low-tech fix worth a try is to swab the intercom buttons with a Q-tip soaked in rubbing alcohol. This can help unstick buttons and help avoid a professional making the trip (and billing you for their time). 
Getting professional help
If you are sure the buttons are working, then you've probably got a wiring issue, which means you'll need help. In general, it's never a good idea to go messing around with electrical wires, both for your personal safety and to prevent doing any further damage.
In some cases, your super may be able, and permitted to handle it—inquire with your management company or landlord—in others, otherwise you need a repair person to come out. The two estimates for service calls that we got were $195 an hour and $250 an hour plus parts. Note that you'll need to get authorization from your building before any repair can take place. "But a tenant can handle the communication," says Carmello. 
The good news is that the need for a total system overhaul is unlikely.
"It's all in the wire connections," says Daniel Vasquez of Paragon Security and Locksmith. That is, you're dealing with the connections at the base in the lobby, the station/panel in an apartment, the door strike (which enables the front door to be unlocked) or the power supply, the last of which may be located in a building's basement, or in the lobby ceiling, not the wiring within the walls. Even with older systems such as the very prevalent Lee Dan system, Vasquez confirms that while they may be outdated, the core wiring is typically fine. 
Vasquez says buildings typically replace intercom systems these days to upgrade their security capabilities.
"Intercoms are getting outdated," he says. "Now everyone wants more security. They want a camera to see in front of the door before allowing someone in." Popular upgrades include systems from 2N (for office buildings with lots of extra features and capabilities), Comelit, and Siedle. Lock and Tech recommends and uses Aiphone and ABB systems. 
And it doesn't take as long to replace a system as you might think. Vasquez estimates a building with five apartments could be done in a day; Carmello says a 100-unit building could be done in about two days. (Keep in mind that speed will be influenced by manpower, with more technicians costing more money.) In terms of cost of replacement, there are many variables, both companies said it was hard to give an estimate. Lock and Tech will provide you with a free estimate for the upgrade cost if they come out for a repair.
Brick Underground articles occasionally include the expertise of, or information about, advertising partners when relevant to the story. We will never promote an advertiser's product without making the relationship clear to our readers.