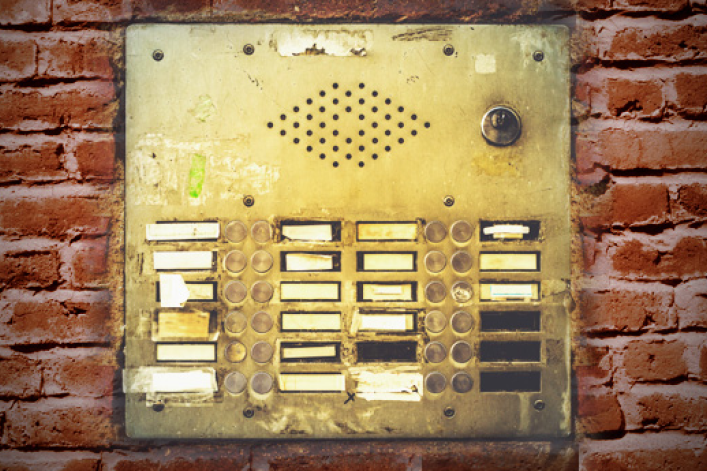 Despite New York's reputation as the big, bad city, a surprising number of renters are making do with broken buzzers and building doors that don't lock, at least if our recent survey of New Yorkers' biggest apartment-related safety fears is any indication.
Legally speaking, if your building as at least eight apartments, your landlord has to install a self-closing, self-locking front door as well as an intercom system that allows you to communicate with—and buzz in—guests, according to city regulations housed on the delightfully literal "Rules of the City of New York" website. (Regulations vary slightly for buildings that went up before 1968, which are required to offer self-locking doors and intercoms "if requested by a majority of tenants," and at the tenants' expense.)
What's more, if you're the victim of a crime because of a door that's unlocked due to a broken buzzer, your landlord could be held liable, per the New York Attorney General's tenants' rights guide. (One thing to keep in mind: even if the door to your building has been left open, standard renter's insurance will cover items stolen in a subsequent burglary, says  apartment insurance broker Jeff Schneider of Gotham Brokerage.)
Unfortunately, enforcing your rights is easier said than done. Sometimes airing your grievances with a landlord will only get you a higher rent bill the next time your lease is up for renewal. "That's the problem with market-rate tenants, you know what happens when they complain," says Sam Himmelstein, a lawyer who represents residential and commercial tenants and tenant associations. One renter, who shared her story on the NYC forum of urban information site City Data, says she waited three months for a city inspector to respond to her 311 complaint about her building's malfunctioning intercom system and perpetually propped front door. In the meantime, her landlord hiked the rent by 20 percent. Ouch.
That said, the first step is to notify your landlord about the issue in writing. Formal written requests tend to get more efficient responses than texts or phone calls, 
as we've reported previously
, and are useful documentation if you eventually wind up in court, Himmelstein points out. If you live in a rent-stabilized building, you can fire off a
 complaint for reduction of services
 to the city Department of Housing and Community Renewal.
Enlisting your fellow tenants to join you can also add to the pressure on your landlord, and prevent you from earning a rep as the building's resident "troublemaker." If that doesn't get you anywhere, call 311 for an inspection (but if the above example is any proof of the city's response time, don't hold your breath).
For an extra nudge, you could also get an estimate for how much the repairs or installation will cost, and send it to your landlord along with a request for the work. Prices run anywhere between $2,000 and $50,000, depending on the work being done, the kind of system being put in, and the size of the building, according to a rep for Target Security Systems, which offers free quotes on intercom repairs and installations. Video intercoms can cost around $500 per apartment in large buildings, the New York Times has reported. 
Still, even if you opt for the "nuclear" options of withholding rent or filing an HP action, taking your landlord to housing court for flouting the law—both of which could land you on the tenant blacklist—you may have to brace for a long wait to get this problem fixed, especially if your landlord is lax enough to have let this become a problem in the first place.
In the meantime, do yourself (and your neighbors) a favor. Even if it means you have to go downstairs to greet every single guest and Seamless delivery guy, don't be the person who props the front door open.
Related: 
Home Security 101: New Yorkers' biggest fears and best tips for staying safe
6 ways to get your landlord to fix stuff in your apartment
The landlord watchlist is out: is yours one of the city's worst? 
Landlord-approved apartment upgrades
Brick Underground articles occasionally include the expertise of, or information about, advertising partners when relevant to the story. We will never promote an advertiser's product without making the relationship clear to our readers.