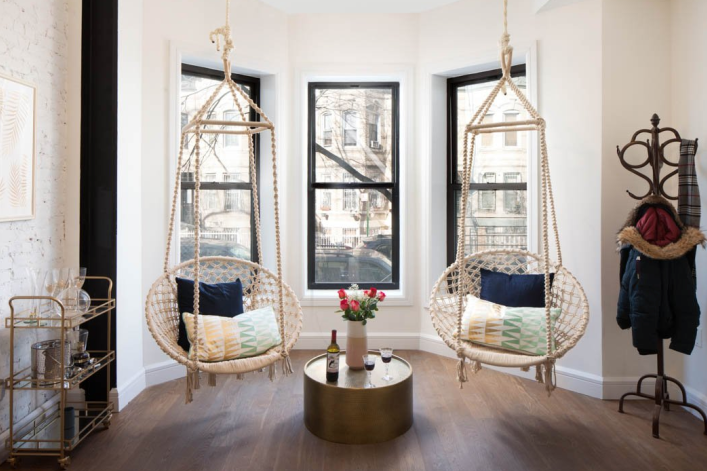 Scan a shelter magazine or scroll through Instagram these days and the likelihood of seeing a boho or "whimsical" furniture accent like a swing, hanging chair or hammock in a room is pretty likely. These breezy pieces certainly look fun, but how does one actually install something like that—and is that even allowed if you rent or own in a co-op or condo?
And what about something like a pull-up bar? You wouldn't want to wreck anything, or end up crashing to the floor.
First things first: Before you go shopping or start drilling, you should get permission from your landlord, board, or management company. Be forewarned, a lot of buildings will say no to a swing or hammock hanging from the ceiling. But if you're in a brownstone or a house, you may have more leeway.
What to know about safety
"Most buildings won't let you anchor stuff in the concrete," says Jeffrey Streich, owner of Prime Renovations NYC. He installed a swing in a girl's bedroom—on Long Island. "I could not imagine any [New York City] building allowing that to happen." 
Rules vary from one co-op to the next, and "approval is generally required anytime the building's structure is involved—and that includes things like ceiling joists and wall studs," says Dan DiClerico, Home Expert & Smart Home Strategist at HomeAdvisor, referring to the elements of a building that provide the support for these hanging features. 
Swings are especially tricky, says Walter Marin, founder and senior principal of Marin Architects. "It is very difficult to install a swing and hammock in a NYC apartment. There are safety issues, in addition to the level of difficulty. There's a difference between a 'live load' and "dead load"—meaning that a hammock doesn't typically move too much, requiring a different set of requirements from a dynamic 'live load,' such as a swing."
However, if you own a house or a brownstone and make the rules, it may be possible. Streich says brownstones, which have high ceilings and materials other than concrete, lend themselves to installing some hanging furniture. "Still, I would want an engineer or architect to take a look at it," he says. 
Get hanging
If you are going ahead with a swing, choose your location wisely. You'll obviously want a spot that provides enough room to swing—a few feet in front and back and about a foot on either side. 
Word to the wise: "You really need to know what you're doing when it comes to anchoring the hammock or swing. That's where we hear horror stories of people doing ripping down sections of their ceiling, or even seriously injuring themselves," says DiClerico. 
If you have any doubts about your ability, bring in a handyman. Depending on the type of furniture, they'll probably be able to do the job for between $150 and $200, according to HomeAdvisor's True Cost Guide. 
Streich explains that for a swing, he would mount wood cladding to the concrete ceiling, then secure the swing mounts on the wood with concrete nails and finish with a layer of sheetrock over it. (He'd do the same for a hammock, with the wood and mounts in the wall.) It's the same process for hanging a heavy chandelier, or mounting a vanity or cabinets, he explains. 
Below, DiClerico outlines the DIY process. 
• Start by locating the ceiling joist with the use of stud finder. Ideally, the ceiling joist should be two-by-eight inches to provide adequate support of a hammock or swing.
• Mark either side of the joist with a pencil, then install your mounting hardware in the middle of the joist. All the necessary hardware should come with the hammock or swing; if not a pair of six-inch eye hooks will usually provide sufficient mounting capacity.
• Attach S-hooks to the eye hooks, then loop the chain, rope, or other hanging device around the S-hooks, and mount the hammock or swing.     
Pull-up bar
A pull-up bar is best inside a doorway. "Make sure the bar is securely anchored to the two-by-two-inch framing studs located on the other side the door jamb, using the hardware provided," says DiClerico. 
For wall and door bar installations, he says standard two-by-four-inch wall studs will do the job.  
Same look, less hassle, no approval 
The easy way to go about achieving suspended seating is to use a hanging chair or hammock with a frame. "They require a bit more space in the room, but you don't have to worry about structural supports," says DiClerico. 
For a pull-up bar, there are many on the market that don't require drilling into the wall or door frame. 
Brick Underground articles occasionally include the expertise of, or information about, advertising partners when relevant to the story. We will never promote an advertiser's product without making the relationship clear to our readers.