Renovation
Craving some Zen? Here's how to create a spa-like bath in your NYC townhouse or apartment
Soaking tubs come in different shapes and sizes to fit (almost) any space
Porcelain tiles mimic wood and stone but are durable and easy to clean
Curbless showers are sleek looking and accessible to everyone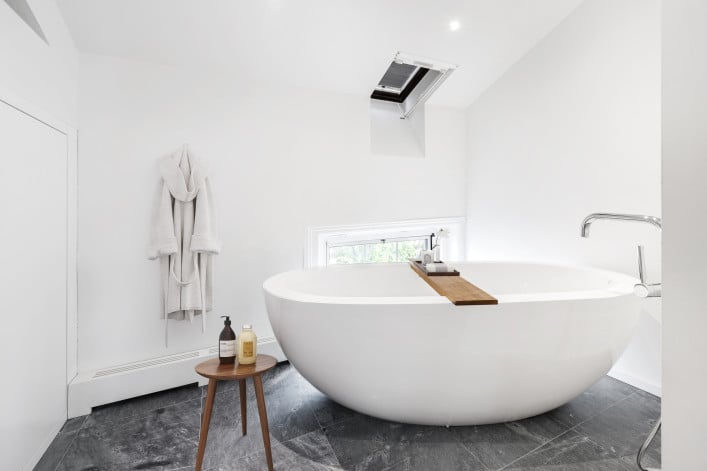 Interest in creating spa-like baths took hold during the stuck-at-home days of the pandemic and has not let go. In fact, along with multi-functional home offices, this renovation project made our top five trend list for two years running. 
By all accounts, New Yorkers are taking the plunge and splurging on bathrooms—the privy is where you can (and should!) make it all about you! Cue curbless showers, textured tiles, and wood to evoke nature, and radiant heating floors. 
"Bathrooms have always been a place to relax, find solitude, and disconnect from the world and all of our devices," says Anna Karp, CEO and co-founder of Bolster (fyi, a Brick sponsor). "After the past two years, these spaces have become even more important, so people are looking to personalize them and make them special. Therefore, there is a bit more of an edge when it comes to designing bathrooms."
Brick tapped designers and brokers for their advice on how to create a Zen moment in bathrooms of all shapes, sizes, and budgets. No room for a luxurious soaking tub? No problem. No budget for deeply veined Calacatta Gold marble? You're in luck. 
Read on to find your bathroom bliss.

Spring for a soaking tub
A deep tub signals "spa"—especially a freestanding one that is equal parts form and function. 
Peter Holtzman, founder of Harlem-based Bespoke Architecture, says "people do want tubs but it needs to be separate from the shower because if you combine the two it's a lesser experience—being half enclosed with a glass door is a terrible tub experience."
If you have a small footprint, get creative. Tubs come in lots of shapes these days, including square (like the one below), round Japanese-style tubs (all you need is 41 inches!), and triangular(ish) corner models—all can tuck into a space where a longer model wouldn't fit.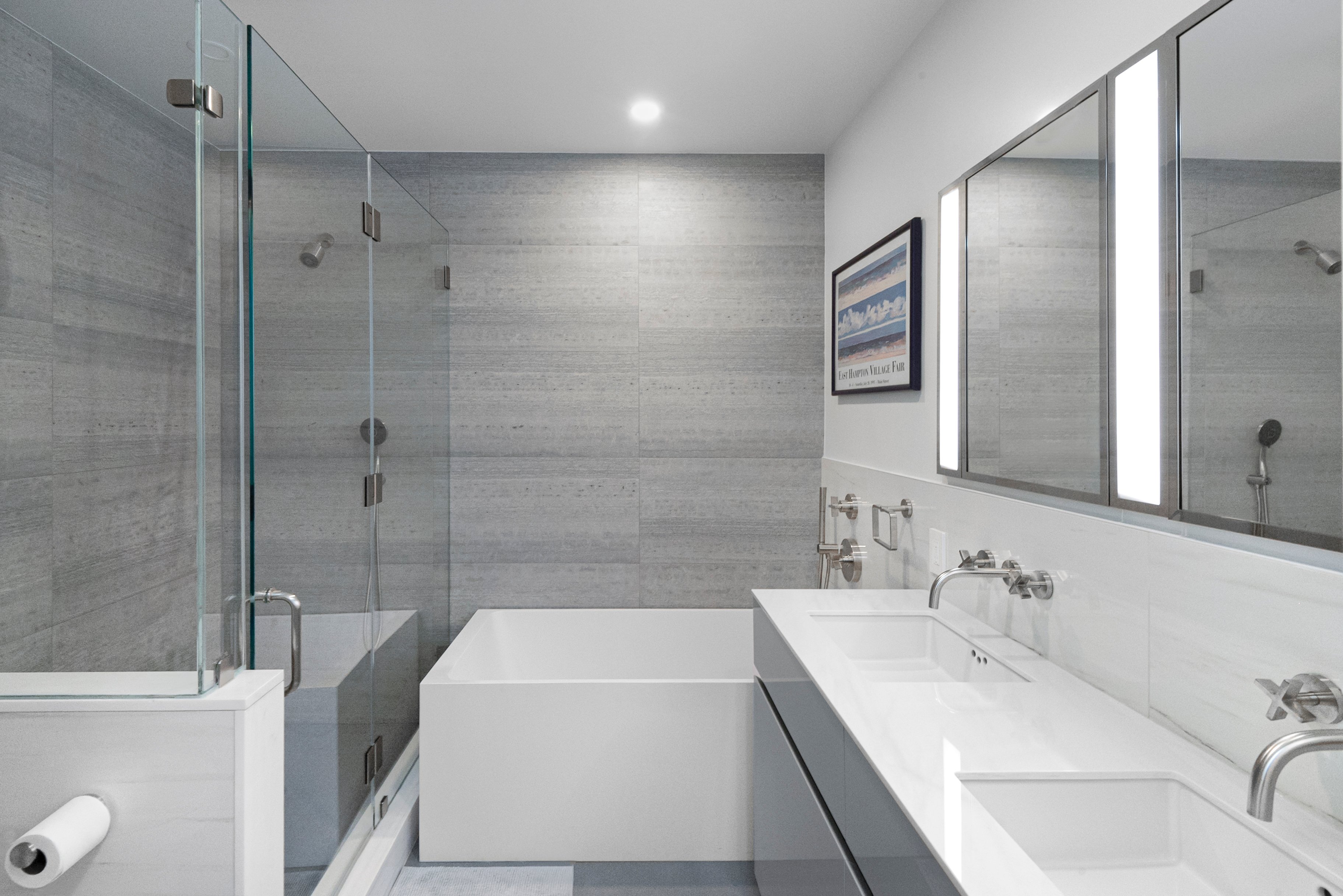 If you live in a brownstone, you might be able to replicate what Bespoke Architecture did for a client who was having a hard time figuring out how to have a soaking tub and a shower in the same tight space, especially when the tub would rarely be used.
"Because it was on the ground floor, we just sank the tub into the cellar and built a custom water-tight box for the tub that has steps built into it," Holtzman says. "And we put an Ipe slatted cover that's like a beach shower and the whole thing evokes bringing in natural materials."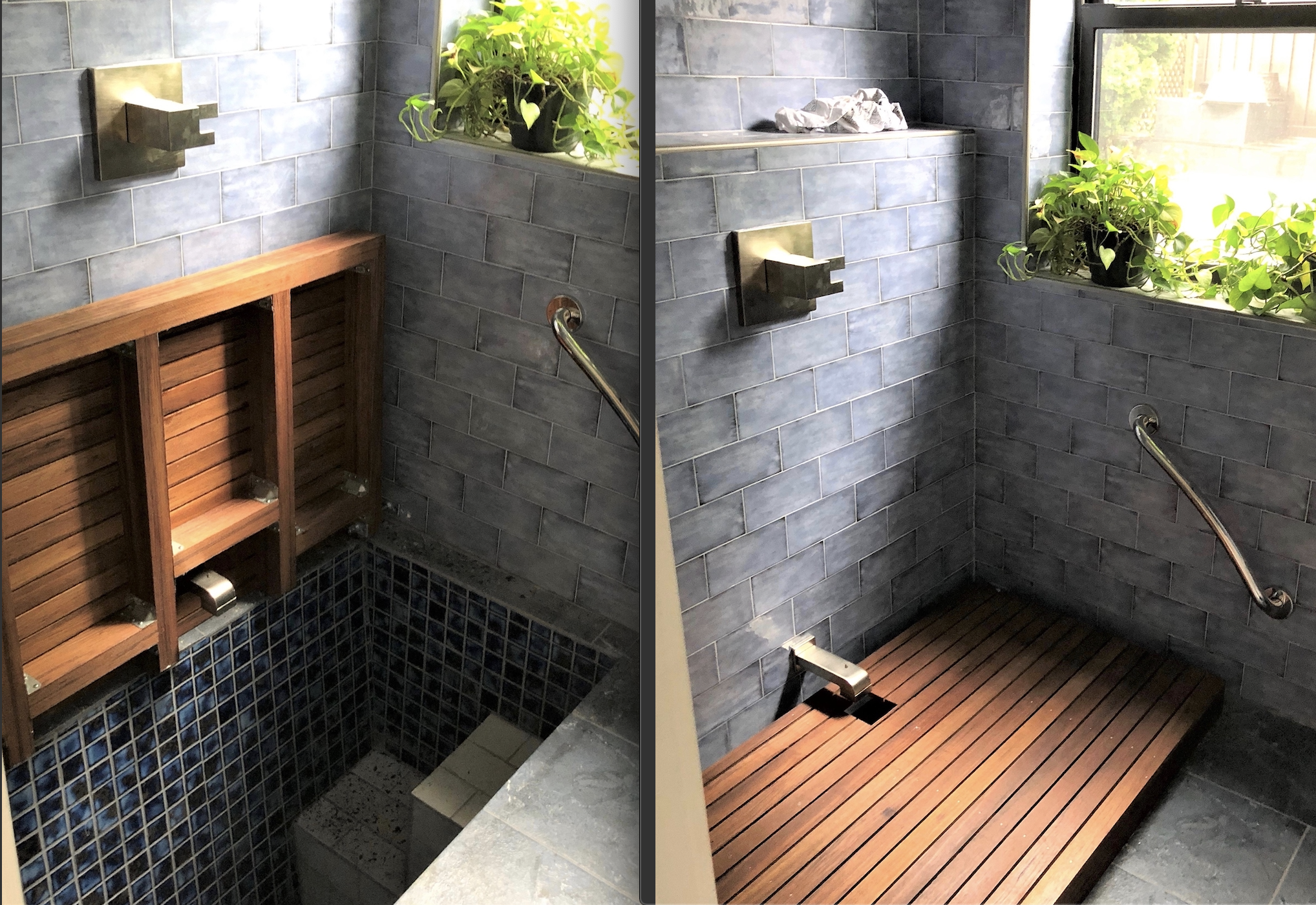 At the other extreme, Karp says clawfoot tubs are "an instant classic" and trending for those who have the space to accommodate one—and whose idea of a dream spa leans into grand, old-world opulence. "The trend, however, is to have one in a different color—straying from the ones that are made in copper and have a truly vintage look in favor of charcoal gray and light blue, depending on the interior. Companies have responded by having more color options, whereas in the past we used to have to paint them ourselves!" 
The same goes for sleeker, more minimalist styles (sans feet), which are more in keeping with a modern spa aesthetic.

Go curbless for walk-in showers 
Showers without thresholds (and barely-there glass) create a seamless look that makes the space feel more open and expansive. And they have become the epitome of spa-like spritzing—it feels like you are at a luxe resort.
For example, Maryana Grinshpun, founder of Brooklyn-based architecture and design firm Mammoth Projects, created an ensuite bath in the attic guestroom of a Park Avenue townhouse (above). The shower drain is hidden beneath a slatted-teak floor that is tucked behind a fixed glass panel. (The natural stone is from Ann Sacks.)
Skipping the step-over eliminates the risk of pesky mold and mildew that tend to develop in the crevices and it makes the floor a cinch to clean. Curbless showers are also accessible to all, whether mobility is an issue for you or not. Either way, it could help with resale. 
There are a couple of potential drawbacks though should the shower not be installed correctly—the floor will need to slightly slope in the direction of the shower drain or you'll have water everywhere, and you'll need to keep that drain clear of any clogs for the same reason. 
There's not always enough subfloor space for the appropriate sloping, in which case you can approximate the look of a curbless shower by using the same material for the threshold as the floor on either side. It's a neat trick of the eye. 
Or you can create a step-up shower where the floor of the shower is level with the curb, as in the example below by Atelier Armbruster. Adding a seat and built-in nook in the same material makes the whole space feel like it was carved out of a marble slab. Note, too, the heated towel rod within arm's reach of the shower—a hotel amenity that's affordable and worth considering just because.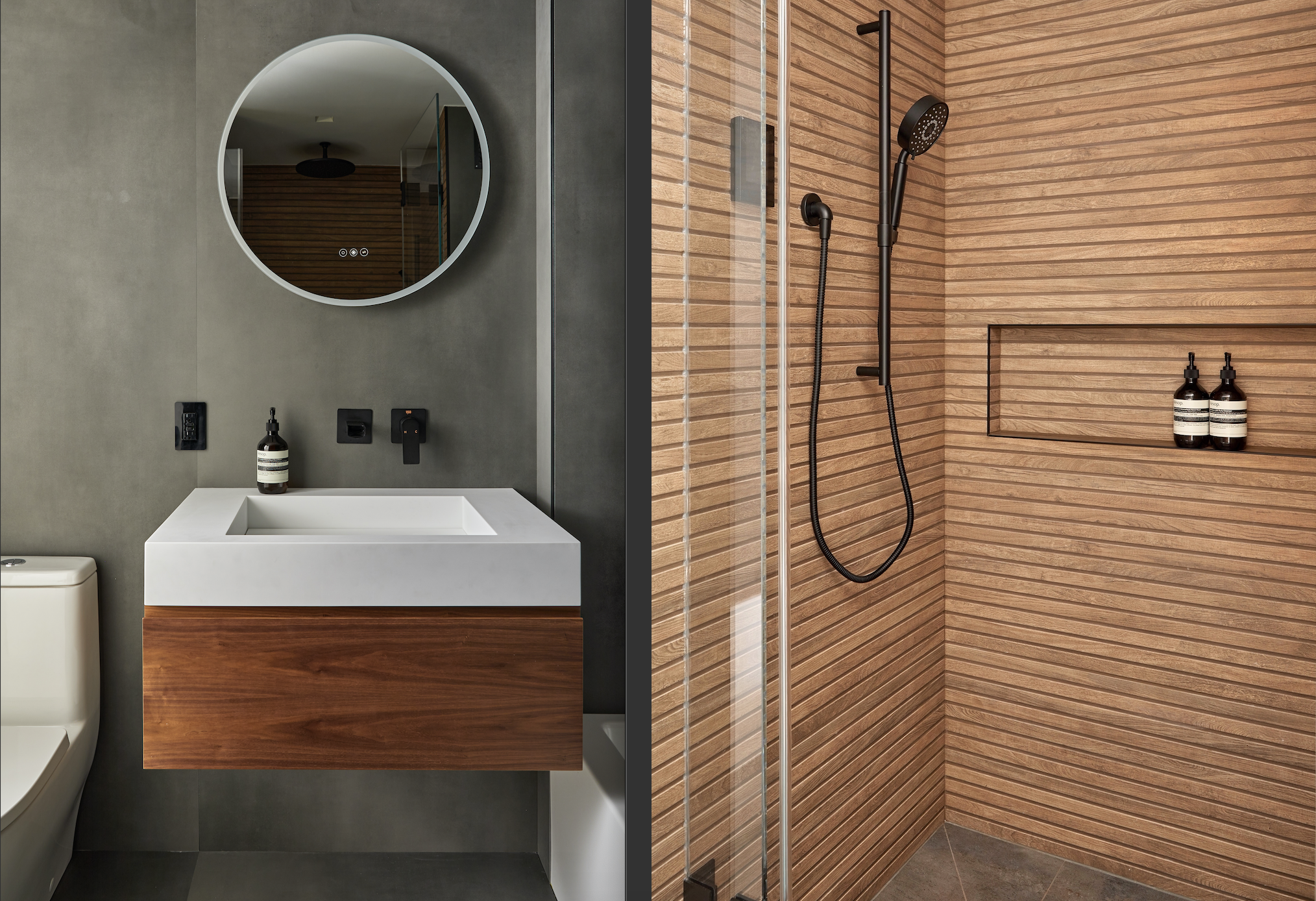 Use tiling to create texture 
Part of the spa experience is a feeling of calm, and gray is second only to white in oozing peace and tranquility. 
Hence the rising popularity of stone in shades of gray and blue for surfaces—namely floors, countertops, walls, and shower tiling. 
But there's also been a resurgence in texture. "Slatted walls and stone with a lot of tooth are increasing in popularity in Zen experiences because they are evoking the naturalness of the materials," Holtzman says. "The polished stuff is not very natural but a naturally cleft stone is very rustic and looks like it's been split right out of the quarry. And this pairs nicely with woods." 
Not that you have to go for the real thing. He praises the use of porcelain tiles that mimic those types of stone. 
Jared Barnett, an agent at Compass, concurs: "Many of our clients use porcelain tiles as they do not stain and are more durable and cost-effective. The technology has become so advanced you can find nearly any natural stone realistically mimicked in porcelain tile." 
Fontan, an outspoken advocate of porcelain tiles for years, says pairing them with natural looks is a big trend. "We did a shower with wood-look porcelain for a spa feel, mixing them with large-format gray porcelain tiles because gray bathrooms are always popular." (His favorite sources include Porcelanosa, Florim, and Tile Bar.) 
In case you haven't picked up on it yet, using "large-format tiles" is a growing sub-trend. "They not only make an impressive statement but also minimize the amount of grout needed, making the bathroom much easier to keep clean," Barnett says. 
Karp offers another reason to lean into large-format tiles, and not just in porcelain but also marble: "They are a very practical option for the minimalist look with millions of options to choose from, for walls and flooring. They can also help achieve a very high-end look at a lesser price tag" (and can be less labor-intensive to install than intricate or delicate tiles, so you save on labor as well as material costs). 
She does note that at least in higher-end projects, (real!) stone slabs are making a comeback for those who can afford it. Meaning for some, nature is still the end-all, be-all.
And if "marble or bust" is your mantra, you'll appreciate the primary bathrooms (below) at luxury condo development The Astor on West 75th Street, which have not one but three kinds—Calacatta Gold, Nero Gold, and Tundra Grey.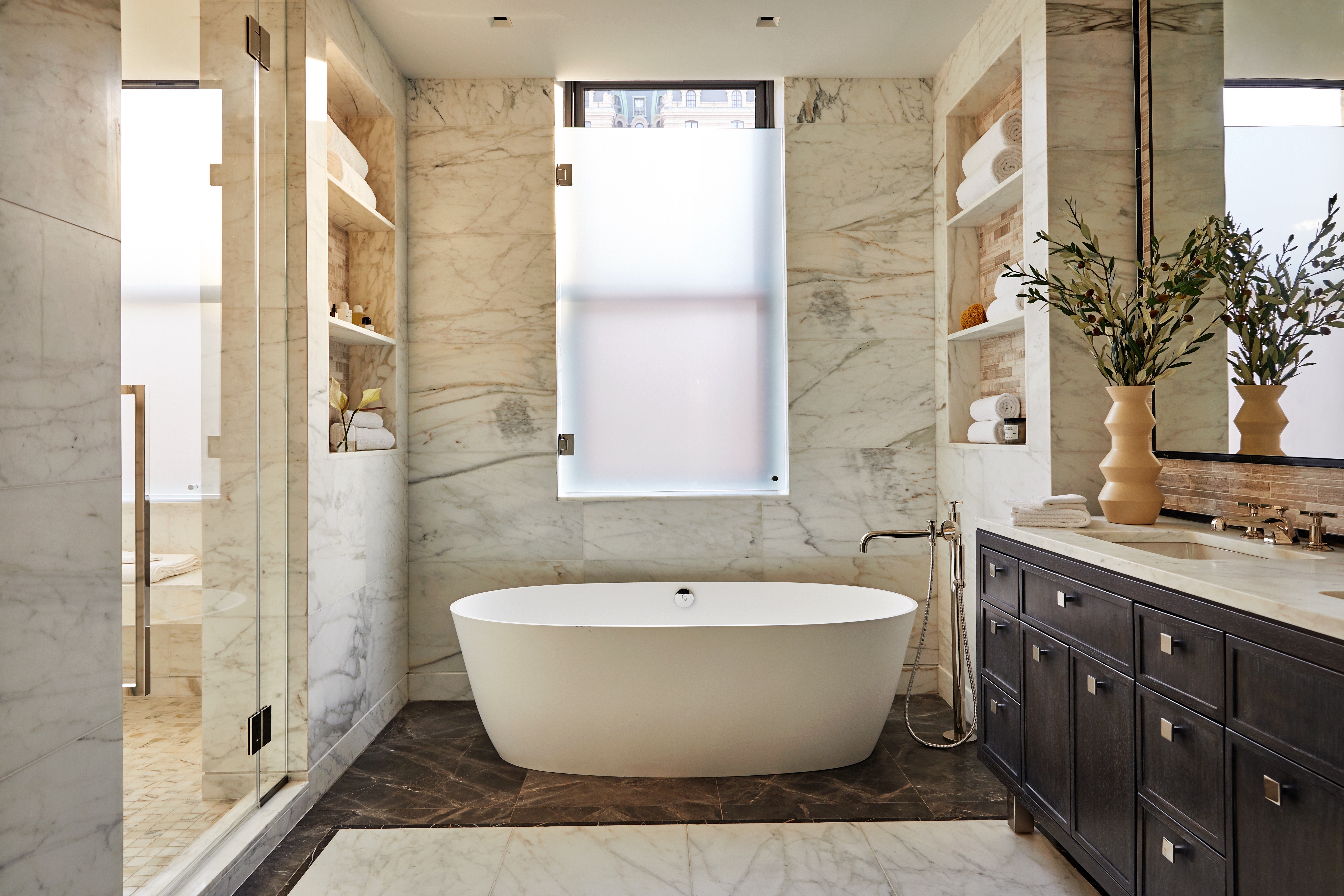 Add radiant heating floors
Why tiptoe across chilly tiles when you can have a toasty floor by installing electric radiant heating underneath? And that heat will rise to warm up the entire space—no cold spots or unsightly (and noisy) radiators to ruin your self-care splendor. 
There's a safety benefit, too, especially for curbless showers, since the floor will dry more quickly, reducing the likelihood of slips and falls.
Stone, ceramic, and porcelain tiles all have thermal-conducting properties, making these the best surfaces for radiant heat, but hardwood and laminates will also work.
Ultimately, radiant heating is a high-satisfaction, low-cost upgrade if you are already ripping out the old flooring, though the jury is out on whether it really adds resale value. But really, this is one improvement that you can (and should!) do just for your own everyday enjoyment.
Brick Underground articles occasionally include the expertise of, or information about, advertising partners when relevant to the story. We will never promote an advertiser's product without making the relationship clear to our readers.