Whether you're buying an apartment that needs a complete renovation before you move in, or you'd like to gut renovate your current abode (a) in time for the baby, (b) before the bathroom ceiling caves in or (c) while you're spry enough to enjoy the fruits of your contractor's labor, you will need to begin with a realistic sense of timing.
"Most people think about how long the renovation itself takes—from the moment the contractor steps in and begins demolition—but that's only part of the story," says Fraser Patterson, CEO of Bolster—a New York City company that has designed a transparent and enjoyable process for NYC homeowners doing major renovations. "When properly planned by a skilled renovation team, the actual gut renovation itself—which entails taking everything out of your apartment, down to the studs—can take anywhere between three to 12 months. But it can take just as long to get the project off the ground."
Here's how long you should expect it to take to plan and carry out a gut renovation in New York City.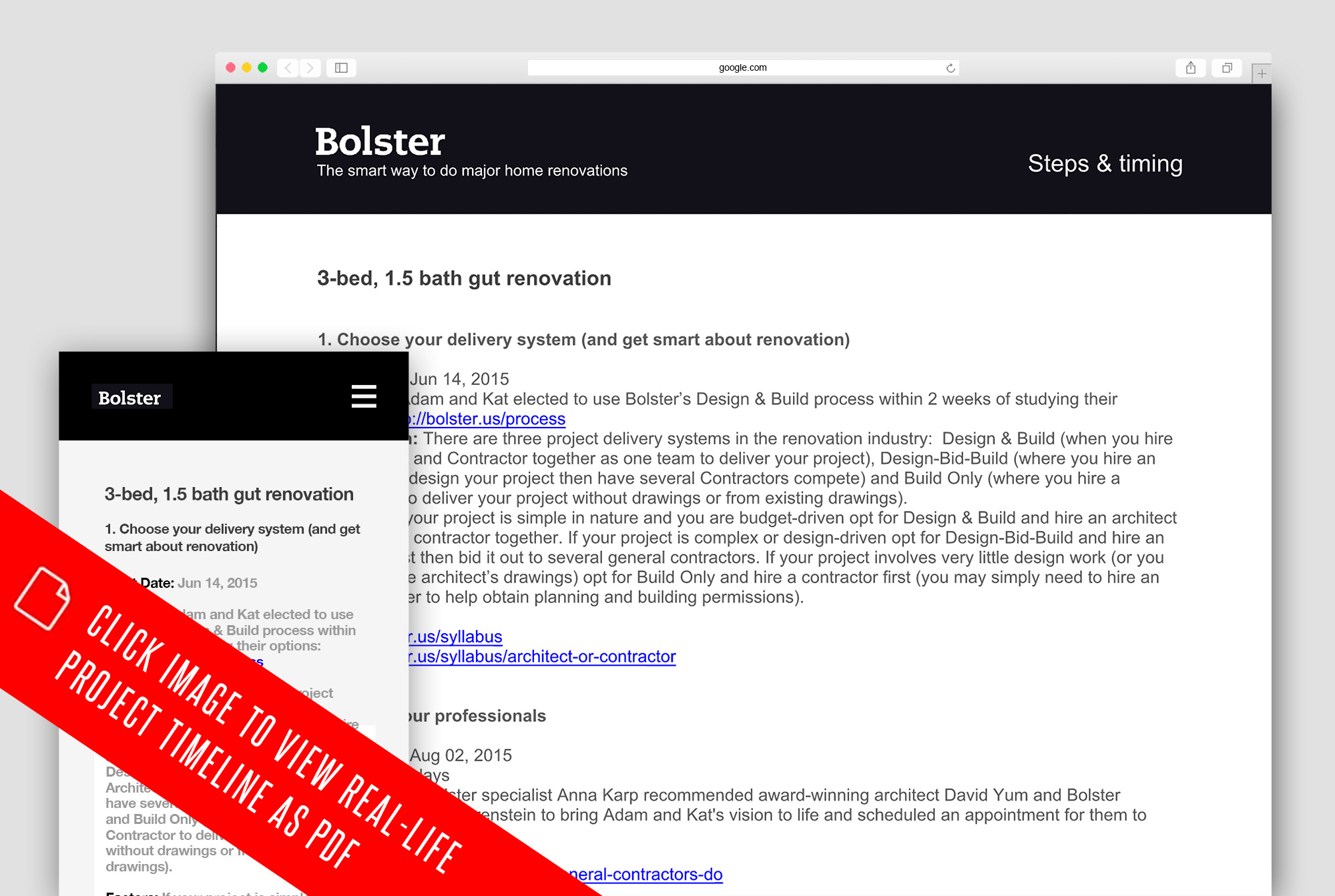 Step One: Decide how you want your project delivered, and hire an architect (1 to 2 weeks if you are efficient and identify a good candidate right away; 2 weeks – 2 months if the process drags on)
There are three ways to approach any renovation, explains Patterson.
"The first and simplest is 'Build Only,' in which you hire a general contractor to handle your project without drawings, or based on an architect's existing drawings," he says. "It's ideal for a simple, straightforward renovation that involves very little design work."
Typically, a Build Only project will cost under $200,000, and the owner will be able to select his or her own finishes. However, in NYC—where few things are ever simple—it's not unusual to need approval for your renovation from the Department of Buildings, and your building management may still require you to hire an architect.
The second option is Design and Build, in which you hire a general contractor and an architect who work together to deliver your project.  Patterson recommends this approach for budget-sensitive homeowners doing smaller gut renovations—in New York City, that means projects that will cost under $500,000.
The third option is Design-Bid-Build, ideal for complex, design-driven, and pricier projects.
"You hire an architect first, who designs your project and then bids it out to several contractors," says Patterson. "It provides a more impartial design team and potentially higher quality construction results because of increased competition from contractors."
In the case of two Bolster clients, a pair of young professionals and first-time homeowners who wanted to gut renovate their three-bedroom Cobble Hill co-op, a Design and Build approach was the right fit. (Click here to view a PDF timeline of their project, and here to see the actual project bid.)
Bolster assembled a renovation team consisting of an award-winning architect, David Yum, and contractor Aaron Borenstein. As the architect, Yum's role was to consider the couple's vision for their apartment and define the project's parameters in terms of lifestyle and functionality. And as contractor, Borenstein defined the renovation's cost and schedule, and oversaw the construction.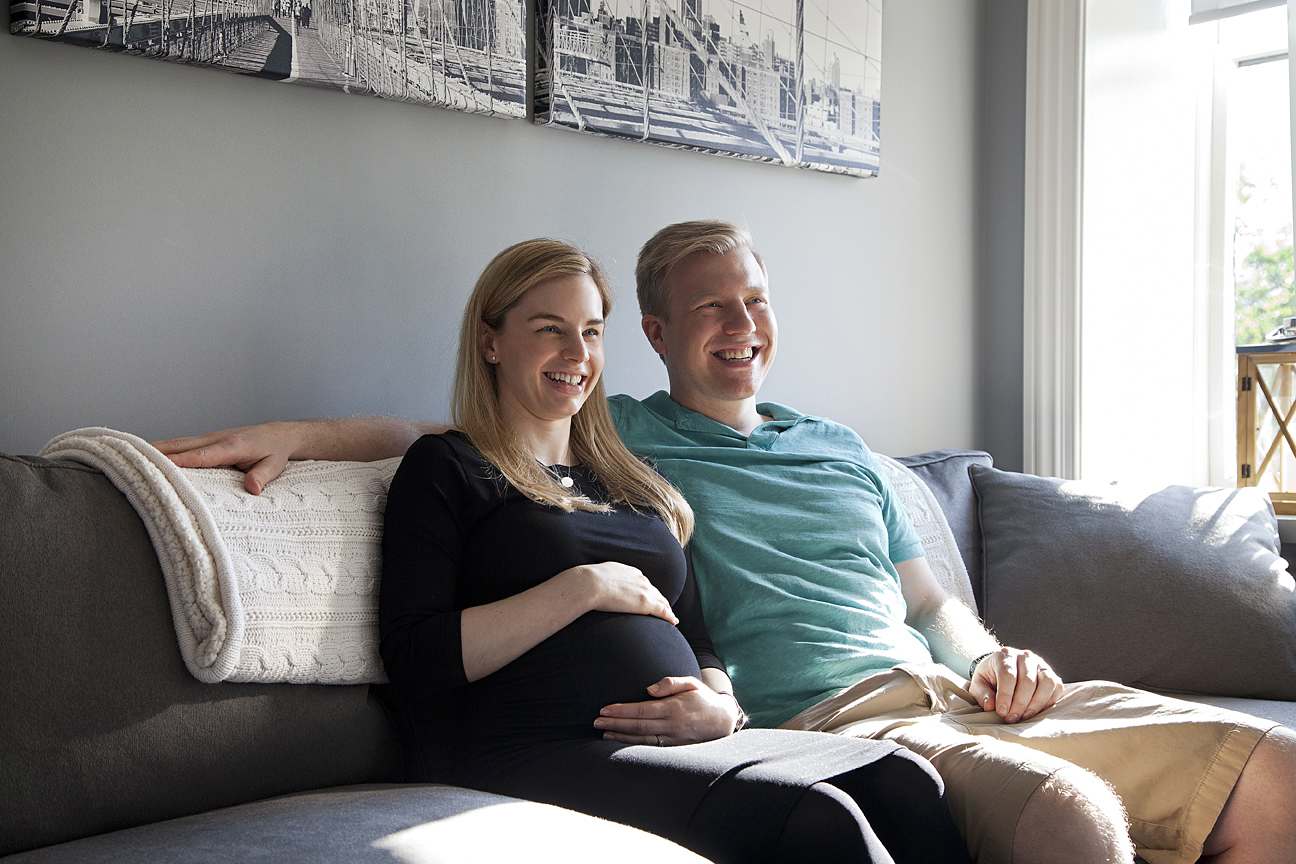 The Cobble Hill homeowners
Step Two: Draw up your plans (4 - 16 weeks)
Now that you have hired your architect, what's next? First, unless your building is brand new, your architect will need to conduct a physical survey of your apartment in order to understand its space and structure. As the architect gets familiar with your home and begins schematic design—the first two-dimensional plans and diagrams of the project, which will cover its broad concepts—you'll discuss your needs and concerns. This process will take at least two weeks, but could last longer, as like many renovators you may find yourself considering alternate ideas or new directions that diverge from your original plan.
During the next phase--design development--the finer details of the renovation take focus, including the specific products that will be installed; this process takes roughly four to eight weeks, says Patterson.
Finally, construction drawings are made to determine the exact shape, assembly, and materials for the renovation. This may take from eight to sixteen weeks.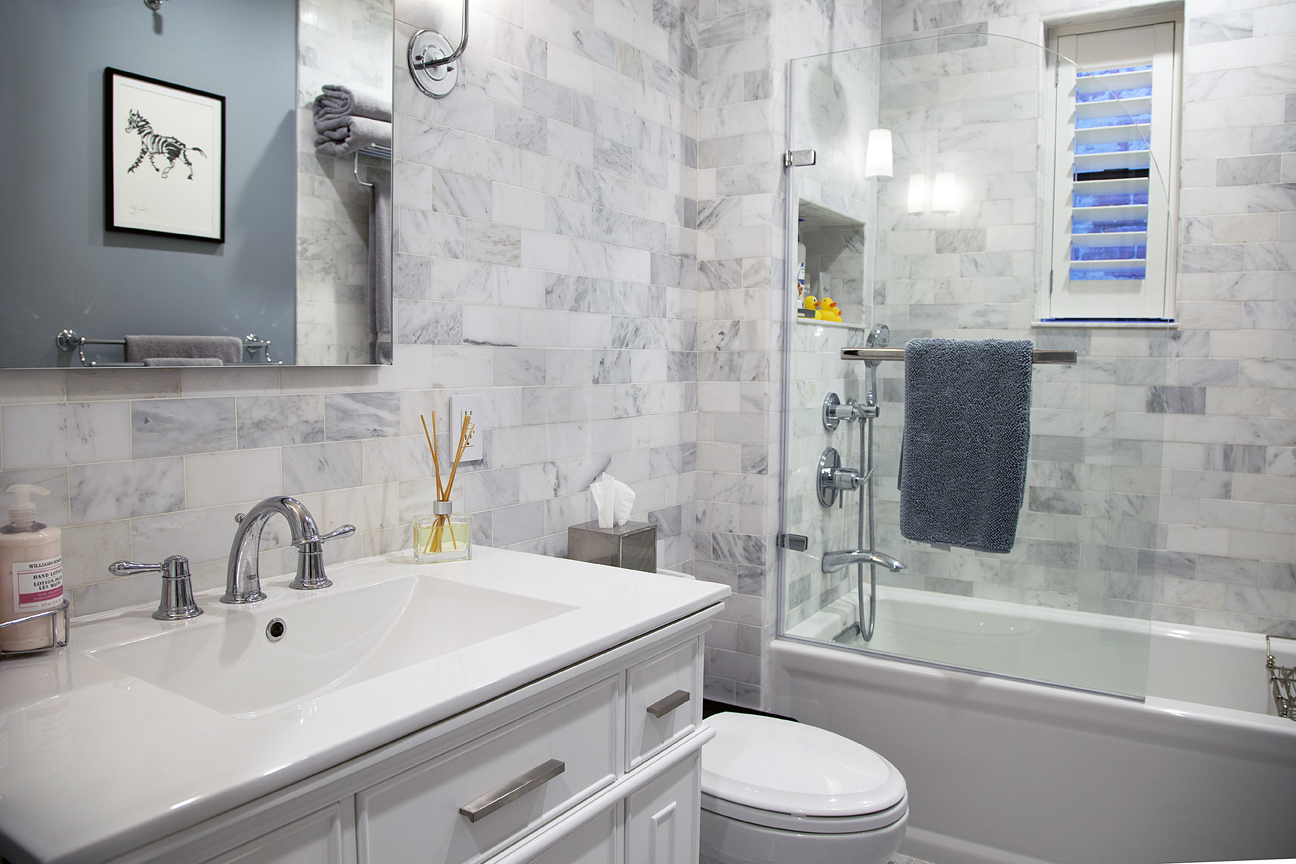 A newly renovated bathroom in the Cobble Hill apartment
Step three: Bidding out the project (2 to 4 weeks)
If you've opted for a Design-Bid-Build approach to your renovation, at this point you will bid the project out to multiple contractors to elicit the best value bids.
"The most important thing is to create a bid process where one is comparing apples to apples," Patterson says, meaning that your architect's drawings and specifications are clear and comprehensive enough to bring in bids that look similar to one another.
During this stage of the renovation process, potential contractors may get back to you with questions and proposals for alternate approaches—such as a different mill shop or construction method that involve less labor, time, or expense—and they will likely also use different pricing formats. Your architect should guide you in parsing the differences between each contractor's approach, experience, and pricing. Depending on the complexity of your project, it can take between two and four weeks to produce a final bid; subcontractor and supplier availability, well as pricing, are variables that can stretch out the process.
If you go the Design-Build route, the process will be faster. In the case of the Cobble Hill couple mentioned above, their contractor was able to avoid the steep learning curve that the Design-Bid-Build process often entails; he provided an accurate and detailed bid, along with a risk report outlining the homeowners' financial exposure to cost overruns. Then, Yum and Borenstein worked with the homeowners on selecting fixtures and finishes so that they could be ordered and delivered in time for construction.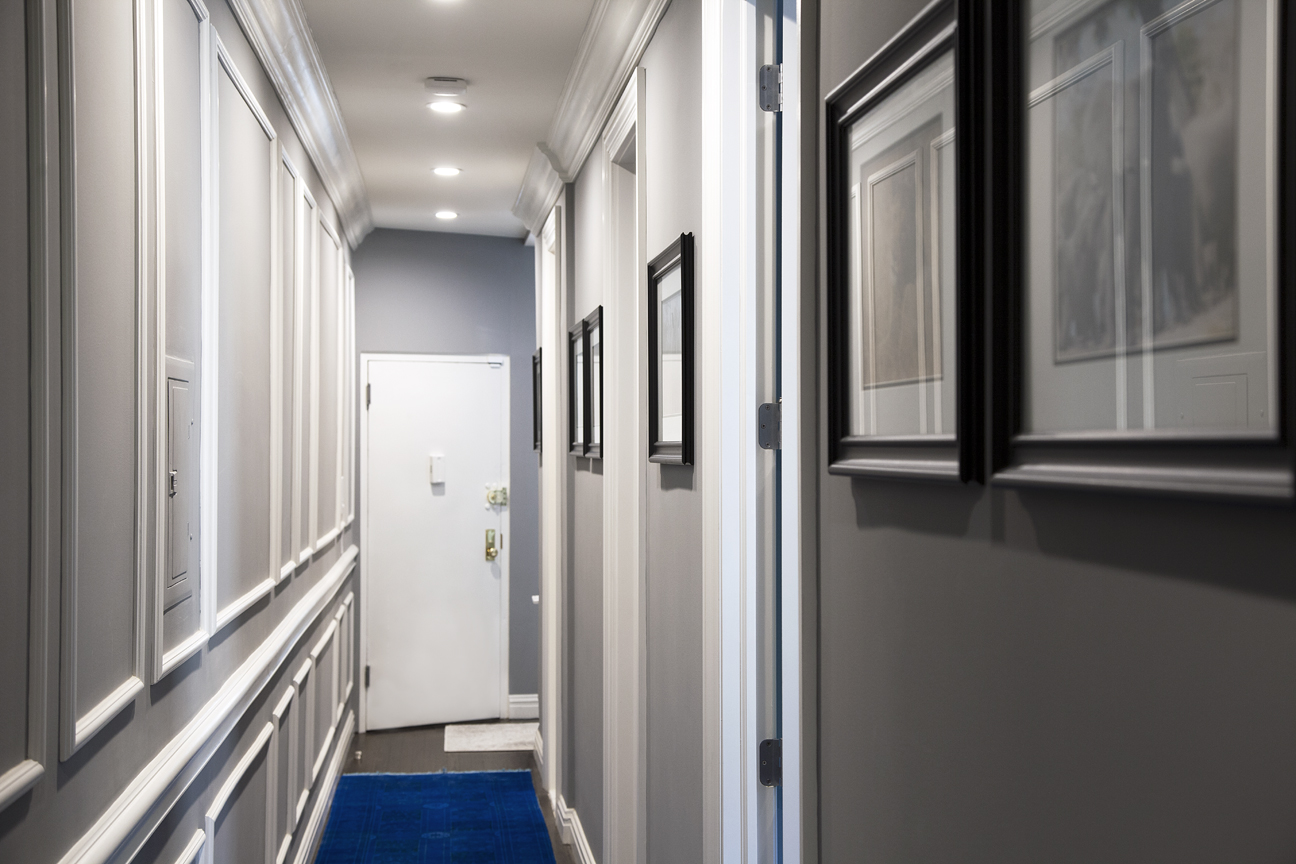 The Cobble Hill apartment's hallway, post-renovation
Step four: Approvals (8 to 16 weeks)
Whether your apartment is a co-op or a condo, you'll be required to apply to your building for permission to do your renovation, which will be outlined in an alteration agreement. These agreements cover the terms of insurance, work rules, security deposits, procedures, and schedules; you'll also need to submit a set of plans that clearly lays out the scope of your project.
Once your building approves the renovation, it will sign off on permit applications to the Department of Buildings (DOB). Any renovation beyond decorative finishes and built-in millwork will require official city permissions; note that if you live in a landmark district, your application will also need to go to the Landmarks Preservation Commission, even if no work is being done to the public exterior of the building. Applications for projects that do require exterior work must detail both the existing and proposed conditions; expect a longer approvals process for this. And even if you don't need to go through the LPC, be prepared for the DOB to ask questions about your application, a back-and-forth that your architect will help you navigate.
Complications can arise at this stage. The Cobble Hill homeowners, for instance, got an unpleasant surprise when they submitted their plans: unbeknownst to them, their apartment's previous owners had done some illegal renovations that led to hold-ups, extending the length of their project four months longer than they'd anticipated.
It's also worth noting that even without such snags, the DOB often incurs backlogs of applications, especially during renovation season, which runs from late winter to early spring. And since every home is different, it can be challenging to gauge exactly how long approvals will take. This is why it is essential to have an expeditor on your project team—who your architect will hire and direct—to help you navigate city bureaucracy.  
Step Five: Construction (3 to 6 months)
Finally, you're ready to get down to the actual renovation. Naturally, this will take up the most time—anywhere from four to twenty-four weeks, depending on your project. One sign of a good contractor is that he or she will provide a roadmap outlining the various steps so that there are no major surprises.
A gut renovation begins with demolition, from which point the work proceeds from a macro to a micro scale. Rough framing and carpentry are installed, and then rough plumbing and electrical; at this point, millworkers will be able to take measurements for custom cabinetry. Drywall is installed and floor finishes applied, followed by cabinets, light fixtures, and fittings. Lastly, the walls are painted, and the renovation is complete.
For the Cobble Hill apartment, construction lasted four and a half months, including six weeks of delays due to DOB permit complications and the holiday season. (See a photographic diary of the entire process here.) Yum remained on hand throughout to help the homeowners resolve any issues that arose from unforeseen circumstances.
"Every project is in many ways a unique endeavor, and the process is complex," Patterson explains. "Thus, a successful project is not determined by the unknown incidents, because those are nearly inevitable, but on how your team responds and resolves those unforeseen situations."
Step 6: Inspections and project close (1 to 6 weeks)
During construction, the city will conduct plumbing and electrical inspections; once all the work is complete, there will be a final inspection before the DOB signs off on the renovation.
Before this inspection, you'll walk through the renovation with your architect to make sure everything is in order. For the Cobble Hill project, once Borenstein's construction was complete, Yum inspected the home, filled out DOB paperwork, and had the expeditor submit it in person. Borenstein also gave the homeowners a punch list to document any blemishes or outstanding tasks that needed to be wrapped up before they submitted their final payment. This took only two weeks, but in some cases it could go up to six if plan reviewers are busy; that said, owners can still use the apartment before final DOB approval.
Overall, it helps to keep in mind how complex a renovation can be. "Renovation is not like building a pre-engineered car in the perfect conditions of an assembly line, but more like restoring that antique car, full of charm, but full of mysteries below the surface," Patterson says. "This is why you have a good team of professionals, like having a good doctor at the operating table to handle the unexpected." 
---
Every year, New Yorkers waste over $700M following the usual renovation process. Bolster is different, using a scientific approach to match you with the highest-quality professionals and financially guarantee your project is delivered beautifully for a fair price - all at no extra cost.
To start your major home renovation project, visit bolster.us or call (929) BOLSTER.
More from Bolster:
Here's how much it costs to renovate a rooftop terrace in New York City 
Should you hire an architect or a contractor first? 
Here's how much it costs to renovate a 2 bedroom 1.5 bathroom postwar co-op on the Upper East Side 
How to find a great contractor in NYC
Here's how much it costs to renovate a prewar 3-bedroom co-op in Cobble Hill, Brooklyn
How much does it cost to combine apartments in New York City?