Heat pumps may be the solution to a host of problems, but can your building handle them?
NYC co-op and condo owners who replace radiators with heat pumps can control their own heat
An owner who disconnects from the building's heating system puts less strain on the boiler
As part of a trial run, window-style heat pumps will be installed in NYCHA apartments this winter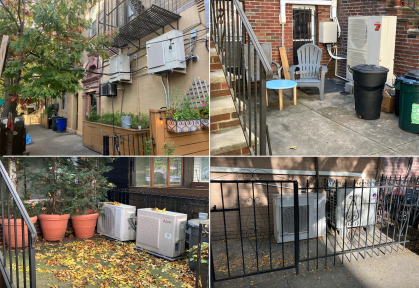 Heat pumps seem like a logical solution for individual New York City condo and co-op owners who want to regulate their own heat and switch to a more efficient, greener and cheaper energy source that has a new tax credit, so how should a board evaluate an owner or shareholder's request to install them?
At first glance, a request to replace radiators with electric-run heat pumps might seem like a no brainer. They function like an AC in the summer and then reverse their refrigeration cycle to heat a home in winter. The process transfers heat instead of generating it, so a heat pump system uses less energy than a conventional electric or gas system. Plus, an owner who installs these units and disconnects from the building's heating system is putting less strain on the boiler, a plus when buildings are under pressure to lower their harmful emissions to comply with Local Law 97.
But heat pumps may not be a good fit for every building and assessing a request comes down to three points, experts tell Brick: The type of heat pump the owner or shareholder wants, the placement, and the electric load impact—a potential factor for older, prewar buildings.
In addition, your fellow board members might hesitate to approve a heat pump request because they're unfamiliar with them, but they're more prevalent than you might expect. During a quick walk around my Brooklyn neighborhood, I encountered the outdoor components for 10 heat pumps, either mounted on the side of the building or on the ground alongside the building. Most appeared to be from Mitsubishi Electric, which starts at $2,700. One was made by Gree. In addition, the building next to me has a Fujitsu heat pump. 
Here's what your board needs to address if you get a request to install heat pumps.
Which type of heat pump makes the most sense?
The systems that I spotted are split units because they require a separate outdoor component to house the compressor/condenser unit. If you see a large, slim, square-ish appliance on a building patio, terrace, or roof, that's likely what you are looking at. 
Another type of heat pump is the through-the-wall, all-in-one PTAC version—which you have likely experienced if you stayed in a hotel room that had a combination heating and cooling unit positioned below the windowsill.
When it comes to approving a heat pump, boards need to be familiar with installation requirements of both systems, says Ari Golden, principal mechanical engineer at ads Engineers, which offers HVAC consulting for buildings. If an owner wants a split system, there needs to be a space for the outside component and a way to route electricity to it without going through a neighbor's apartment. The outdoor component can be located as much as 50 feet from the indoor evaporator.
If an owner wants an all-in-one heat pump, that type of installation requires putting a hole in the wall, and so boards should require plans from a contractor, Golden explains. He recommends keeping the aesthetics of the façade in mind. His building has approved requests for all-in-one heat pumps over the years and as a result, there are grills on the façade in different shapes and sizes.
There's also a third type of unit that doesn't require punching through the wall or exterior space for the outdoor component. Instead, it perches on a window will, with its two parts connected by a saddle that slips over a window frame. It sits low enough that it does not block the window.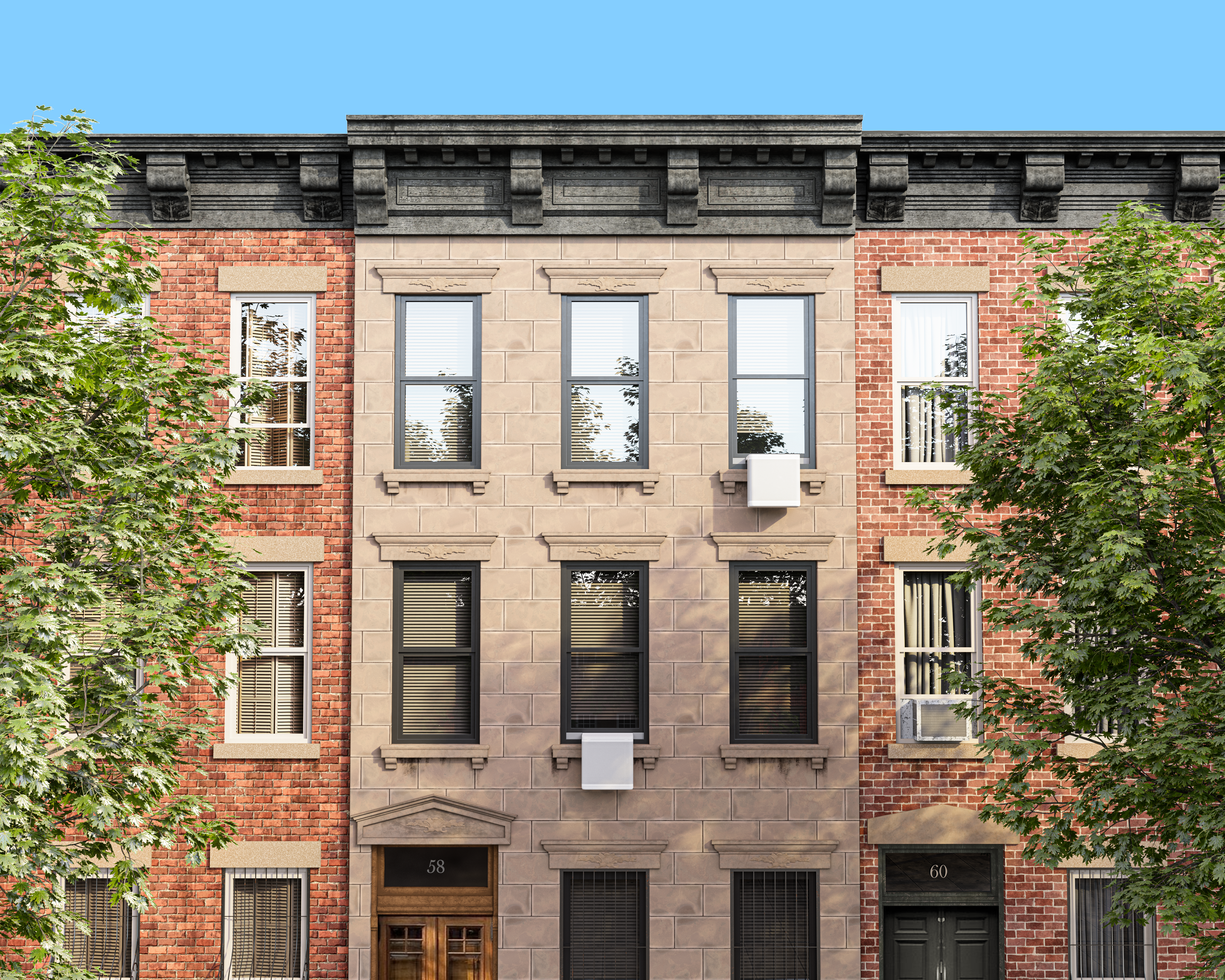 This is the kind of heat pump that is going to be put to the test this winter when 72 window-style heat pumps will be installed in New York City public housing units. Two heat pump manufacturers, Midea America and Gradient, will each supply 36 units to be monitored this winter as part of the first phase. Eventually, NYCHA apartments will receive 30,000 heat pumps, 10,000 from Gradient and 20,000 from Midea, according to a recent announcement from Governor Kathy Hochul.
Can your building handle heat pump installation?
Tina Larsson, co-founder of the co-op and condo cost consultancy The Folson Group, says installing heat pumps in new development is easier than in older buildings, but it is not out of the question for older buildings. She herself got approval from her co-op building to replace her radiators with heat pumps.
Boards that get a request to install a heat pump typically require the owner to hire an engineer to do a feasibility study to determine whether they have the correct outlet and if necessary, file permits for the upgrades. The board should then compare the study to the building's electrical capacity to determine if it can support an increased load. 
"Some boards hesitate because they don't know how much electrical capacity they have," she says. Your building's management company can give you that information, or you can hire a master electrician or mechanical engineer to find out what the electrical capacity is by inspecting the building.
"If the board approves the installation, we recommend having the owner cap the radiator. It's a good opportunity to ask the owner to turn off the heat and put less strain on the boiler," Larsson says. In this case, the owner now assumes responsibility for paying for their heat. Otherwise, "it could be easy for the owner to use the heat pump only in summer and use the building's heat in winter," she adds.
Capping and removing the appliance gas line can only legally be done by a licensed master plumber, who is responsible for filing permits with the Department of Buildings and requesting any needed sign-off inspections.
Another recommendation is to ask the super to use a spreadsheet to keep track of which apartments have converted to heat pumps.
"It is easier to start making a list when the board approves these installations as opposed to going door to door to inspect each apartment after the fact," she says.
Does your building have enough electricity for heat pumps?
Heat pumps require more electricity than a standard AC but the impact from a single unit is minimal. Amperages (which measure the volume of electricity) can vary among manufacturers, Golden says. For a standard 115-volt plug-in unit, the difference in amperage is usually one to two amps between a heat pump and standard AC.
The electrical requirements are similar to a split AC, so if there is already a dedicated outlet for an AC, plugging in a heat pump won't exceed the ratings for the outlet, Golden explains.
Depending on the unit capacity, a heat pump may require a 20 amp breaker, while some older apartments have 15 amp breakers.  
"The change in energy use for a single unit is fairly small, but each building's electrical system and distribution is different. Either way, heat pumps are not something to be afraid of," he adds.
There's still the building's electrical capacity to consider if other apartments switch to heat pumps, because the electrical impact on the building can add up.
Why your building should require a load letter
A condo or co-op board should require the owner or shareholder to submit a load letter—which is based on the findings of the engineer hired by the owner—identifying any impact to the building service or the service to the apartment. It would say whether the owner needs more power or if the power is adequate and no upgrades by ConEd are required.
"In one situation, a load letter triggered an upgrade by ConEd," Golden says. However, if a building was designed to have AC, owners are generally in the clear.
"ConEd may come in and say, 'we're going to reinforce the existing system,' which may or may not be a cost to a building," Golden adds.
Do heat pumps make sense for NYC winters?
Until recently, heat pumps got a bad rap about not working well in very cold climates, but newer models are up to the task, says Vincent Romanin, CEO of Gradient, which is supplying heat pumps to NYCHA.
He points out that the state of Maine has one of the highest adoption rates for heat pumps. Maine residents are buying more heat pumps than those who live in Norway, another big adopter region.
Romanin says Gradient's new heat pumps for NYCHA apartments are rated for temperatures as cold as 17 degrees Fahrenheit.
The low end of NYC's winter temperatures are typically in the mid-20s but a few nights each year may be colder. With that in mind, Romanin says Gradient customers in general don't necessarily need to detach from the boiler system immediately.
"You could keep the boiler running when the temperature goes negative," he says. Some owners may want to test one heat pump and see if they need to buy an additional unit and detach from the boiler system later.
For cooling, he says they perform comparable to 9,000 BTU mini-split system "but ours is cheaper and faster to install," he says.
Will a heat pump be a visual turn off to buyers?
Gradient is taking aim at electrifying buildings by making heat pumps with better refrigerants, which are harmful greenhouse gases, but eliminating the eye-sore effect of heating and cooling appliances is part of the company's goal too.
Climate change needs better products, Romanin says. "We're used to our HVACs being huge and ugly," so better design contributes to a better user experience and wider adoption.
Gradient's newest model, which will be installed in NYCHA apartments, doesn't have a product name or price yet. The company's original heat pump costs nearly $5,000. 
Window unit-style heat pumps take up a few inches of a window, and the window can still be used with a heat pump installed.  
Gradient models require a 120-volt outlet, so owners and tenants are not likely to need an upgrade if they have a dedicated outlet for an AC. Romanin says a 400-square-foot apartment would require one unit, a place double that size would need two.