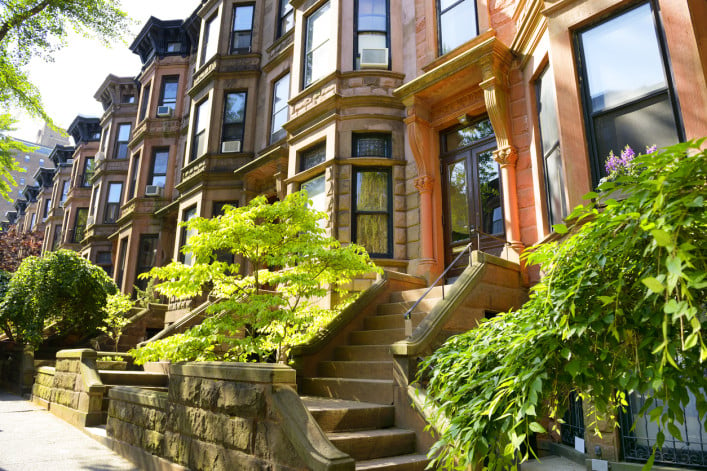 If you're familiar with NYC brownstones, you'll understand that they don't make buildings like these anymore, and that a stately NYC brownstone gives you a unique peek into the past with its rich architecture and bespoke original details. 
However, the most desirable aspects of a brownstone are often the reason you'll have to undertake extensive renovations if you want to live in one. The reality is that most brownstones are 100 years old and need to be modernized to suit the needs of the 21st century family. 
So—where to start? 
"There are four things to consider in every renovation: Timeframe, design, compliance, and build costs," says Anna Karp, CEO and co-founder of Bolster, a New York City-based design-build firm that has created a seamless renovation experience by delivering industry-leading expertise and a radically transparent process.
Brush up on those four factors, and you'll be ready to take on your brownstone renovation. 
How to plan your timeline
Renovating a brownstone requires commitment, discipline, and full acknowledgement of the time frame. From start to finish, most brownstone renovations in NYC take at least one year.
"Renovating a brownstone is like taking a walk on a sunny spring day—you don't want to rush it!" says Anna. "I tell people that if you're buying a brownstone with the intention of renovating it, you have to have the same mentality as climbing Mount Everest. It will never be less than a year, no matter what."
Part of the reason for the extended timeline is the amount of consideration that goes into each phase of the renovation. Homeowners also need to allow enough time to deal with the Department of Buildings and potential landmark issues (more on that later). 
Based on data from brownstone projects that Bolster has completed in New York City, the average amount of time dedicated to the design phase is four months, while the average amount of time dedicated to the build phase is eight months. Start to finish, this means that most brownstone renovations require 12 months to complete. 
Pro Tip:
Whether you're renovating a two-bedroom prewar co-op or a 4,000-square-foot brownstone, Bolster guarantees a beautifully designed home renovation risk-free and on-budget. "Expect flawless communication, white-glove service, and absolutely no surprise costs," says Bolster's CEO and co-founder Anna Karp. Ready to start your renovation? Learn more >>
What you need to know about compliance
New York City code is more complex than anywhere in the country. Involving an experienced and reliable architect who is well-versed in brownstone design helps avoid costly missteps and increases the likelihood you'll be happy with the outcome. 
Not only will your architect identify infrastructure deficiencies and propose effective design solutions, they will also deal with compliance issues. Your architect will navigate permits, meetings, and walkthroughs as dictated by the municipal board and landmark board, as well as stamp your drawings and submit them for approval. 
Although NYC compliance is complex, renovating a brownstone does have its upsides.   
"The biggest benefit to renovating a brownstone is that the work is not limited by rules imposed by a condo or co-op board," says Bolster architect Agustin Ayuso. "The homeowner is free to decide on their own what is best for their home—within the limits of the building code and zoning regulations, of course." 
Getting used to vertical living
Brownstones are versatile investments and make great family homes—but moving to a brownstone from a smaller space, like an apartment or a condo, involves a mental shift. 
According to Agustin, a common concern among first-time brownstone owners is the responsibility of owning an entire home. This means not having building management to take care of everyday issues or a doorman to receive packages and monitor the entrance. 
What brownstone homeowners give up in amenities, they gain in space—but even this can be difficult to get used to. According to Agustin, the chief concern of new brownstone homeowners is having the family spread out over several floors.  
Anna agrees, but delights in how quickly homeowners change their tune. "I think there is this misunderstanding of the brownstone where a lot of families—certainly New Yorkers—think that it might be too luxurious to have a floor to yourself that includes your bedroom, master bathroom, and a walk-in closet or an office," she says. "Then, by the end of the renovation, they're doing that!" 
Not only is Anna a proponent of the family occupying several floors, she also encourages homeowners to "leave space for space." If you have a room with no specific purpose, that's okay. Living in your home will give you time to feel out your new floor plan. 
Many homeowners who are new to brownstone living want to know if there is an ideal layout. According to Bolster architect Paul Capece, the answer is no.  
"There are idealized historic layouts, but expectations about how one should live have changed," says Paul. "Kitchens used to be utilitarian afterthoughts, but now often become the heart of the home. The most important thing that an architect can do for his or her client is understand what their goals and expectations are and design in a way that honors the history of the home, while maximizing functionality and comfort."
Finally, many new brownstone owners are delighted to come across unique features like coffered ceilings, stained glass windows, and custom millwork. However, despite being in good condition, these original details can overwhelm your space by today's sensibilities. Your architect should be able to help you preserve the history of your home while modernizing it.
How to budget your costs
The average NYC single-family brownstone is 3,000 square feet, and they typically already come with a number of issues that have to be addressed just to get them up to code.  Labor is a huge driver on these projects, and it's the overall scope that's going to drive the amount of labor required. Thus, the biggest factor driving cost in a brownstone renovation is scope.
"Homeowners often come to us with an enormous project scope—including additions, floor leveling, relocation of kitchens and bathrooms, and central air conditioning—but are looking to keep costs down by selecting lower level finishes. This is a recipe for disaster," says Paul. 
Anna agrees. "When people think of cost, they think of high-end finishes and appliances. That's not it!" she says. "Using more cost-effective materials will only net you marginal savings."
Agustin stresses the importance of prioritizing budget based on infrastructure needs before fulfilling your design wish list. 
"Any essential systems that have reached their lifespan—roofing, heating, windows, plumbing, electrical, et cetera—should be taken into account prior to dedicating large parts of the budget to non-essential and decorative items," he says. 
When renovating a brownstone, expect to spend at least $300 per square foot. If you consider the fact that the average brownstone size that Bolster renovates is 3,200 square feet, this adds up to about $1 million for the total renovation cost. 
If you have a goal budget, there are measures you can take to alleviate cost. Since scope drives the cost, one strategy that budget-conscious homeowners can employ is to limit the amount of square footage that you're heavily touching, or leave things for later, whether it's cosmetic details or an entire floor. 
"We tend to recommend to leave things that can be done later without major disruption or permits.  The homeowner can accomplish these things at their discretion without needing professionals or a general contractor to coordinate the work," says Agustin. "Examples are fancy closet interiors, cabinetry, and decorative light fixtures."
Finally, homeowners need to understand that a brownstone renovation has many moving parts, and therefore many opportunities to incur costs. 
 "From design to regulatory approvals and through construction, each phase has its own specific costs and risks," says Paul. "Every project is unique in its own way." 
The Bolster Smart Renovation Zero-Risk Guarantee
How can a design-build firm guarantee a Zero-Risk renovation?
Bolster has pioneered Smart Renovation. We apply quantitative analysis along with our  proprietary technology solution to identify and quantify the performance risk on every renovation project. The result is a personalized strategic approach to each renovation that allows us to absorb 100% of the homeowner's risk. Your home will be beautifully designed, and delivered on-time and on-budget. That is our guarantee.
Smart Renovation & Zero-Risk means that Homeowners are now free to dream.
To start your major home renovation project visit bolster.us
The Bolster Promise video
Brick Underground articles occasionally include the expertise of, or information about, advertising partners when relevant to the story. We will never promote an advertiser's product without making the relationship clear to our readers.