Products + Services
Looking to upgrade your NYC co-op or condo building's laundry room? Here are 6 ways to do that
Putting money on a card or collecting quarters is out: Most machines let you swipe a credit or debit card
Remote monitoring via an app or website tells you when machines are available and your cycle is done
Having the laundry room freshly painted and renovated by the vendor is usually part of the deal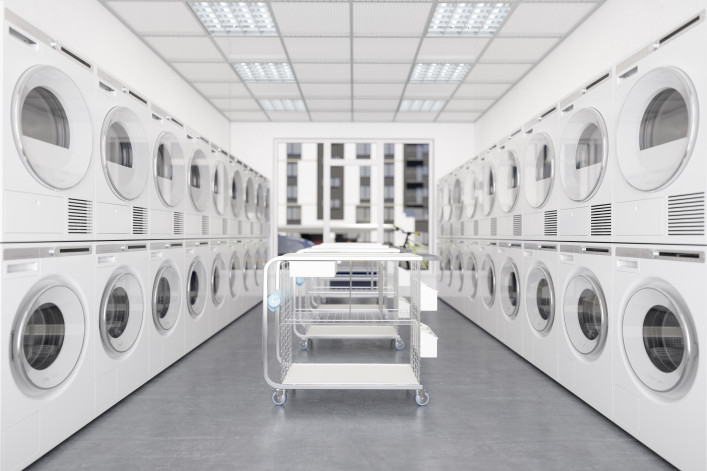 onurdongel via Getty Images
It may not be as sexy as a rooftop deck or sleek fitness center, but having a laundry room in your New York City co-op or condo building is still a valuable amenity—especially if you don't allow in-unit machines. Just how valuable depends, of course, on the quality of the experience. And that stems from the quality of the equipment (and the service) as well as any other bells and whistles. So if you are looking to create a best-possible-case scenario for you and your neighbors, it pays to know your options. 
Needless to say, gone are the days of coin-operated machines and washers with only three temperature cycles. Smart-card readers are fast becoming the standard payment method, and the latest equipment has a menu of options to give you more control over each load. 
Energy efficiency is another important consideration, saving your building potentially thousands of dollars each year in water usage. Plus Local Law 97 looms large. "We are just starting to think about how that is going to impact laundry rooms," says attorney Jeff Reich, a partner at NYC-based law firm Schwartz Sladkus Reich Greenberg Atlas. "These machines use power, lots of water, and the dryers are often gas-fired. So boards will have to focus on finding the most energy-efficient machines, which will cost money."
Smart-tech features also come at a price, so ultimately, whether you invest in a state-of-the-art laundry room depends largely on your budget. Here are the six main areas of improvement that you'll want to zero in on. 
1. Payment options
In terms of easing the day-to-day experience, going cash-free gets high marks. 
Daniel Wollman, CEO of Gumley Haft, a NYC property management firm specializing in board clientele, says he is surprised by how many laundry rooms are still behind the times in this regard—including at his son's building on 19th Street. "First, I lost the card, then I had to buy a new card, but the machine only took twenties, and all I had was a ten, so it took me half an hour just to get the wash to work. It was so annoying." 
Indeed, most vendors have readers in their machines that let you swipe just like in other transactions. 
Stanley Marx, director of operations at Aces Laundry, which services co-ops, condos, and rental buildings throughout NYC and Westchester County, says their machines allow users to pay with a credit card, debit card, loyalty card, or mobile app. "We even stay old-school and people can send us checks or money orders, but the only payment we don't accept is cash," he says.
He adds that smart-card readers also provide more financial transparency—you can see exactly what was paid by the minute. 
Adam May, general manager of Hercules, says the latest and greatest in technology is to pay by phone. "But some co-ops and condos don't want to force residents to use that option and will have two independent accounts, one utilizing the card reader and an additional mobile technology account," he says. You can load money onto the mobile app from your credit card and even set up alerts (similar to EZPass) if the balance dips below a certain threshold. 
He reports that some buildings still have a cash option as well for demographic reasons or personal preferences. And this being NYC, even a few buildings insist on having at least a few coin-operated machines. "Some people don't like change," May says. (No pun intended!)
2. Remote features
Tired of hovering in the laundry room while waiting for an available machine? Or schlepping your laundry up and down the elevator for the same reason? 
Many vendors, including Aces, Hercules, and Sebco, now offer remote monitoring.
"Being able to tell what machines are in use and be notified when your cycle is complete is a big selling point," Marx says. And again, users can view their transaction history and keep tabs on what they are spending. 
Hercules's "Smart Center" system lets you see if a machine is in use, receive a text or an email when one becomes available, and also be notified when your cycle is complete. (No more neighbors removing your freshly laundered linens, and wadding them in a cart, before you can get to them yourself.) But May says the availability feature can be tricky—there's no way to prevent machines from getting taken by the time you get down there. "We don't want to allow machines to be reserved either because that would start a lot of fights in the laundry room," he says. 
In lieu of a smartphone app, Automatic Industries allows users to opt in to its "laundry aware" text or email notifications.
3. Equipment upgrades
If you haven't shopped for washer/dryers lately, you might well be surprised by the many advances in user-friendly technology, with touch-screen "dashboards" and multiple choices.
These days, washing machines allow you to choose the type of clothing, water temperature, and cycle (quick, delicate, or hand-wash). Dryers no longer either blast too much heat or leave your clothes damp after two cycles. It's all about giving people more control—and it's worth asking the vendor exactly what their machines offer. 
4. Energy efficiency
It's safe to say that all companies use Energy Star certified machines—the Department of Energy set standards for commercial machines going back to 2007. 
Some vendors, including Automatic Industries and Aces, go one step further by only using front-loading washing machines, which are more efficient than top-loading machines because they extract the water more quickly; they also shorten the drying time by removing more water from the load. This can significantly reduce your building's water and electricity bills and might get you a better letter grade by the city.
"A lot of people still prefer top-loaders because you don't have to bend down, making them easier to use," May says, though Hercules tries to nudge them toward eco-friendly front-loaders when possible. 
There is one potential downside to front-loading machines: They are much more prone to developing mold around the door opening. "It's one of the biggest problems in the industry," Marx says. That's why Aces has a dedicated "clean team" that goes out every 14 to 21 days to de-mold the washing machines (and de-lint the dryers). "There's no magic bullet for that—it's strictly elbow grease," he says.
When in doubt, go green. "Boards that don't comply with Local Law 97 requirements will be assessed fines, so you may want your energy consultant to evaluate any machines to make sure they are the most efficient available," Reich says. 
(Be sure to also consider Local Law 152 if you have gas dryers.)
5. Service 
Even brand-new machines can break down—and being able to have them repaired quickly is still the end goal. 
Yet again, smart technology promises to improve service times so residents aren't left in the lurch. May says users can report service through Hercules's mobile app and request a refund that is added back to your account. A higher-priced plan gets you that plus the availability feature and automatic error codes from the machines. "You need wifi in the space for the machines to report back to the servers, which not all buildings can provide. It also requires more upkeep on our part, meaning affordability is a factor."
Marx says Aces has its own proprietary system where the machines are continuously monitored by computer and alert the company when they falter, without the aid of the tenant or super. "This allows us to turn on and off the machine, do a soft diagnosis, and make proactive repairs before there is any complaint." (He explains that the system was first designed for the owner's 200-plus buildings. "We come at the laundry business from the perspective of the landlord and the tenant because the owner's major business is real estate.") Wifi is required for this system as well. 
6. Renovations
Here's where your contract negotiations come into play in getting a sparkling laundry room that's a pleasure to be in.
Adam Frisch, senior managing director at Mantus Real Estate, says most companies are willing to paint and otherwise update the laundry room if and when that is deemed necessary by the board. 
And Dean M. Roberts, a real estate attorney at Norris McLaughlin, says most of the time, companies sweeten the deal by remodeling the space, installing a flat-screen TV, and providing new furniture.
For example, at Parc Vendome, Sebco painted the walls and ceiling in two laundry rooms and put in new ceramic tile flooring and high-efficiency lighting. (It's worth noting that the building got mobile monitoring but kept cash-funded cards.)
Andras Joo, head of department/owner's representation and alternations for New Bedford Management, which works with co-ops and condos on construction capital projects, renovations, and restorations, says the most important thing is to hire an engineering firm to make sure the plans and designs will provide a space that is safe and code compliant. "Some buildings take on the process without thinking it through and eventually get violations and penalties. Specifically, you need to have adequate plumbing and sprinkler systems for fire safety," he says.
The ultimate upshot
Not everyone is on board with a smart tech reboot. 
Joo sees boards taking a more practical approach. "Most machines have to some degree been smart and programmable for a while now. I haven't seen too much benefit in being able to follow the cycles on your phone." In his experience, co-ops usually don't invest in that feature because it's just another thing that can break, and there might be a subscription with another cost.
"When it comes to shared equipment that's hard to control, the simpler the system, the less maintenance will be required. It doesn't really add to the quality of the machines themselves—and the app can disconnect, leaving you with 50 shareholders writing to management," Joo says. 
Arik Lifshitz, CEO of DSA Management, tends to agree. For example, he recently contracted for a brand new laundry and said the building went with a smart-card system, a table for folding, and some push carts—and not much else.  
It seems the real beauty of a laundry room is in the eye of the beholder. 
Brick Underground articles occasionally include the expertise of, or information about, advertising partners when relevant to the story. We will never promote an advertiser's product without making the relationship clear to our readers.