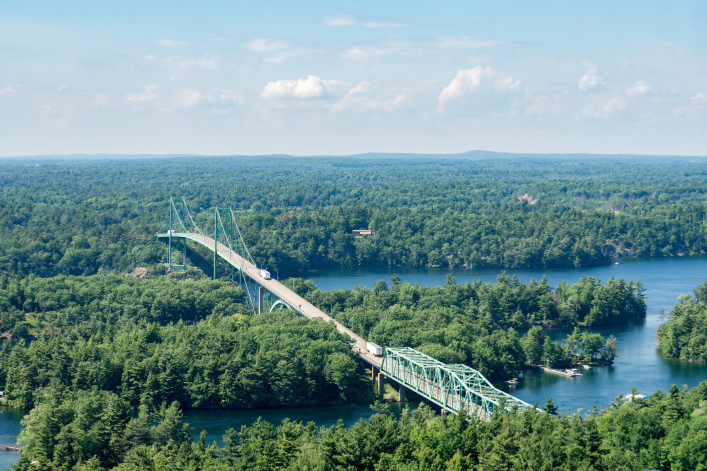 For most New Yorkers, vacation time is a precious commodity, and getting a brief respite from the city, its noise, fast pace, crowds, and ailing transit system is necessary to our well-being. With that in mind, you'll want to make sure that your choice of getaway locale truly delivers what you need to rest and recharge. That said, it can be tough to cut through the hype around some of the more popular destinations in the region.
Many of us have been told that an upstate village or seaside town is so idyllic and quaint, only to arrive and find that it's really just kind of dull. (As a means of comparison, put yourself in the shoes of a visitor to NYC who heads to Times Square, expecting to be delighted.) So how can you do your due diligence ahead of time and avoid an underwhelming experience? Read on for tips from real estate and travel pros. 
Research smart
First, make sure you're clear on what kind of experience you're looking for. "Start by thinking about what you want to get out of it," says Kipton Cronkite, a broker with Douglas Elliman. "Do you want to learn something and have a cultural experience, go antique-ing, or just chill out and sit on a beach? Think about it before you pull the trigger and book the getaway." 
Once you've decided on the kind of getaway you're looking for and started researching options, it's easy to get inundated with information, given the number of review sites, forums, and guidebooks out there. In his guide to cutting through all the takes on a vacation destination, travel blogger Nomadic Matt has several suggestions for researching with a critical eye: Be wary of reviews that have been sponsored by travel boards, for instance, and consider whether the writer's experiences are one you could feasibly replicate (or would want to) on your own trip.
And keep in mind that a large amount of negative reviews of a destination on a site like Yelp doesn't necessarily reflect reality: "Consumers use review sites to complain, not to praise," the blogger points out.
There are limits to research, of course: In an interview with The Gift of Travel, Seth Kugel, former writer of the Frugal Traveler column for the New York Times, observes that some of his most memorable travel experiences were ones not recommended in any guides or blogs. "If everything on your list is in Lonely Planet or can be found on TripAdvisor, try to inject a few other elements at random," he says. "Don't over plan and if you do, be ready to abandon the plans you make."
Seek out the right kind of recommendations 
But where to find those random elements that make a vacation town a distinctive place? Ashlie Roberson, a broker with Triplemint (fyi, a Brick partner) has firsthand experience living in a town popular with tourists: She's from Muscle Shoals, Alabama, known for its FAME Studio and Muscle Shoals Sound Studio, where musicians from Aretha Franklin to Carrie Underwood have recorded chart-topping pop hits. A 2013 documentary cemented the town's status as a music legend, which Roberson says has led to hordes of tourists, who may end up disappointed. 
"As much as I love my hometown, very little about it shows up online," she says. "You have to get there and ask the locals." 
But before you've settled on a place, she says, try to find the right kind of recommendations. Roberson likes the Nomadic Matt blog because it's budget-friendly and comprehensive; another popular resource is Escape Brooklyn, which features guides to spots that make for solid day trips, weekend getaways, and lengthier vacations, from a New Yorker's perspective.  
Roberson also suggests using Facebook's new Recommendations feature, which lets you hit up friends for suggestions about vacation spots and what to do there. "I had a friend going to Fiji ask for recommendations, and I figured no one would have any, but then 15 people chimed in," Roberson says. "There's an amazing wealth of information you can get from friends." 
Cronkite, by contrast, takes an old school approach of contacting his credit card company (many of which have travel specialists on hand) or a travel agent to ask about upcoming events, concerts, and cultural happenings in the areas he's considering. "It's always good to have a second source of intelligence," he says. 
Talk to locals 
Once you've landed in your chosen locale, your best defense against an experience that doesn't live up to expectations is to talk to long-time residents. While accosting random people on the street is ill-advised, you can see if your Airbnb host or cab driver will do double duty. 
"In towns that permit Airbnb, I ask my hosts for recommendations," Roberson says. "I Airbnb-ed in Portland, Maine for a week and asked for a few tips before going there about restaurants, where to go sailing, and the best place to rent a car. You can get access to local info before you go." (Just keep in mind that this isn't officially part of your host's responsibility, so don't expect them to create a full itinerary for you.) 
And once she was in Portland, Roberson adds, "Every time we got into a car service, we would ask questions. We found out about a cool band so we went to see them at a local music venue. It's very hard to find that kind of stuff online." Though you might be able to track down some tips from local (rather than travel) blogs, or the local newspaper. 
Don't be afraid to strike up a conversation in a bar or cafe, either. This New York Times guide to connecting with strangers when you're out of town includes some tips from a behavioral scientist who notes, "Everybody loves to brag about their city"—so locals may be delighted to be asked for their suggestions.
For singles, dating on the road is another way to (a bit slyly) get a local to take you to places you might not otherwise come across on your own. Mashable spoke to single travelers who use apps like Tinder to meet new people—and get introduced to under-the-radar spots. And on the platonic side, Tinder Social helps to facilitate group meetups, a lower-stakes way to connect with locals. 
Under-hyped spots to consider
At this point, New Yorkers are probably well-acquainted with the Hudson Valley, which the Times tells us is a "mecca for artisans," and the Huffington Post writes is home to "New Yorkers who have graduated"; Hudson Valley magazine itself wonders, "Are we really the new Brooklyn?"
The hype surrounding the picturesque and (allegedly) increasingly hip region has gotten pretty thick, drawing city dwellers in search of both a part-time respite and a long-term NYC alternative. But Kingston resident Sari Botton punctured some of the hubbub in The Billfold, writing that while her adopted Hudson Valley town does have loads of appeal, there's also no reliable public transit and very limited options for dining and nightlife; parking is a pain and crime is high. 
For a weekend getaway where you won't necessarily be surrounded by other New Yorkers, Roberson recommends Bear Mountain, a state park in  Rockland County that spans over 50,000 acres. "You can rent a car and drive an hour and a half north and be in nature," she says. "It feels totally different from New York, and there's great food and breweries in the area." 
Cronkite points to the Berkshires in Western Massachusetts as another underrated destination, for its combination of beautiful scenery and plentiful eating, drinking, and shopping options in the towns that dot the mountainous region. "It's a really great option for people who aren't sure what they want to do," he says. "It's good for families and singles." 
Finally, take a look at Brick's recent Summer Shake-Up, and last year's Beyond the Hamptons, for more out-of-the-box getaway ideas. 
Brick Underground articles occasionally include the expertise of, or information about, advertising partners when relevant to the story. We will never promote an advertiser's product without making the relationship clear to our readers.