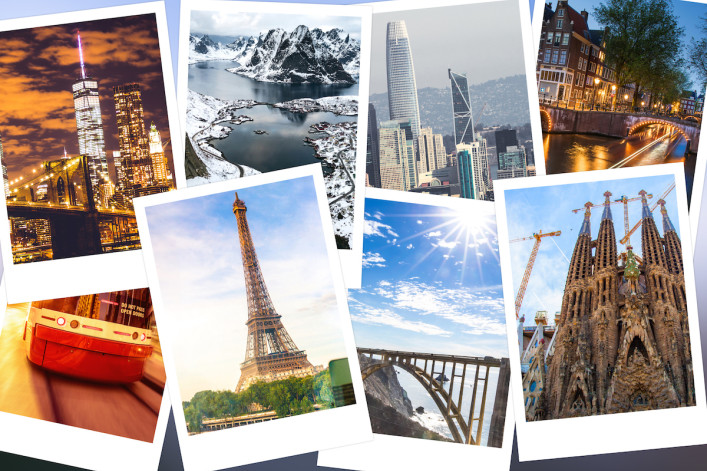 When you add up hotels, airfare, transportation, food, and attractions, vacation rentals can get really expensive. So what are your options if you're a budget-conscious New Yorker who still wants to get out of town? You might want to consider apartment swapping with visitors who want to experience all NYC has to offer.
Swapping apartments allows you—and the person you swap with—to live like locals and immerse yourself in a new city. Unlike Airbnb, no money ever changes hands, so aside from the membership fee you'll pay to join a certified home-exchange program, you'll be staying for free, which means you'll have more funds for all those vacation experiences you can't wait to Instagram. 
If this sounds like a dream, you should know that apartment swapping may violate city law and your building's rules because the exchange could be considered a short-term rental or an illegal sublet if you're a rent-stabilized tenant. "With apartment swapping, you're still getting and giving something of value, so that could be seen as a short-term rental," Sam Himmelstein, a lawyer who represents residential and commercial tenants and tenant associations (and FYI, a Brick sponsor), recently told Brick Underground.
The city strictly regulates short-term rentals, and it's illegal to rent out your place for fewer than 30 days if you won't be present. Co-ops do not allow short-term leases, and some condo buildings may have lease-term requirements or rules about vacation rentals. 
The moral of the story is to research what your building or lease allows, and discuss your plans with your landlord or board before agreeing to an exchange—and maybe even before shelling out a membership fee for a home-exchange site. (Of course, before agreeing to swap your apartment with someone, you should ask for proof that they're cleared to do so on their end to save you from having a big, unwelcome issue when you arrive.) 
If you've done your research and been cleared to swap your NYC apartment, the next step is to choose a home-exchange program to list your place on. Here are some popular ones, including two that have been around for more than 65 years. Whatever site you choose to list your apartment, you'll want to make sure your listing includes lots of photos and descriptive details about your place and neighborhood. 
This site offers a verified payment service, and certifies members using a valid photo ID and recent utility bill. It offers two ways to apartment swap: A direct swap, in which users come to your house and you go to theirs, either at the same time or on separate dates; and Swap Points, which lets you stay in their house or they in yours whenever and wherever without doing a direct swap. 
Love Home Swap keeps your phone number, home and email address private, and members won't see your full name unless you choose to share it. To protect you from scams, phishing, and fraud, you communicate through the platform exclusively, but once you agree to an apartment swap, you can exchange off-site communication details. 
The company offers a free two-week trial, and two membership levels. Prices typically range from $11-$30 per month (billed annually), and you must be a member to swap. Membership includes 24/7 support, benefits from partners like Zipcar, and perks that include free airport lounge passes. 
This site has more than 400,000 swaps available in 187 countries, and offers mediation and compensation between you and your guest if there are any incidents or apartment damage. You can become a verified member by providing a valid photo ID and proof of residence, such as a bill less than six months old or a rental contract, and you can choose to only do swaps with verified members.
Home Exchange offers two plans: Essential, which is $15 per night, or Optimal, which is $150 per year for unlimited, verified access, and 500 GuestPoints, which allows you to facilitate non-reciprocal swaps. 
Founded in 1953, HomeLink offers many types of swaps between paying members only, including simultaneous and non-simultaneous; weekends; long-term; hospitality, in which you stay with your guest; and even a youth exchange, where members—typically those who have met and swapped with other members before—host children or teens during the summer or school vacations. Once you find someone to swap with, HomeLink provides a contract that sets the terms and logistics such as arrival date and time, key exchange, etc. 
Membership includes unlimited exchanges, and prices range from $55 for 12 months of U.S.-only swaps or $99 for international, or $88 and $158 for 24 months of domestic or international swaps, respectively. 
Also founded in 1953, Intervac (a mashup of "international" and "vacation") offers home exchanges as well as bed and breakfasts (that members can stay at for free), and discounted rentals. To streamline your search, you can set parameters to only see listings from members who are specifically interested in visiting NYC. 
There is currently a free seven-day trial, and membership costs $115 for one year or $195 for two, and both include unlimited exchanges, access to global representatives, the ability to save your favorite listings and receive match alerts that meet your criteria, and more. 
IVHE (aka International Vacation Home Exchange) allows simultaneous and non-simultaneous exchanges, secure member communication, and no limit on the number of houses you can list. Its security process includes speaking to members personally via phone, verifying their identity using a photo ID, and verifying their property with a utility or other bill. 
IVHE has three member plans that range from $159-$375 per year, and the higher end includes assistance and recommendations from IVHE's personal travel coordinators and researchers. 
Tips for a successful apartment swap
If your bags are packed and you're ready to swap, here are a few suggestions to ensure your guest has a good stay in your NYC apartment and you in their place.
Before leaving home:  
• leave contact info for yourself, your super, landlord or, if applicable, the front desk staff in case something happens
• if you'll still be home when your guest arrives, introduce them to the building staff and show them around
• if you won't be home when they arrive, leave a home guide that includes your wifi password, house rules, how appliances work, where to toss garbage and do laundry, etc., as well as info for the nearest hospital or urgent care 
• give them a guide to the city and your neighborhood, including where the nearest grocery store is and suggestions for restaurants, attractions, etc.
• leaving a welcome note and gift such as a local treat, wine, flowers, or a souvenir is a nice touch, as is a fridge stocked with a few staples—and cleared of anything that would expire while you're away (bonus points if you ask about any dietary restrictions ahead of time) 
• make sure your apartment is clean, and there are clean towels and sheets
• make room in your closet and/or drawers for guests to put their stuff
• obviously lock up or store any valuables you won't be taking on your own trip
Before heading home: 
• leave the apartment you're staying in the way you found it (which is hopefully clean); vacuum, wash and change the sheets and towels, don't leave anything in the sink, etc. 
• replenish anything you may have used, such as that great-smelling shampoo or a staple they left in their fridge for you  
• another nice touch is leaving a thank you note or welcome home gift
Brick Underground articles occasionally include the expertise of, or information about, advertising partners when relevant to the story. We will never promote an advertiser's product without making the relationship clear to our readers.