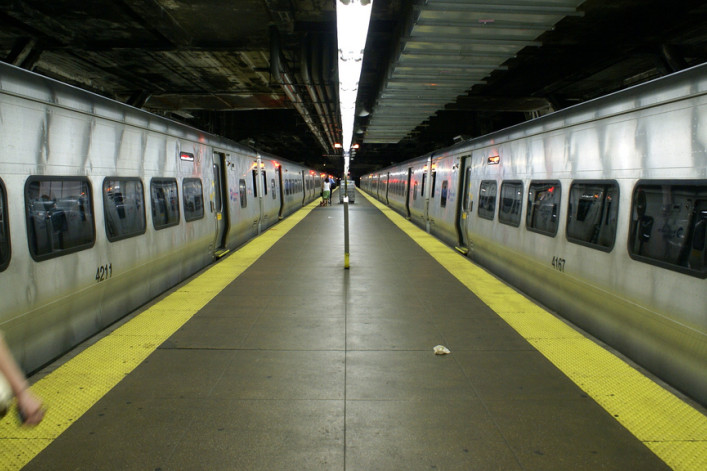 New Yorkers spend a lot of time weighing the pros and cons of a move to the suburbs (especially after a particularly rough day of subway delays), and while a move beyond the boroughs is theoretically all about transitioning into a more "simple" way of life, the process of starting over can also be fairly daunting.
Here, three tips shared by experts at Citizens Bank and Douglas Elliman at a NYC-to-Westchester event hosted by the 92nd Street Y last week: 
Start your search early
Particularly if you're looking to sell your current NYC home before you make the move, figuring out the timing of when to sell and when to start your search can be delicate. But as with most aspects of house-hunting, the sooner you start preparing, the better.
"Don't wait until after getting an offer to start looking—go out now and get a sense of what you want," advises Elliman broker Ben Glazer. (If you're looking to be settled into a new town by the start of the next school year, your search should have begun by now, he says.) There are a lot of different factors to consider, from school districts to commute to the vibe of the town—is it relatively walkable and social? Or will you be driving to get everywhere? What's the local culture like? 
If you're starting from scratch and want to get a sense of what areas might work for you, Elliman's Tory Miller recommends looking at a map, picking a few towns that are within the length of commute you'd be comfortable with, and using weekends to visit open houses and get a feel for the area. "Spend a Saturday afternoon, go and have lunch," she says. "The neighborhoods vary just as much as they do in the city." So you'll want to take your time getting a sense of the local flavor.
And if you're selling with an eye to an imminent move, don't get ambitious with your pricing. In a softening sales market, says Glazer, "if you price properly your home is still going to sell fairly quickly. But usually a buyer won't even come shop if you're priced even five to seven percent too high."
Research the tax situation as variations can be huge from town to town
While escaping NYC's steep taxes is unquestionably one of the major perks of moving outside city limits, in Westchester county in particular, the tax burden varies significantly depending on where you move, and in some cases can be quite steep. (Home prices differ quite a bit, too, but as a rule of thumb, the closer you are to the city, the more you can expect to pay.)
"The taxes are very town by town, and depends on size and infrastructure," says Miller. "For instance, Armonk has a lot of business, so the corporate tax offsets real estate tax."
You'll also want to consider the tax rate in relation to the size and cost of your home. "You may pay the same taxes down county as you do farther up in Chappaqua, but in Chappaqua, the house is much larger," adds Miller's sales partner Debra Goldenberg. 
Bottom line: Besides the actual property values, the amenity, and the vibe of a town, you'll also want to evaluate the state of its taxes to avoid any unpleasant surprises.
Expect simpler financing requirements
One big silver living to buying in the suburbs versus the city: Your mortgage is likely to be much less of a headache.
"The financing is much easier," says David Fallarino of Citizens Bank. "In the city, to be approved, the apartment has to be appraised, and you also have to get the building approved." And that's to say nothing of the board approval process if you're buying in a co-op.
"With a single-family house, as long as it passes inspection, it's fine," he says. "It might take 15 days to get approved, compared to the 45 days it would take for a property in the city."
And though many buyers still opt to offer a larger down payment in hopes of appealing to sellers, Fallarino pointed out that many properties in the suburbs allow financing of up to 90 percent, meaning the barrier to entry is lower than it is in NYC, where 20 percent is still the norm.
 
Brick Underground articles occasionally include the expertise of, or information about, advertising partners when relevant to the story. We will never promote an advertiser's product without making the relationship clear to our readers.