Beach
Catching up with ShareGurl on Fire Island's past, present, and future as an oasis for LGBTQ New Yorkers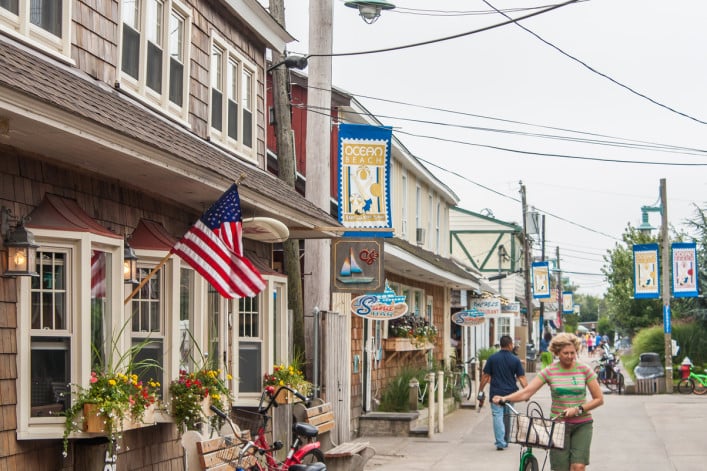 For decades, Fire Island has been known as a favorite summer haven of LGBTQ New Yorkers, though it's transformed over the years from an oasis for a community with few other options, into one of the city's more high-priced and high-end getaway options. Between the cost and the sometimes-difficult particulars of the area—the fact that cars aren't allowed on the island, and its relatively insular real estate scene—finding a summer rental on Fire Island can be tricky territory to navigate for the uninitiated. 
Seeing an opening, the team at ShareGurl has spent the past several years building up more of a presence on the island (particularly in the famously LGBTQ-friendly Pines), offering a variety of rentals at different price points, and throwing their fair share of parties—the site bills itself as "a team of go-getting gays who make Fire Island more welcoming, convenient, and fabulous," with the tagline, "We help you make better bad decisions."
Ahead of one of the most popular getaway weekends of the summer, we chatted with ShareGurl co-founder Rafael Kuhn on Fire Island's real estate scene, the evolution of the Pines as a hub for New York's LGBTQ community, and more:
On streamlining the Fire Island rental process:
"We started about five years ago, initially, as just a bunch of people who rent out there [in the Pines]," Kuhn tells us. "Figuring out how to get there, how to find a place—it's a little bit cumbersome, between working with a broker, and coordinating your friends' schedules. It's a process we thought could be optimized."
Initially, they created an app that connected to Facebook to enable users to tell friends when they were traveling, and coordinate schedules. And from there, the site partnered with a local brokerage, as Kuhn puts it, "To help them sell to a younger generation of people, and try to digitize the process. We found that there was a fundamental issue with respect to the ease of getting rentals."
From there, ShareGurl has pivoted into property management, after jumping at the opportunity to take over an old, "under-utilized" hotel in the harbor, negotiating with developers to be paid to run the property. These days, ShareGurl manages four properties—the Hotel by ShareGurl; the Pines Club; the Madison (a guest house); and the Treehouse, a shared rental house.
"We offer managed properties, and rooms by the night for people who don't want to commit eight months in advance with six people," says Kuhn.
The housing stock—and price range—you'll find in The Pines:
Though there's a good amount of variation, says Kuhn, the cost of renting in the Pines (versus other Fire Island areas such as Cherry Grove) is comparatively high. "Higher-end trophy properties with tons of bedrooms and unobstructed views could be as much as $150,000 to $200,000 for the season," he tells us. 
"What we normally find is that people kind of huddle together in shares, which could go from a two-bedroom at $35,000 to $40,000 for the whole season, all the way up to a five-bedroom house at $75,000 for the summer, that gets parceled out between people and weekends," Kuhn explains. "I normally see the per-person cost of a share, on the lower end—and for five or six weekends, most likely a shared room—at $1,800 to $3,000 per person." The site also offers weekly rentals ranging between $3,000 and $10,000, depending on location and size.
For cheaper options that involve less intensive planning, ShareGurl's managed properties offer by-the-night rooms for as low as $99/night, though Kuhn notes that on high-demand weekends with big events, prices tend to be much higher. "If you can get away on a weekday, it's a lot less expensive," he notes.

Fire Island's ongoing history as a haven for LGBTQ New Yorkers:
Besides the obvious vacuum for more easily accessible, short-term vacation rentals, says Kuhn, part of ShareGurl's mission has been to breathe new life into the Pines as a gathering place for LGBTQ New Yorkers of a wider variety of income and age. "The Pines is really important in the history of LGBTQ rights generally, because there was a time when gay people couldn't go places," says Kuhn. "It developed into the one place people could go where they know they could get away. We saw costs getting higher, the average age getting higher."
With slowed interest from buyers in the area, and a fire having destroyed one of the areas most popular clubs in 2011, Kuhn tells us, "There was kind of a depression in terms of excitement, energy, and use out there. So part of why we do what we do is to reduce the barrier to entry, make it easier, and cater to the millennial taste of taking the search online and being more modular."
"And that's part of all of the events that we do, too—it brings out people who are younger, who weren't on the island before," Kuhn adds. "We want to make sure people get out here, and when they do, they find it's a completely different world than New York. There's a laissez-faire energy—people walk around in speedos, everyone's nice. It doesn't matter who you are, where you are, it's kind of a beautiful feeling, that you can be yourself."
Brick Underground articles occasionally include the expertise of, or information about, advertising partners when relevant to the story. We will never promote an advertiser's product without making the relationship clear to our readers.