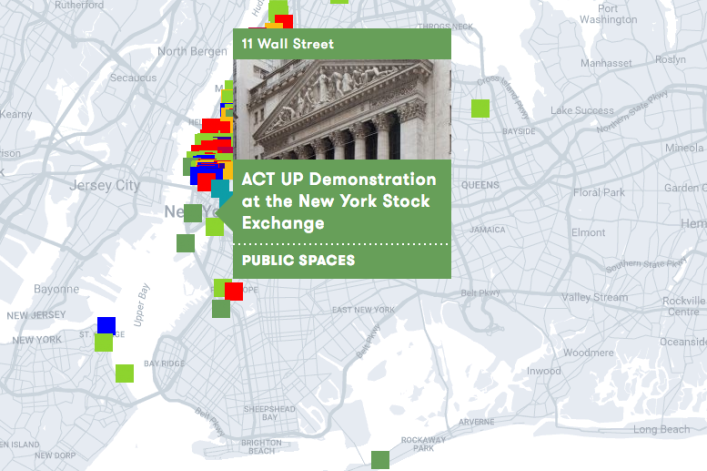 There's no quicker way to communicate the breadth and depth of the city's LGBT history than through a new interactive map that helps users discover the historic and cultural sites associated with lesbian, gay, bisexual, and transgender communities.
Recently unveiled by the NYC LGBT Historic Sites Project, a group dedicated to "making an invisible history visible," the map spans the five boroughs and allows users to filter results via 10 topics, including cultural significance (activism and politics, cruising and sex, people of color). It covers locations that are still standing and have history dating from the 17th century—when New York City was founded—until 2000. There are currently 100 fully documented sites, each with text, images and multimedia. "The themes are mini-exhibitions," Lustbader says. "We'll be adding more sites as researched."
Led by architectural historian and Columbia University professor, Andrew Dolkart, historic preservationist Ken Lustbader, and Jay Shockley, a former historian at the city's Landmarks Preservation Commission, the NYC LGBT Historic Sites Project launched their website in 2015 and, thanks to state and national grants, are in the process of having important LGBT sites added to the National Register of Historic Places.
Says Shockley: "To give you a national perspective, of the 92,000 properties on the National Register of Historic Places, only 13 are recognized by the federal government for their significance within LGBT history."
In 1999, Shockley, Dolkart, and historian David Carter were responsible for the listing of Stonewall, the first ever listing of a site connected to LGBT history. Until a few years ago, the Stonewall, the West Village bar that was also the setting for the 1969 riots, was the only site on the register associated with LGBT history. 
"We're the least recognized of all minority communities when it comes to these designations," says Shockley.
Adds Lustbader: "Historic preservation uses buildings to tell stories of people. It's used to tell the political, union and economic history, and we've felt the LGBT community has been underrepresented in that way."
Among the sites featured on the new map are author James Baldwin's residence on West 71st Street and Truman Capote's apartment in Brooklyn Heights. Many of the sites fall within historical districts, so they have landmark status, but their LGBT history in particular is unknown.
"We're taking many spaces in New York, including Carnegie Hall and Lincoln Center, which have featured performances from countless LGBT people throughout history, and [we're] showing them through the LGBT lens. We want to show how disproportionate an impact we've had on culture," explains Shockley. For instance, one of the most iconic sites in New York City, the Bethesda Fountain in Central Park, was designed by a lesbian sculptor. "We're also very interested in making sure the diversity of these communities is represented," says Lustbader. 
The idea is to help people understand that "gay history is American history," the group's founders say.
Thanks to federal and state grants, the group will be responsible for introducing seven nominations to the National Historic Registry; so far, they've completed three—photographer Alice Austen's house on Staten Island, the city's oldest gay bar, Julius' in the West Village, and civil rights leader Bayard Rustin's apartment at Penn South.
The group's working on developing a smartphone app so that people can do their own self-guided walking tours of these locations, and is also calling on others to point them in the direction of other important locations to add to the database. 
Want to hear more? Today they will present their work at the WeWork building at 222 Broadway (6:30-8 pm). Topics on the agenda include activism pre-Stonewall, the challenges of adding properties to the National Historic Registry, and much more.
Brick Underground articles occasionally include the expertise of, or information about, advertising partners when relevant to the story. We will never promote an advertiser's product without making the relationship clear to our readers.