Your Next Move
What you can get for $1 million in Bed-Stuy, where you'll find boutique condos and spacious brownstones
Most townhouses have lots of square footage, as well as floor-through layouts and high ceilings
You can get a one-bedroom condo for $700,000 and a two bedroom for $1 million
For $2.2 million, you might land a renovated two-family townhouse with rental income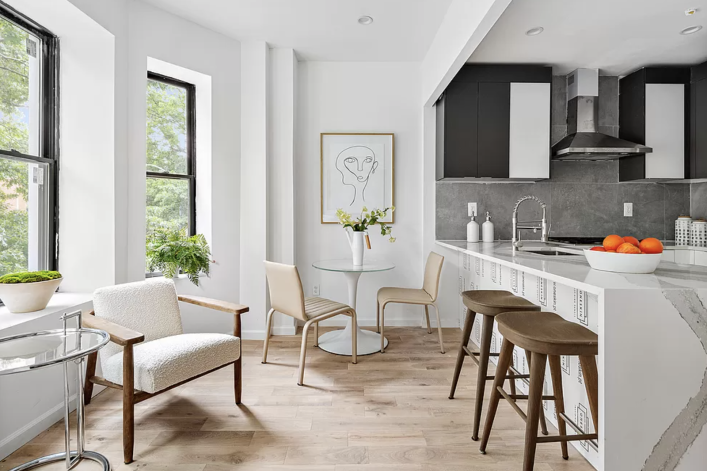 Have you always wanted to live in Bed-Stuy but assumed you were priced out? In this new series, Brick looks at listings in New York City's most in-demand neighborhoods for under $1 million—roughly the median sales price for Manhattan co-ops and condos—as well as higher-priced options below $2.5 million. 
If your goal is to live large, think small: Buying a studio or one bedroom is a way to net the nabe of your dreams. New to buying NYC real estate? Be sure to wrap your head around the difference between co-ops and condos. Co-ops are generally less expensive but also are older and have fewer bells and whistles than condos—plus more rules. With that in mind—happy hunting!
In this week's Your Next Move, Emma James, an agent at The Corcoran Group, and Eugene Litvak, a broker at Compass, give us the inside story on Bedford-Stuyvesant, where historic brownstones and hip hop culture converge.
What draws buyers to the neighborhood?
"Bed-Stuy has the biggest Victorian housing stock of any neighborhood in Brooklyn, so this is where people come if they have their hearts set on a brownstone," James says, noting that two and three families are desirable because of the rental income.
"An iconic Brooklyn locale, it's attractive to those who want to be in a diverse, welcoming community with plenty of mom-and-pop restaurants and small businesses," she says. 
She adds that it's a tight-knit community. "There are block parties in the summer and tons of block associations, and people know their neighbors."
Litvak notes that architectural aesthetics aside, buyers come to Bed-Stuy "because they can find spacious New York City living."
Most of the townhouses "have a great amount of square footage, large rooms, floor-through floorplans, and high ceilings," he says. "The charm and the affordability of the real estate, as well as the general vibe—there's cultural heritage, community, diversity, cafes, restaurants, and historic sites—make it one of the most popular and fastest-growing neighborhoods in Brooklyn."
What are housing and pricing like?
Because the neighborhood is large—James says it takes a half hour to walk from one end to the other—prices vary a bit from the west side to the east side.
"There's a wealth of different architectural styles and some magnificent buildings," James says. "Prices run from $4 million down to $1.5 million depending on the condition of the house."
The neighborhood, which has a significant-sized and recently expanded historic district, is renowned for its single-family and multi-family townhouses, many of which retain their original details, including ornamental woodwork and decorative carved stonework.
Some condominiums and new developments are in the non-landmarked areas on the borders.
What type of property can I get for under or around $1 million?
According to James, a townhouse shell runs around $1.2 million, but you can get a "nice" one-bedroom condo for around $700,000 and a two bedroom for about $1 million.
StreetEasy lists 47 choices in this price range.
I can stretch my budget. What can I get for $2.5 million?
Because inventory is so low, James says that "in theory, $2.2 million should get you a fully renovated three-story, two-family townhouse, and $2.5 million to $2.6 million a fully renovated four-story triplex over a floor-through owner's quarters that's located further into Bed-Stuy."
Are there any newer condo developments I should check out?
Newer condos typically offer the most luxurious amenities and finishes, features that attract many buyers.
Because Bedford-Stuyvesant is a low-rise, landmarked neighborhood, it doesn't have many condo developments.
James says there are "a handful" of townhouses that have been converted into three to four units and some new boutique buildings, such as the following two new developments on the Clinton Hill border.
114 Lexington Ave., which opened in 2023, has five stories and 16 units. There's only one unit on the market—a 634-square-foot, one-bedroom, one-bath condo that's listed for $699,000. The building has deeded parking for an additional price, bike storage, a video intercom system, and a roof deck.
Opened in 2023, the four-story 531 Classon Ave. has eight loft-style units. Two are for sale; the less expensive, listed for $850,000, has one bedroom and one bath and is 737 square feet. Features include oversized windows, wide oak plank flooring, in-unit washer/dryers, and two private balconies plus access to a shared roof deck. 
Which attractions do you show buyers who have never been to the area?
Noting that Bed-Stuy is "best appreciated by simply strolling, admiring the architecture, and checking out what's new," James generally stops for coffee at Milk & Pull, lunch at Chez Oskar, and cocktails at Dick & Jane's, all of which are in the same couple of blocks.
She also likes to point out Herbert Von King Park, designed by Frederick Law Olmsted and Calvert Vaux, creators of Central Park, and the Olympic-size Kosciuszko Pool, a popular summer hangout. 
Litvak tells clients about community art events, block parties, and cool vintage shops. "Some of the key places to visit are the Biggie Smalls Mural and the Bed-Stuy Historic District."
"Some of the most popular dining spots include Peaches HotHouse, Saraghina, and Rustik Tavern," he says, adding that "these offer a mix of Southern comfort food, Italian cuisine, and more."
What are the nearby neighborhoods, and are they less expensive?
"Clinton Hill is more expensive," James says, "and Crown Heights is a bit cheaper for the most part, and then Bushwick is definitely cheaper."
Check out these listings that are around $1 million in Bedford-Stuyvesant.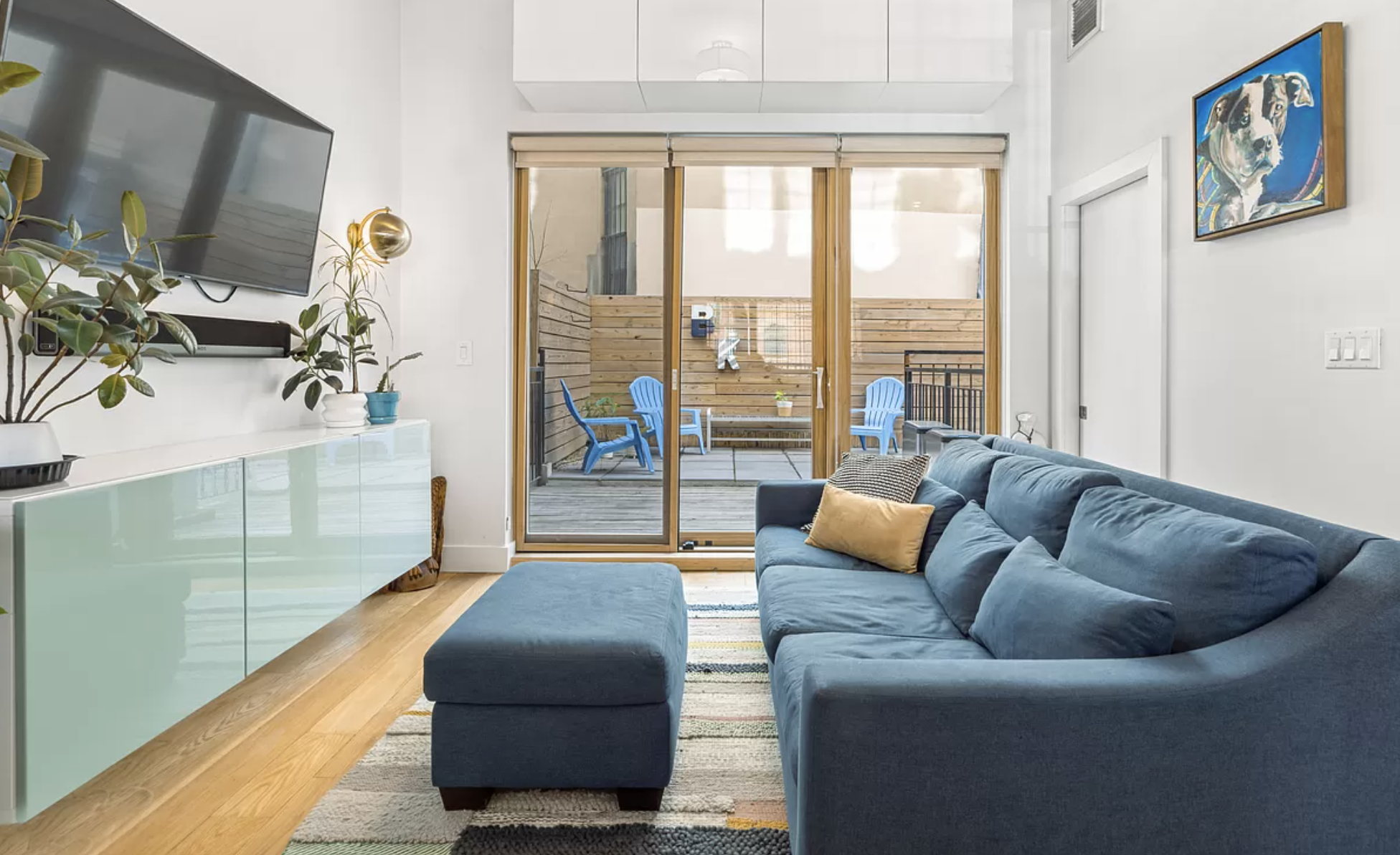 Listed for $675,000, this 858-square-foot duplex has a windowed cellar flex room where the current owners have a custom-fitted king-size bed. The unit has 10-foot ceilings, wide-plank oak floors, two patios, a washer/dryer, ductless mini splits, custom storage, and a new kitchen with a dishwasher and stainless steel appliances. It is located in a nine-unit boutique condo built in 2018.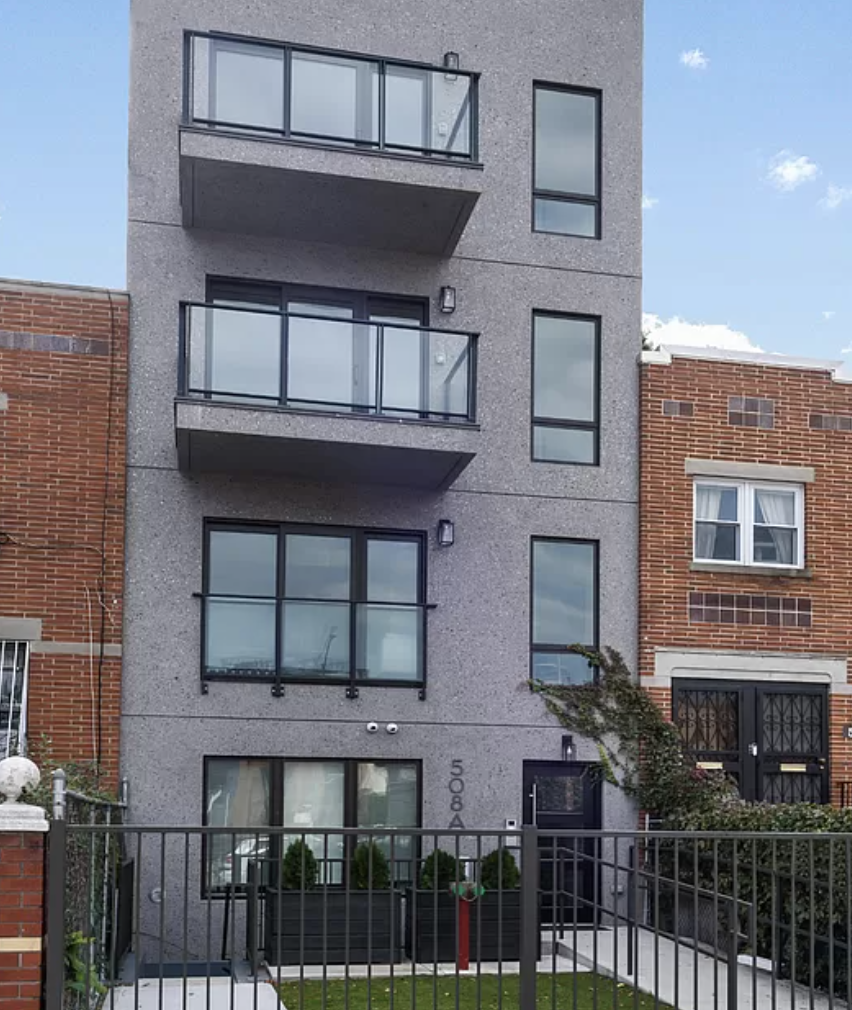 This 850-square-foot, two-bedroom, two-bath condo is one of four floor-through units in a four-story boutique building that dates to 2022. Features include a balcony, dining area, washer/dryer, double-pane windows, deeded storage, mini-split HVAC, and an open kitchen with a dishwasher and stainless steel appliances. It is asking $745,000.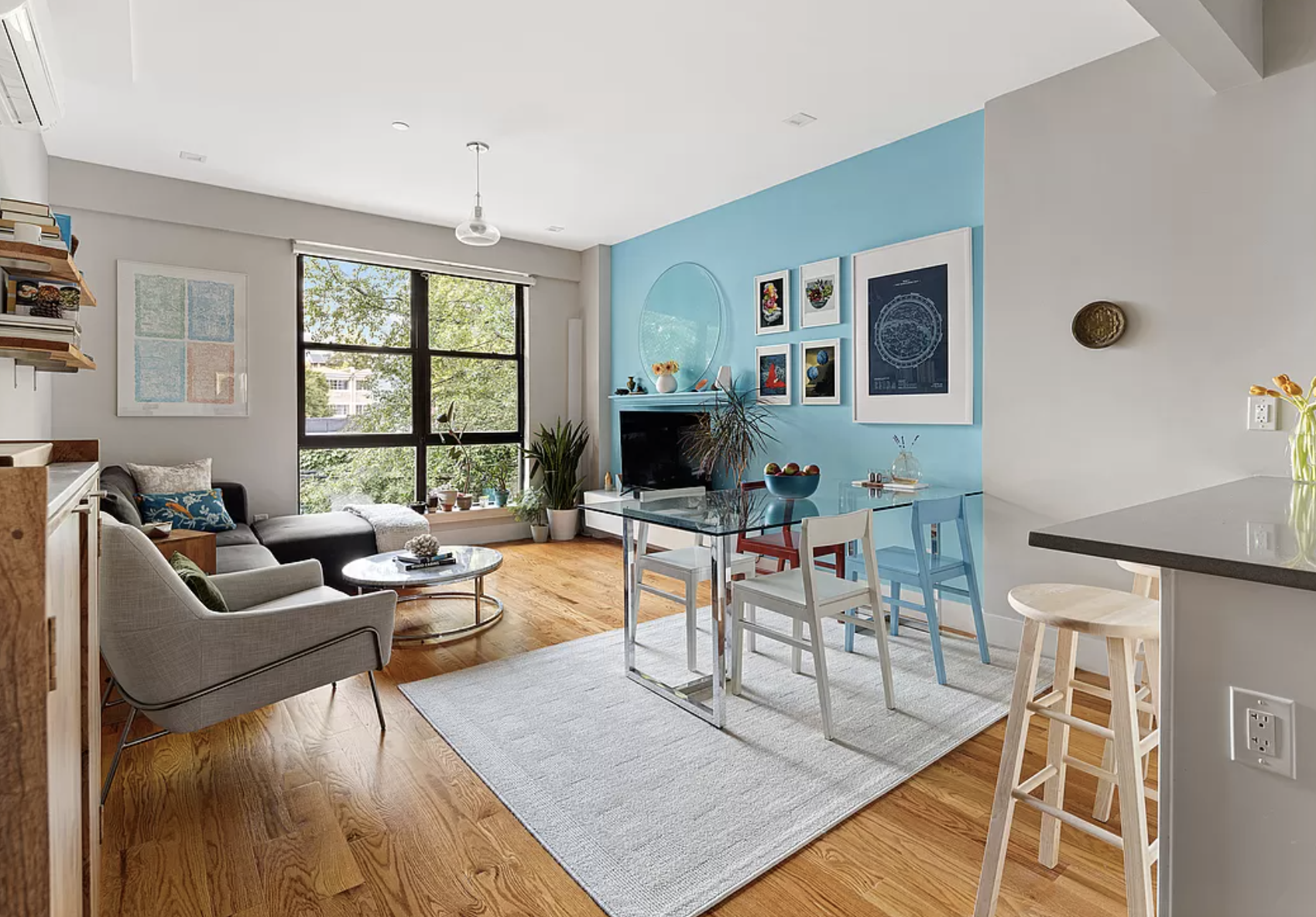 One of six units in a four-story boutique condo that opened in 2017, this one-bedroom, one-bath condo is on the market for $715,000. It has nine-foot ceilings, a washer/dryer, and mini-split HVAC system. The kitchen is equipped with a dishwasher and stainless steel appliances.
This 804-square-foot penthouse condo, listed for $930,000, is in a brand-new condo conversion of a four-story 1931 brownstone with four units. The two-bedroom, two-bath unit has a private roof terrace, tall ceilings, white oak floors, a washer/dryer, central AC, and basement-level private storage. The open kitchen features a waterfall peninsula, dishwasher, quartz countertops, and high-end appliances.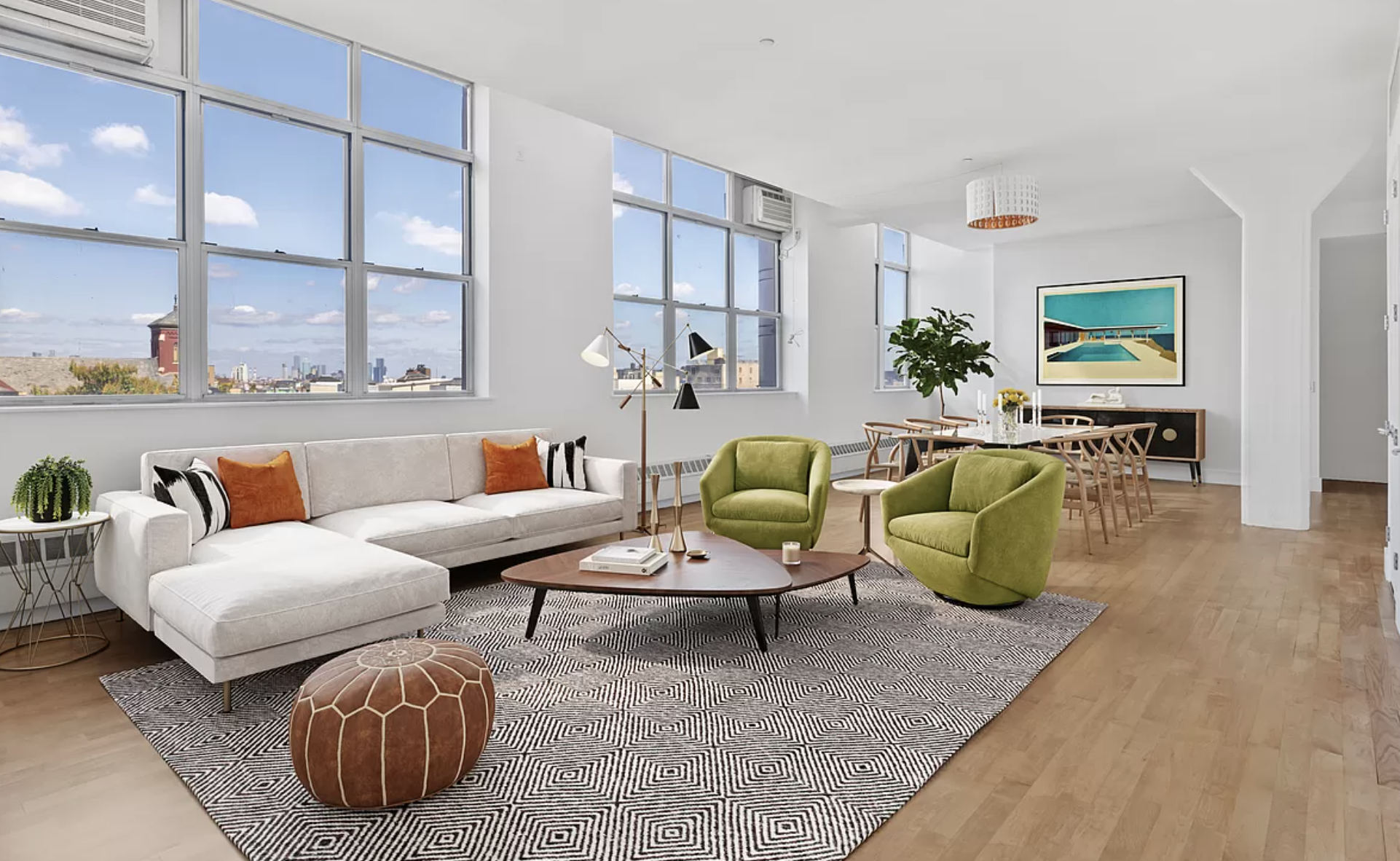 On the border of Clinton Hill, this 1,034-square-foot, two-bedroom, two-bath unit has 12-foot beamed ceilings, hardwood floors, walls of windows, and a washer/dryer. It is asking $999,000. Amenities of the full-service, circa-1930 industrial condo conversion include a doorman, fitness center, private running track, and gardens. 
Nancy A. Ruhling is a freelance writer based in New York City.
Brick Underground articles occasionally include the expertise of, or information about, advertising partners when relevant to the story. We will never promote an advertiser's product without making the relationship clear to our readers.