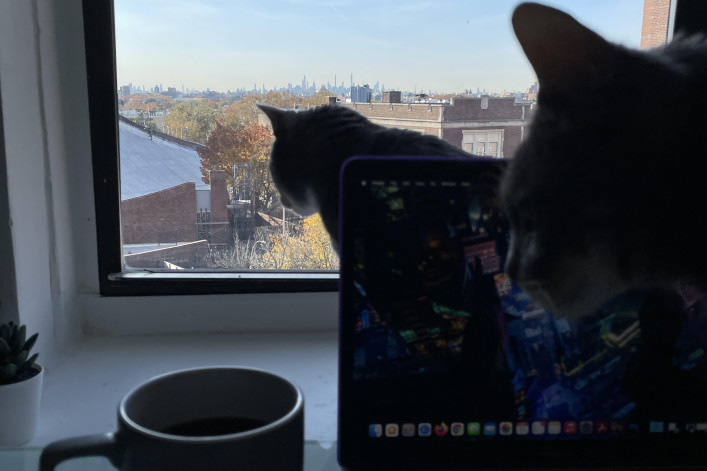 When Xander Salvador toured a studio apartment at Origin North, a co-op building in the Bronx, the place was still undergoing a major renovation. The walls were gutted, the kitchen was stripped, and the bathroom had been torn out. A first-time buyer who works in healthcare in Manhattan, Salvador was going to be closing before the work was finished and wanted to make sure there were would be no unpleasant surprises. Here's his story.
When I first viewed the apartment I was really only seeing the guts of the place. Still I could tell the layout was ideal for me and I could see its potential. It wasn't a typical tiny New York City studio where you open the oven and hit your bed. Having seen the finishes of the apartments at Origin North's other buildings, I had an idea of what it would be like after the renovation was finished. It's very clean, very modern, and that's very much my taste. Plus, I fell in love with the view of Manhattan. I will never get sick of looking out over the city.
This was my first time buying so initially I didn't really understand the purpose of the final walk through. I knew there had to be an inspection and there would be a punch list and that I'd talk to the construction manager about that. I'm a neurotic person by nature so I'd read up on this and my best friend gave me some guidance.
---
Editor's Note: Brick Underground's Inside Stories features first-person accounts of interesting, real-life New York City real estate experiences. Have a story to share? Drop us an email. We respect all requests for anonymity.
---
I scheduled my own independent inspection but I scheduled it far too early, when there were no appliances, the plumbing still needed to be done, and there was electrical work to be done. I should have done the inspection just a few days before closing—ideally 24 or 72 hours. That's because the goal of an inspection is to make sure there isn't anything seriously wrong with the plumbing or electricity and to make sure the appliances work because they were part of the purchase. 
When I did the final walk through with the construction manager there were a few issues to resolve, but nothing major.
I initially had a lot of skepticism about the buying process—which I think is a healthy way to approach a major transaction like this. But I think I might have had too much mistrust. What I didn't grasp at first is that I had a team that was looking out for my best interests, even the team on the seller's side was helpful. I really was surprised how transparent they were. They weren't evasive or cagey, which I've heard some sellers can be.
In a new construction, there's often no history of how the building is run but in this case, the co-op had started to transition from rental to co-op some years before so there was a co-op board already in place. I was able to have my attorney look into the financials and house rules and in fact at the closing I was asked whether I was interested in being part of the co-op board. I'm still mulling that over. I'm a bit of a control freak so I'm interested in having a say in what happens in my building. Also, being new to co-ops, I want to see the guts of how it works.
There are still apartments that are empty and undergoing renovation—one of the units on my floor just got sold a month or so ago and my neighboring unit is still being renovated and hasn't been lived in yet. The workers are thankfully pretty communicative when they are working or repainting parts of the common areas. I knew what I was getting into—I take the stairs sometimes or step around a couple of ladders—after being through Covid, it's really nothing. 
Moving in the middle of Covid was interesting though. As it turned out my roommate at the time tested positive in the weeks leading up to the closing. I ended up getting a hotel in Midtown for two weeks and it seemed to be the most pain-free way to protect my work space and patients. I even found a pet-friendly one because I have two cats. 
My advice for others buying a place that's being built while you go to buy is to stay prepared. Create a binder—I created a binder of all the emails, checklists, and punch lists and it really helped having something physical to refer to. And don't be afraid to ask a bunch of questions, even if you think it's going to make you sound like an idiot. It's better to be safe than sorry.
Also don't be afraid to ask them to break the process down—for me it was the timing of the construction and the final walk through with the construction manager and the closing. I didn't have it clear in my head how all those parts were going to line up and having a better idea of the process could have saved me a lot of heartache, especially when it came to the inspection
Brick Underground articles occasionally include the expertise of, or information about, advertising partners when relevant to the story. We will never promote an advertiser's product without making the relationship clear to our readers.