Negotiating + Financing
How much homeowners insurance do you need when buying a NYC brownstone?
Most homeowners policies are based on the cost to rebuild in case of fire or other damage
For a 3,000-square-foot brownstone you could need $3 to $4 million or more in coverage
Maximum liability coverage (usually $1,000,000) is recommended and is relatively inexpensive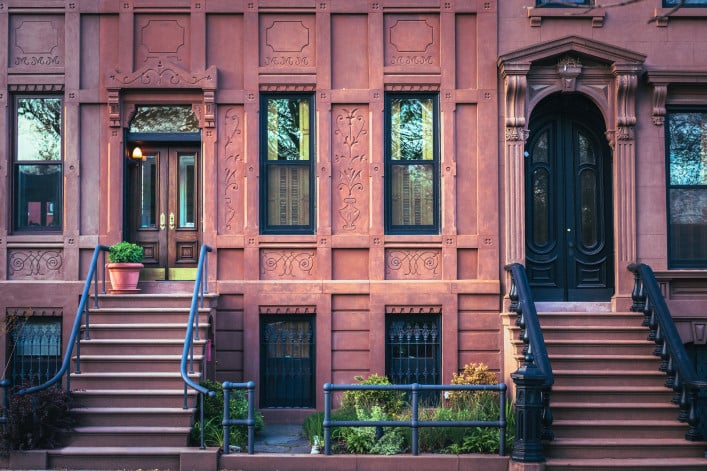 cmart 7327 via Getty Images
If you are in the process of buying a New York City brownstone, you are well advised to begin looking into getting homeowners insurance for the property sooner rather than later. 
"It's important that the coverage starts the day of the closing and not that the client starts working on the insurance once the closing is done," says closing attorney Adam Stone of The Stone Law Firm, which specializes in real estate transactions in New York City. 
What's more, if you are getting a mortgage, "lenders will give you a conditional approval—or what's known here as the NY mortgage commitment, which is a 'yes, but' situation, with proof of insurance required before closing," says Kevin Leibowitz, founder of Grayton Mortgage, a Brooklyn-based mortgage brokerage. 
But that doesn't mean that the lender's insurance requirements are actually sufficient for the buyer or property, Stone says. "That is why it's important for the purchaser to work with a reputable insurance professional."
Here's another reason to find a knowledgeable pro: Brownstones are very different from co-ops and condos in that you own all four walls and are responsible for the entire structure. Plus these turn-of-the-century buildings differ from new homes in the suburbs, too, when any damage done will cost much more to repair.
That's important because the general rule is that "the insurance you take out should be sufficient to rebuild the structure should it suffer damage," says Jeff Schneider, president of insurance brokerage company Gotham Brokerage. 
If you plan to renovate, you'll need a special policy just for that, too.
Read on for the nitty gritty on insuring your investment from the get-go. 
What's covered by a standard policy 
Schneider says all standard policies (aka hazard policies) cover damage from fire, theft, and wind as well as water damage from broken pipes and overflows and possibly sewage backup. 
"With more erratic weather and an aging infrastructure, meaning older dwellings with old pipes, insurance companies are very sensitive to water issues," he adds. Many companies will require you to have water-flow cut-off switches on higher-value or renovated brownstones to limit water damage after a broken or frozen pipe incident. They may also want sump pumps with backups. 
What to do if flooding is a concern
Standard policies do not however cover flooding from rising rain, river, or ocean water. 
"So if you live in parts of Brooklyn where there have been flooding incidents, you'll need to look into getting an additional flood policy," Schneider says. Some companies will insure against flooding and earthquakes; otherwise FEMA flood coverage is almost always available, though it can be expensive. The cost also varies widely depending on elevation and distance from potential water sources, Schneider says.
Complicating matters is that some companies will no longer provide standard coverage for homes within 2,500 feet of the shore, "especially if you are on the water side of the BQE." As Schneider explains it, they are concerned about wind and big storms, like Hurricane Sandy, where it is not always clear whether flooding or wind-driven rain did the damage.
You may still be able to get the standard fire/theft/wind coverage, "but your choices may be limited and that's something to be aware of," he says.
Are other kinds of insurance needed? 
According to Stone, "For a brownstone, buyers certainly need hazard and liability insurance and it's usually recommended to add an additional umbrella policy on top of that."
Schneider explains that liability insurance is relatively inexpensive. "You would generally want the maximum you can get on your home policy, usually $1,000,000. (This is about $50 more per year than the common $300,000 limit.)"
As for an umbrella policy, Schneider says this is usually written in conjunction with an auto policy and gives you an additional $1 million to $10 million of additional liability coverage, over and above the required minimum limits on your residence and auto policies.
What to do if you are renovating
Prior to starting work, you must notify your insurance company that you are doing a renovation—anything other than cosmetic work can void a standard policy, Schneider says, adding that you'll usually be required to cancel your standard policy and take out what's called a builder's risk policy. "The right coverage can be expensive, but not as much as uncovered loss."
What can happen? Schneider says losses happen all too often in the course of a renovation: windows get left open in the winter and the pipes break, or debris gets flushed down the toilets or burned in the fireplaces. 
"So be prepared for the insurance company to check out the project pretty thoroughly to ensure the contractor is following safe working guidelines. It will also want to know that your general contractor has sufficient liability and worker's comp coverage."
Note that even being named as an additional insured on the general contractor's coverage is not sufficient, though that's absolutely a requirement. 
And once the job is complete, you can go back to a standard policy with lower premiums.
How much coverage do you need
The general rule is that most homeowners insurance policies are based on how much it would cost to rebuild the property in case of fire or other damage—what Leibowitz explains is calculated via a "replacement cost estimator" that tallies up the quality of the finishes and other details and matches that with a database of current construction costs. 
Let's say you bought a 3,000-square-foot brownstone for $1 million (fat chance, but just pretend for the sake of easy math). "The insurance company is likely to say 'that's wonderful that you got it for that price, but you'll need $3 to $4 million or more in coverage,'" he says. Why's that? Because coverage is based on the replacement cost, not purchase price. 
On the flip side, if you are in a high-end location, your coverage may be for (much) less than your purchase price. Leibowitz says even jumbo lenders look to the guidelines established by Fannie Mae and Freddie Mac, which is to say they want to know they are covered on the loan amount or the replacement value of the improved structures. 
For example, for a $15 million brownstone in Brooklyn Heights, $10 million will be the value of the land and $5 million for the structure. So if you took out a $10 million loan, your coverage would then likely be the lower of the two numbers, or $5 million because that's what it would cost to rebuild if the house burned down. (But know that some lenders push for the higher number even though it would never cost $10 million to replace the existing structure.)
The question for the homeowner then becomes: Do you want to rebuild the brownstone to the specifications of the 1900s? If so, that can be very expensive in today's environment, Schneider says.
"Between inflation and the difficulty in finding contractors, the price of renovations are skyrocketing—you can expect to pay in excess of $2,000 per square foot for high-end companies and custom millwork." So you'll need to insure the building for more than what they paid for it unless you are content to go with a more contemporary look that doesn't cost as much to achieve.
In other words, pay now for broader coverage or later in uncovered losses. "A lot of people want cheap insurance, but what you want is competitive insurance that pays out when you need it," Leibowitz says. 
What it will cost you
As for what you'll pay in premiums, that depends largely on the insurance company and how they base their coverage. 
Leibowitz says most companies follow Fannie Mae and Freddie Mac guidelines in requiring higher limits based on their replacement cost calculations, whereas others might provide more basic coverage based on a lower number that you provide (such as your purchase price). (Leibowitz says beware of slick new companies that lure you with cheap prices and a polished, high-tech website "because at the end of the day, despite creating a cool digital experience, there are boring manual processes behind it.")  
So as a general rule, policies that cover extensive repairs are considerably more costly; be prepared to spend as much as 40 percent more than what you would on a standard insurance policy. 
But ultimately, "you need to know your budget and also your worse-case scenario—and always be aware of what you will get back if something happens," Schneider says.
Meaning if you want to replace those original crown moldings, wide plank floors, and custom mahogany millwork, you might be out of luck.
Brick Underground articles occasionally include the expertise of, or information about, advertising partners when relevant to the story. We will never promote an advertiser's product without making the relationship clear to our readers.