For many first-time buyers in NYC, the biggest hurdle to overcome is finding the funds to cover the down payment. But in the case of Cindy and John (names changed to protect their financial privacy), they've got that covered, thanks to the recent sale of a condo they owned in another city. Instead, their challenge is to keep their monthly housing expenses down--and decide which borough they want to live in. 
Currently, Cindy and John rent a large, gut-renovated one-bedroom for $2,400 per month, and while they'd like to upgrade to a larger space when they buy--they're seeking a two-bedroom so that they can accommodate visiting family and friends--they also don't want to take out a huge mortgage that will significantly increase their monthly spending on housing. "Ideally, it'd be kept to about $3,000-$3,500 all in," Cindy says. 
Fortunately, the prospective buyers are quite flexible when it comes to location: They're open to living in both Manhattan or Queens, as long as they're close to a subway line. Other musts include a building that allows pets--they have two small dogs--and a well-equipped kitchen, as both are avid cooks. On the "nice to have" list is access to outdoor space for grilling and puppy frolicking, and an in-unit washer and dryer. 
To determine what the couple's options are--and how far their money will go in the two boroughs--we asked mortgage broker Sean McPartland of the McPartland Team at PNC Bank (this article's sponsor) and Nat Faust, a real estate agent with Citi Habitats, to share their expertise. 
The finances
Income: $400,000
Retirement: $575,000
Cash on hand for down payment: $550,000 from the recent sale of a condo in another city, plus another $400,000 in investments
Debt: None
Regular monthly expenses: $4,500 per month, $2,400 of which goes toward rent
Credit score: 810-820 for both
The analysis 
McPartland explains that buyers financing a condo purchase can have a debt-to-income ratio of up to 43 percent, which, given the couple's liquid assets, could allow them to take out a 30-year fixed mortgage with a 3.625 percent interest rate for $2 million and still be within that range.  (Co-ops, by contrast, typically require a more conservative debt-to-income ratio of 25 to 28 percent.) 
However, such a large mortgage would mean a significant hike in Cindy and John's monthly housing expenses. "It's a matter of how huge a shock that is to them based on what they're paying now in rent," McPartland says. "The rule of thumb is that for every $100,000 in a mortgage, you're paying $500 per month in loan payments." 
By that metric, a $2 million mortgage would mean as much as $10,000 in monthly payments--but Cindy and John prefer not to spend more than $3,500 on housing per month. This puts a cap on the size of the mortgage they can take out, but the good news is that the couple has flexibility when it comes to the down payment. Cindy says that they're comfortable going beyond the traditional 20 percent; with their previous condo purchase, they put down 40 percent. 
Given that, McPartland says, "I would probably suggest that they start looking in the $1.2 million purchase price range. This assumes a $650,000 mortgage, $550,000 down payment and real estate taxes and homeowners insurance of roughly $600 per month. That would give them a monthly payment around $3,500." 
And, he adds, there's wiggle room to go even higher, considering that the buyers would be able to take mortgage interest and real estate tax deductions each year.
"They could add another $550 to the mortgage payment and net that same number of $3,500. The $550 at 3.625% would be equal to another $120,000 in mortgage balance that they could take," he says. "At the end of the day, I would start looking in the $1.2 million range, knowing that they could go up to $1.3 million if they needed to." 
Prospective buyers should note that beyond the down payment, co-op boards expect that homeowners have the post-closing liquidity to cover at least two years' worth of mortgage and maintenance payments. In Cindy and John's case, their $400,000 in investments and $575,000 in retirement has them covered. 
Cindy finds McPartland's analysis encouraging: "This is certainly more than my husband and I thought we would be able to afford in NYC," she says.
At the end of the day, though, this is still NYC, where even a $1.2 million budget can place some limitations on an apartment hunt. Faust points out that Cindy and John's money will stretch a lot further in Queens, where they could look at both co-op and condo options, but in Manhattan, it could be a struggle to find a two-bedroom condo at their price point. 
For co-ops, though, he recommends looking on the Upper East Side, particuarly in the Yorkville neighborhood. "Now with the Second Avenue Subway, you can be between First and Second Avenues and be close to a train. For co-ops, you can get a really nice one for $1.2 million. There are even flex three-bedrooms for under $1.5 million on the Upper East Side," Faust says. 
In Manhattan, some of the couple's wants--like outdoor space--could be tough to come by, apart from terraces, he adds, and their need for pet-friendly buildings will place some restrictions on their search in both Manhattan and Queens. 
As for Queens, Faust says, the buyers can expect to find more condos in their price range. "A lot of our clients who are not interested in co-ops and need a two-bedroom end up in Long Island City," he says. And as for Sunnyside, a neighborhood John is interested in, "I feel like there's potential for growth there," he says. "Anything close to the 7 line has a lot of potential. It's a great place to be."
What's available to the buyers now
Manhattan
SOUTH HARLEM: The kitchen in this two-bedroom, two-bath pre-war condo looks a bit outdated, but it is sizeable, with the ample counter and storage space the buyers are seeking. Plus, the building is pet-friendly and offers outdoor space in the form of a shared courtyard and garden. Asking price: $929,000. Common charges: A low $873 per month, thanks to a tax abatement in place until 2035.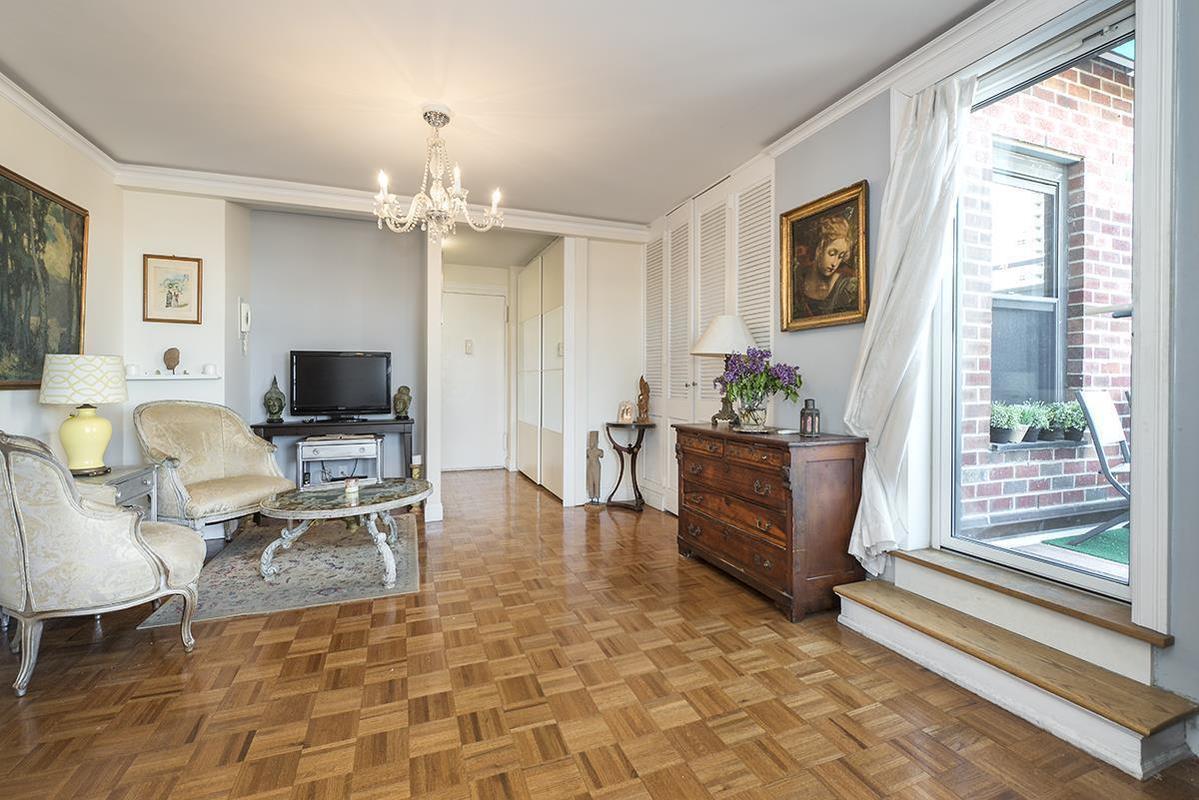 UPPER EAST SIDE: A two-bedroom, one-bath penthouse co-op, this unit features a recently renovated kitchen and a private terrace, in a pet-friendly building with 24-hour doorman service, a live-in super, and a shared garden. It's also a short walk from the new Q train at 72nd Street. Asking price: $785,000. Monthly maintenance: $1,923.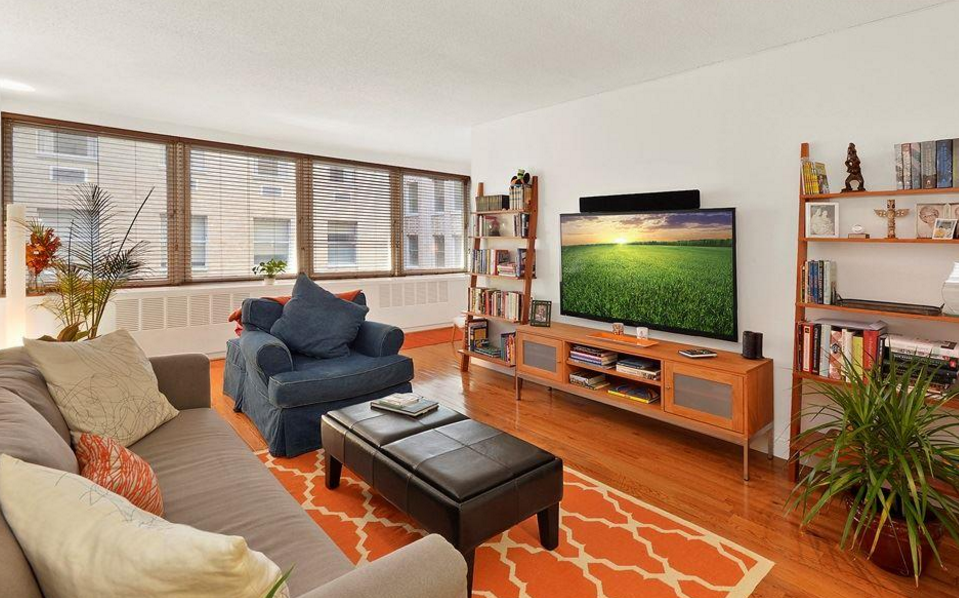 FINANCIAL DISTRICT: At the higher end of the buyers' budget is this two-bedroom, two-bath condo with a kitchen that includes a walk-in pantry; there is plentiful storage space throughout, plus an office alcove off the living room. The pet-friendly building has a live-in super and laundry facilities, and both bathrooms were recently renovated. Asking price: $1.35 million. Common charges: $1,360. 
Queens: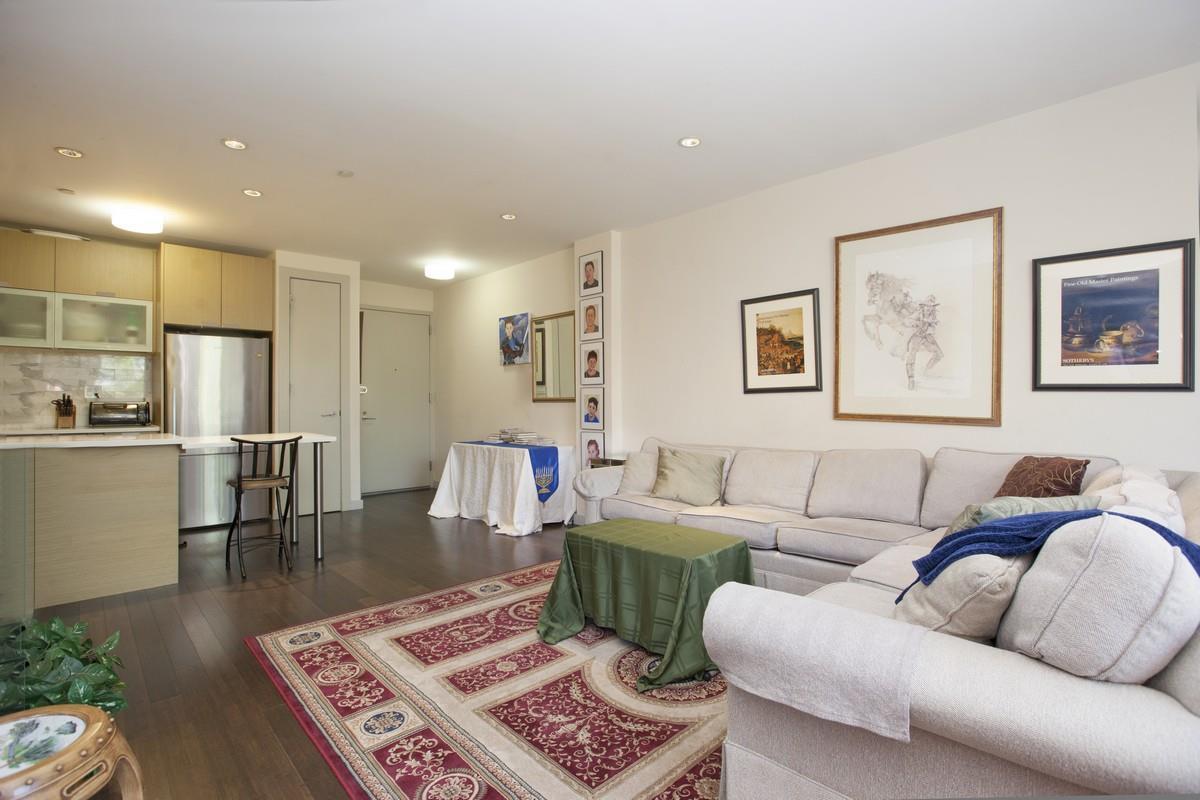 HUNTERS POINT: This two-bedroom, two-bath condo is in a brand-new development, and features an open kitchen, an in-unit washer and dryer, and huge windows to let in lots of light. The pet-friendly building is full of perks, including a fitness center, a roof deck, and a Zen garden. Asking price: $1.1 million. Common charges: $630, monthly taxes: $78.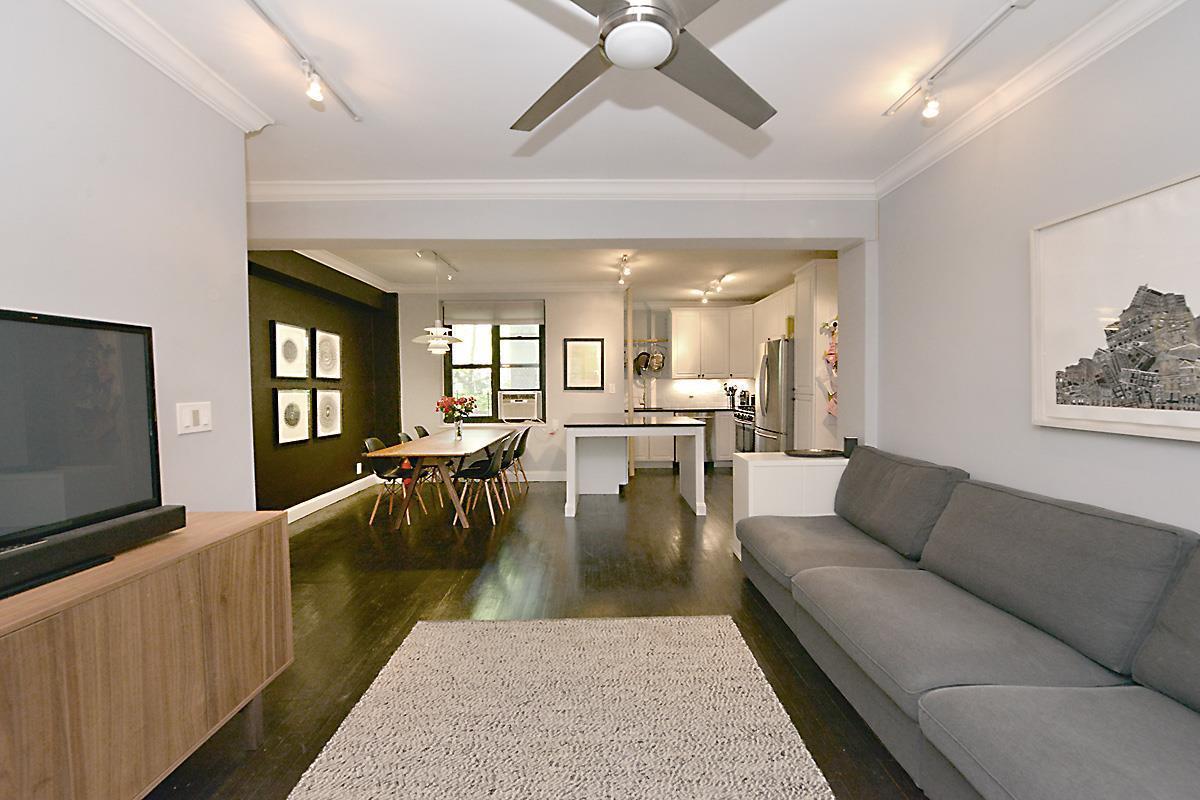 JACKSON HEIGHTS: A two-bedroom, two-bath co-op in the neighborhood's landmarked historic district that includes a separate dining area and office space, as well as a large kitchen with new appliances and granite countertops. The pet-friendly building includes a block-long garden and laundry facilities. Asking price: $649,000. Monthly maintenance: $1,218.