Co-ops
What NYC buyers can expect to pay in closing costs
For many NYC buyers closing costs start at 2 to 3 percent of the purchase price
They rise to 3 to 4 percent if the co-op or townhouse is over $1 million or you're buying a condo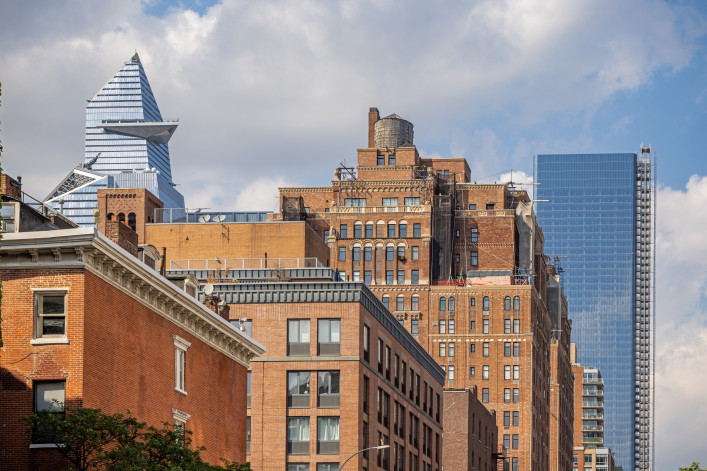 When buying an apartment or townhouse in New York City, you'll need to cough up more than just the down payment for your upfront expenses. Every sale triggers fees and taxes that must be paid at closing time—including some "only in New York" costs. 
Indeed, you can expect to pay 2 to 3 percent of the purchase price in closing costs—an amount that rises to 3 to 4 percent if the co-op or townhouse is over $1 million or if you're buying a condo, and up to 5 percent if it's a brand-new condo. For example, the purchase of a $1.5 million new condo could hatch another $75,000 in closing costs. 
It's wise to budget these additional costs into your search so you don't fall in love with something beyond your reach—and end up missing out on a great place that's more affordable.
"Every deal is different based on factors such as type of property, price point, and financing, so I run actual numbers for clients using the property they are interested in," says Adam Stone, a real estate attorney at The Stone Law Firm. "I often say I cannot make these closing costs go away but at least I can let you know about them as soon as possible so there are no surprises later on."
Pro Tip:
Fight back against rising mortgage rates. Work with a local expert from Prevu, the brokerage that saves New Yorkers an average of $23,000 per transaction. You'll pocket a rebate of two-thirds of the commission paid to the buyer's broker at closing. Click here to learn about Prevu's Smart Buyer Rebate.
One way to soften the blow from Mike Fabbri, a real estate agent at Nest Seekers: Consider asking for a closing credit to get the deal done. "Some sellers are not flexible when it comes to the purchase price, so get creative—work closing costs into your offer! It's all a net number at the end of the day but an out-of-the-box way to bridge a gap that may seem too wide for some."
The following guide provides estimates for common line items. As always, you will want your real estate attorney to make sure you meet all financial obligations and see what if any costs might be shifted to the seller (this depends on the market). 
Note that certain fees only kick in if you are getting a mortgage or are buying a condo or townhouse because co-ops do not involve the sale of real property per se but rather the transfer of shares in a corporation.
Bank fees
If you are financing the purchase with a mortgage, prepare to pay $3,000 to $4,000 to cover the cost of an appraisal and the bank's attorney's fees, among other transactional costs. 
Attorney fees
As you can imagine, this amount depends on which borough and neighborhood you are in and the type of property you are buying—and the caliber of lawyer you hire. A realistic starting point is around $4,000 for a "simple" purchase (this being NYC) and upwards of $10,000 for more complicated transactions like buying two apartments to combine. Just remember the age-old adage: you get what you pay for. Better to get an experienced lawyer than to run into hiccups that end up costing a lot more down the road.
Mansion tax
The mansion tax has to do with sales price, not size. So even if your "mansion" is a modest two bedroom, you'll be stuck paying 1 percent on co-op, condo, and townhouse sales of $1 million to $1.999 million. Scaled increases kick in at $2 million (you'll pay a tax of 1.25 percent) and rise until you hit 3.9 percent on prices of $25 million or above. 
Building fees
Off the bat, you'll need to pay between $500 to $750 for board application fees, which are designed to weed out all but serious buyers. Then expect to pay another $1,500 for a managing agent/co-op attorney. Move-in fees are also common at co-ops and condos and can range from a few hundred to a few thousand dollars (plus another round when you move out). 
"When you apply, the board should send the prospective purchaser or the broker a list of what is needed, as well as fees," says Brittney Baldwin, vice president of National Cooperative Bank (fyi a Brick Underground sponsor). 
Title insurance
Title insurance is required if you're getting a mortgage for a condo or a townhouse (but not if you're buying in a co-op, because of its shareholder structure). That's because title insurance covers you (and in turn the bank) against any outstanding liens or open work permits that might be discovered after closing.
"From any lawyer's point of view, title insurance is a necessary part of a real estate transaction," Stone says. "I don't think I've ever had a client not purchase it for a condo, house, or commercial property in the 25 years I've been practicing." 
The cost of title insurance can vary but 0.45 percent of the sale price is a general rule of thumb. That equates to as much as $3,375 for a $750,000 property.
Homeowners insurance
Co-op and condo boards will require you to take out homeowners insurance, as will lenders when financing the purchase with a mortgage. You'll want this peace of mind, too, in case of loss.  
How much the policy will cost is largely determined by how much coverage you want as well as your zip code, building construction, and insurance score (based on prior claim activity and credit score). Proximity to a shoreline also matters (to cover against wind damage from coastal storms; you'll need separate coverage to protect against loss from flooding). 
Basic coverage starts at around $350 per year and covers about $25,000 in contents, $20,000 in walls and floors, and $100,000 in liability (should your toilet cause flooding in your downstairs neighbor's unit). Given old housing stock (and plumbing), you might want to get more protection with a $600 policy that doubles your content/structural coverage and triples liability to $300,000.
Larger apartments and townhouses call for even higher coverage; for example, insuring a 1,100-square-foot prewar apartment worth $1 million would cost around $1,400 to $2,800 annually, with $100,000 contents coverage, $300,000 walls-and-floors coverage, and $1 million liability coverage.
Mortgage recording tax
Condo and townhouse buyers who take out a mortgage must pay a state and city mortgage tax of 1.925 percent on loans over $500,000 or 1.8 percent for loans under $500,000 (note the tax is based on the loan amount, not the purchase price). On a $1 million condo with an $800,000 mortgage, that's $15,400.
Flip taxes
Also known as transfer fees, flip taxes are imposed by some condos and co-ops to help support the building and are not legally taxes at all. These run from 1 to 5 percent and sometimes even 10 percent of the seller's profit. Who pays also depends on the building, with some saying it's the seller's responsibility (in which case you're off the hook).
Transfer taxes
If you buy a brand-new condo or a co-op directly from the sponsor, you may also wind up paying a city transfer tax of 1 percent of the price on purchases of $500,000 or less and 1.425 percent on purchases of $500,000 or more, plus a 0.4 percent transfer tax to the state. That's $14,250 on a $1 million condo. 
On a brand-new condo purchase, you might also be expected to pay for part of the super's apartment (which can amount to thousands of dollars) as well as part of the building's insurance costs for the first year.
Concessions
Know that you may be able to get the seller or co-op sponsor to pay for transfer taxes as part of the negotiations—especially if a developer has just a few units left to sell or is trying to reach a certain percentage of apartments in contract at a new condo development.
According to Daniel Gershburg, an attorney at Konner Gershburg Melnick Darouvar, the negotiability of closing costs often depends on how well sales in the building are going. For example, in order for the New York Attorney General's office to approve a new development, it must sell 51 percent of units. And to do that, developers might be willing to offer concessions, which is exactly what Gershburg says a new development on Amsterdam did to get a couple of units in contract—and then ceased once the plans were declared effective.   
Brick Underground articles occasionally include the expertise of, or information about, advertising partners when relevant to the story. We will never promote an advertiser's product without making the relationship clear to our readers.