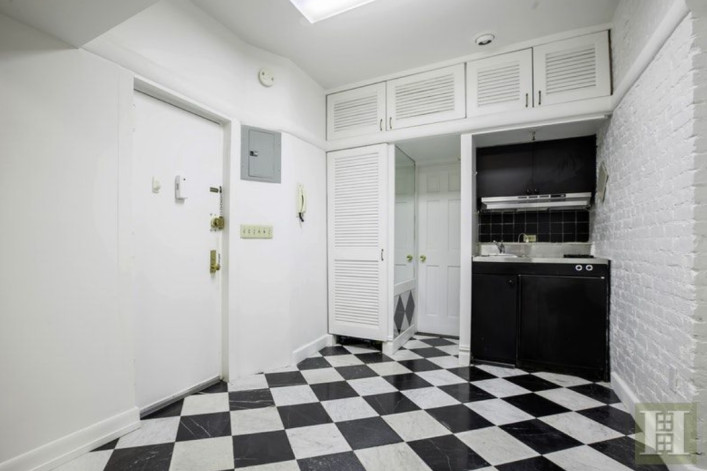 Priced at just $345,000, this Upper East Side studio at 223 East 78th St. is definitely affordable considering the location. But the loft-like unit will certainly need some renovating to make it habitable, according to architect and feng shui expert Anjie Cho.
"It's a good price for a starter apartment," she says.
Cho thinks the place is worth fixing, but she isn't a fan of many features, especially what's underfoot.
"Those floors are bad," she says of the black-and-white checkerboard tiles. "[They're] so in your face that you can't ignore them."
For this week's Reno Ready, we asked Cho to tell us how she'd renovate the space to render it livable. Here are her recommendations:
Kitchen (pictured at top)
How this room is updated will depend entirely on the new occupant's cooking habits. If he or she is a recipe addict who loves whipping up a meal at a moment's notice, then Cho would advise putting in a full-sized refrigerator and adding in an island. If, however, he or she is more likely to order a pizza than make one, Cho says she'd probably hang onto the mini-fridge.
Floors: "Everyone loves a wood floor," she says. She'd go with light-colored white oak boards. "It's more reflective and will bring more light into the space." She believes that prices for this new flooring should start at $5 per square foot.
Cabinets: "I would definitely change those doors," says Cho of the louvered doors on the cabinets above and to the left of the miniature kitchen space. "The louvers make it look very busy. Flat doors would make the space look more peaceful, more serene." She thinks that simple flat slab doors should cost around $2,000 or so.
Paint: Cho says that as it is now, it looks like there's "this strange kitchen on one side and this weird closet" on the other. "Making everything one color will make this area look more chic, as well as more expansive." She'd paint all the closet and cabinet doors (including the smaller cabinets under and on top of the sink/cooktop) a deep navy blue. "You might think it would be too dark," she says. "But it would look very chic." A gallon of Farrow & Ball's Hague Blue No. 30 is $99.
As for the walls themselves, she'd probably stick to white. "Exposed brick can get really dark," says Cho, so keeping that wall on the right white will make things a little brighter. She'd also go white for the opposite wall as it'll help the navy kitchen stand out more. She'd even recommend painting the gray electrical panel white so it doesn't stand out quite so much. A gallon of Benjamin Moore's Simply White is $74.99.
Backsplash: Cho likes the idea of sticking to one color all over in this kitchen, so she'd recommend navy tiles for the tiny backsplash. She thinks the tiles should cost about $150 or so.
Island: "A built-in island would define the space more and make it more usable," says Cho, noting that she'd put it right across from where the sink is now. "It could be a place to put your stuff when you walk into the apartment." She thinks that building it should cost $1,000 - $2,000. Or, if budget's an issue, a simple kitchen cart like this $179 one from IKEA, could also work.
Appliances: Even if the unit's new owner opts to keep the tiny kitchen, Cho recommends swapping out the existing appliances for new ones. This GE under-counter fridge is $462.65 and this 12-inch Summit two-burner cooktop is $329, both at AJMadison.com.
Should he or she opt for a larger place to cook, then Cho would install a small stove, like this 24-inch Bertazzoni gas range, $2,099 as well as a full-sized refrigerator, like this LG counter-depth fridge, $805. Both are available at AJMadison.com.
Sink: Cho would also get a new under-mount stainless steel sink. This 23-inch Kraus single bowl under-mount sink is $238.95 on houzz.com.
Baseboards: "It looks like there are a few different baseboards going on here," says Cho. "I see flat ones and rounded ones, too." She'd prefer that they all match, so she'd replace all the baseboards in the apartment with a "simple four-inch-high by three-quarter-inch-thick flat rectangular base molding." Cho believes that replacing all the baseboards in the unit can be done for around $1,000.
Moldings: "I don't know what that is exactly," says Cho, trying to explain what seem to be moldings on the walls to the left and right of the kitchen. "It's almost like a picture rail, but it's not a picture rail." Cho would get rid of this perplexing feature because she feels that it makes the space feel shorter. "It's probably applied, so I'd just take it off and patch up the paint there."
Lighting: Cho doesn't love the overhead light or the single recessed light (what she terms "the weird frog eyeball"), so she'd replace them both, and go with either a pendant light or track lighting. "I usually don't like track lighting," she says. "But it might look nice in here" since you can aim the tracks at different areas throughout the room. This LED track kit is $312.38 at AllModern.com. As for the recessed frog light, she thinks it should cost around $500 to get rid of it, then patch and paint the area.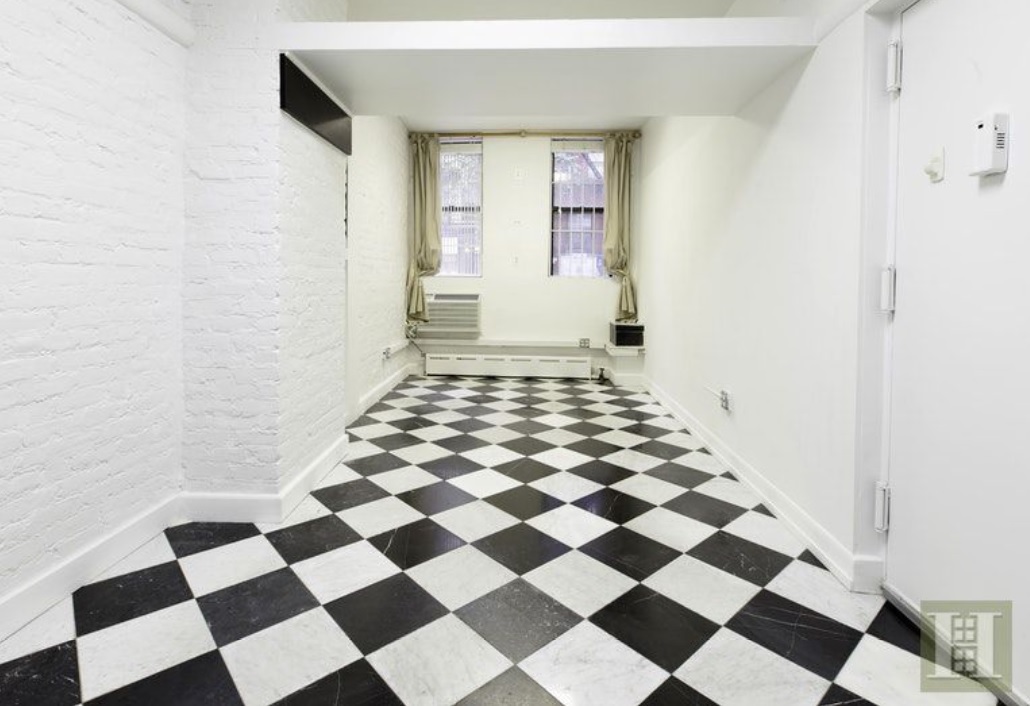 Living room
Since the living space is right on top of the kitchen, Cho would recommend doing a lot of the same things.
Floors: She'd install new, light-colored wood flooring throughout the unit. Cho says she thinks that prices for this flooring should start at $5 per square foot.
Paint: As mentioned above, she'd probably stick to white for both the exposed brick wall, as well as the remaining walls, so the new navy blue kitchen will catch the eye. She'd also keep the front door white so it blends in more with its surroundings. A gallon of Benjamin Moore's Simply White is $74.99.
Loft space: "I'm not a huge fan of loft beds," says Cho, explaining that "Feng Shui-wise, it's not good to sleep so close to the ceiling." She continues, noting that "if this was for me, I'd put a bed in the space below and then use the loft area as a nice place for plants or storage."
If the new owner does decide to use this space for storage, Cho suggests adding flat white doors to match the new ones in the kitchen. She believes these doors should cost around $1,000.
Radiator: "I might want to do a custom radiator cover with a built-in banquette here," says Cho, noting that said banquette can act as your sofa so you don't have to bring more furniture in here to further clutter up this small space. She thinks this built-in radiator cover/banquette should cost about $5,000.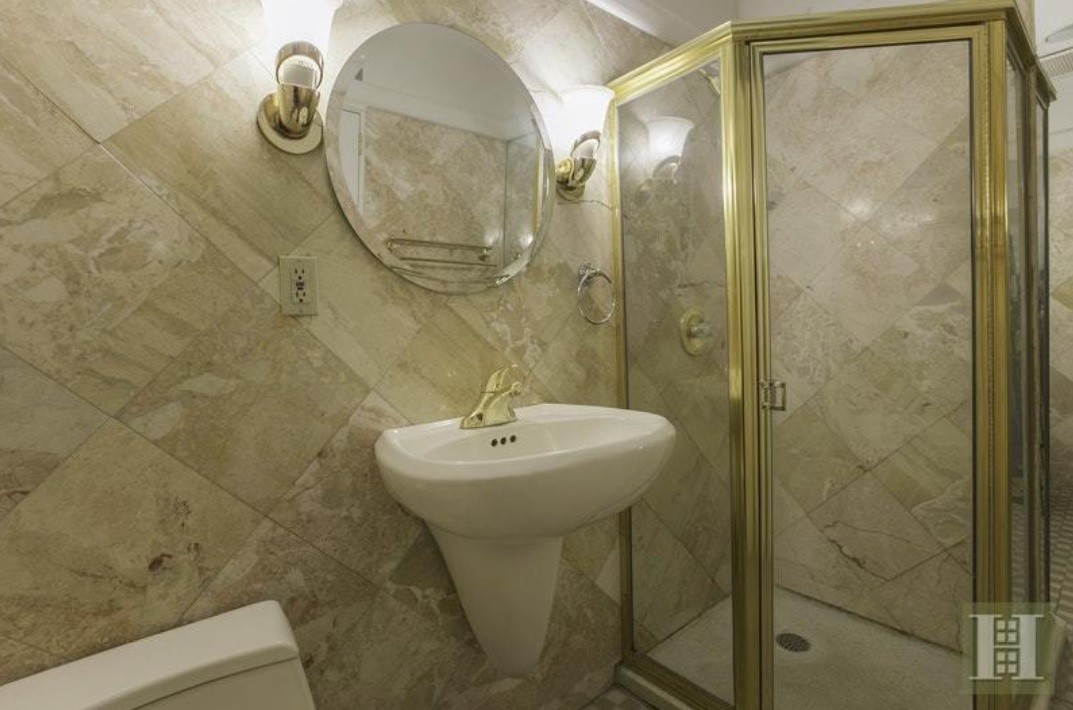 Bathroom
Cho doesn't love the color scheme in this rather petite bathroom.
Walls: Cho says she'd prefer a "nice, clean look," so she'd recommend tiles like Dolomiti by Artistic Tile. "It's a really affordable, beautiful white marble," she says. "It's so peaceful and calming." She adds that "you don't even need to tile all the walls." She'd be okay with tiling just the one behind the toilet and vanity, and painting the rest of the walls white. She says she thinks the tiles can be obtained for around $20 per square foot.
Floors: Cho says she'd either go with matching Dolomiti tiles underneath or a mosaic of some kind, maybe in a herringbone or a chevron pattern. "People like doing something fancy on a bathroom floor because it's less square footage" and therefore won't be all that pricey, says Cho. "The mosaic will also give you more traction when the floor's wet." Cho thinks a mosaic floor should cost between $20 and $40 per square foot.
Toilet: Since this room is on the small side, Cho would go with a toilet with a smaller footprint, like this two-piece Kallista high-efficiency toilet, $845, at kallista.com. Cho even goes so far as to describe its narrow tank as "cute."
Sink/Vanity: "This pedestal sink in here means there's nowhere to put anything underneath or on the countertop," Cho says. As such, she'd recommend going with a sink/vanity combo that offers lots of storage. This 23-inch Empire Daytona vanity is $743.40 at qualitybath.com.
Medicine Cabinet: It looks like there isn't anything behind the circular mirror, so Cho would prefer to install a new recessed medicine cabinet with lots of storage. This Kohler medicine cabinet is $414.
Shower: "I'd go with a lower-profile shower enclosure that won't have so much metal," says Cho. More glass will make the room look and feel larger than it actually is. She says she thinks a custom enclosure should cost around $2,000.
Lighting: Cho says this is where you can save some money. Hold on to those sconces.
Brick Underground articles occasionally include the expertise of, or information about, advertising partners when relevant to the story. We will never promote an advertiser's product without making the relationship clear to our readers.