Transitions
From the UES to Murray Hill: I saved money by living at home and bought a unique place of my own
'As a real estate agent, I wanted to use my experience to invest in my own future'
After a short search he closed on a one-bedroom co-op with a balcony for $635,000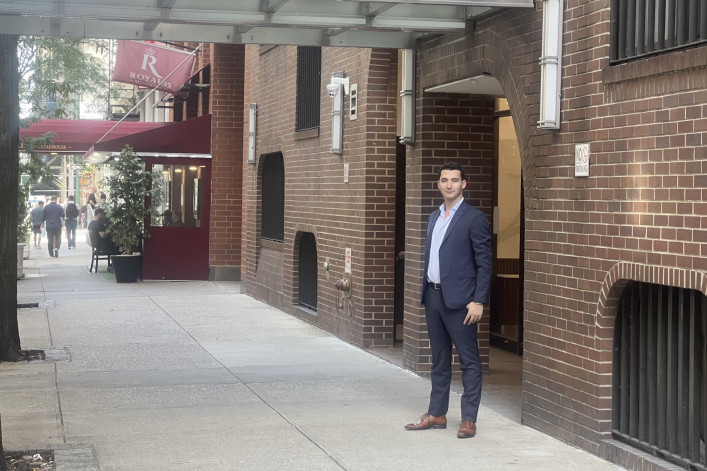 Having vowed never to pay rent, real estate agent Michael Degenstein saved money for a down payment while living at home. After a month-long search, he scored a tri-level co-op in Murray Hill. Here's his story.  
I was born and raised in Manhattan and have lived on the Upper East Side since 2004. I was living at home with my mom and our Bernedoodle named Max on 69th Street between First and Second avenues. 
My mom owned the co-op unit, which is 1,400 square feet with a private, 1,600-square-foot backyard. It has four bedrooms and three and a half bathrooms. She bought it in 2003. 
I love the backyard, especially the solarium, which is set up for entertaining. This outdoor space was absolutely essential to mental sanity during the pandemic. 
This part of the UES has tree-lined streets as well as modern conveniences. I always used Star Cleaners for dry cleaning and miss them dearly; Kelly always made sure I was taken care of. Overall, our neighborhood felt like a small community. 
The block is convenient with all the food and stores you'd ever need. I particularly liked to order the omakase at Sasabune and have a burger at Cafe Luka. I also enjoyed walking along the river by the hospital. The UES has some good bars like Dylan Murphy's and Finnegans Wake, although I found myself heading downtown on nights out. 
As a real estate agent with Keller Williams NYC, I would head to work by taking the 6 train at 59th Street or the Q on 63rd and then connect to the S train if it was raining.
---
[Editor's Note: Brick Underground's series "Transitions" features first-person accounts of what it's like to move from one New York City neighborhood to another. Have a story to share? Drop us an email. We respect all requests for anonymity.]
---
Wanted: a one bedroom with outdoor space for $750,000
In March 2023, I decided I had saved enough money and it was time to get my own space. When I was young, I decided I wouldn't move out until I bought something, and I was fortunate enough to be able to do that. And as a real estate agent, I wanted to use my experience to invest in my own future. 
My max budget was $750,000. I was flexible on location so long as it was not below Union Square or above 86th Street. I wanted at least a one bedroom with one and a half baths, and some sort of private outdoor space was very important to me. A doorman, elevator, and laundry in the building or unit were also top priorities.
I represented myself, working with my colleagues Erin Wheelock, Wynson NG, and Jen Scigliano as the listing agents. They were amazing to work with throughout the process. 
After shopping online for month, I finally saw the unit I ended up buying on Wynson's Instagram and reached out to see it. Ultimately, I only toured one other unit before signing the contract. 
My current apartment is in a small co-op building in Murray Hill. It has a 24/7 attended lobby, live-in super, elevators, and laundry in the building. The one-bedroom, one-and-a-half-bathroom unit is around 900 square feet. It has a wood-burning fireplace, balcony, and washer/dryer. I paid $635,000. 
The apartment has three levels: the first contains the half bath, laundry, kitchen, and an office area; the second contains the main living/dining space and balcony; and the third contains the bedroom, full bathroom, and a walk-in closet. 
From seeing the unit to closing took only around two months, which is quick for a co-op. We all moved quickly. The sellers wanted to get out as soon as possible and I wanted to get in as soon as possible. The board interview didn't take long. It was very straightforward and was a nice first chance to meet some of my new neighbors. I moved in several months later in July. 
What he thinks of his new nabe
I like my new neighborhood. I'm on a quiet block in a busy area. There are lots of great places to eat and drink, as well as many shopping opportunities. I also enjoy being so close to Koreatown. 
It would be more convenient if there was a grocery store nearby, but with so many online delivery options like Fresh Direct, I'm fine. I can also order takeout from so many interesting places. 
Cinico Coffee Company, which just opened, is hands-down the best coffee in NYC, has amazing food, and a super cool owner. I also love Let's Meat BBQ, and Jongro BBQ, and H Mart. 
Now, thankfully, I can walk to work, which takes about five minutes. When I need to meet clients around NYC, it's really easy to take the 6 or any of the trains from 34th/Herald Square. 
My family and friends all find the layout very unique, saying how rare it is to see an apartment with the same features within the same price point. 
I have made friends with a few neighbors and some local business owners. While homeownership comes with additional responsibility and expenses, it was absolutely a great idea. 
I'll stay until I outgrow my current apartment and am ready for the next stage in my life.  
Brick Underground articles occasionally include the expertise of, or information about, advertising partners when relevant to the story. We will never promote an advertiser's product without making the relationship clear to our readers.