When Vincent Zurzolo was newly single, he enjoyed the pace and nightlife of Hell's Kitchen. But when decided he'd had enough of tourist-filled crowds and wanted to settle down once again with a new love, he opted to move to Greenwich Village to gain, in his words, "serenity." Here's his story of how the neighborhoods compare.
When I moved to Manhattan in 2006, I rented on West 51st in Hell's Kitchen. I was recently divorced so living in such a fun part of town was exciting. The lights and the frenetic energy of the city were electric.
The neighborhood seemed alive and Ninth Avenue is chock-full of every kind of restaurant one could want. Some of my favorites were: Afghan Kebab House, Pam Real Thai, Lucky Burger, Room Service, and Chimichurri Grill. I had a great Italian restaurant a few doors over called Maria Pia, which is still there. If I craved French food, Tout Va Bien, a mainstay, was on the block as well.
---
[Editor's Note: Brick Underground's series "Transitions" features first-person accounts of what it's like to move from one New York City neighborhood to another. Have a story to share? Drop us an email. We respect all requests for anonymity.]
---
At first, my neighborhood felt like home and there was lots to do: During the World Cup between Italy and France, there was a constant cheering at the restaurants during the game. I joined in from my balcony with my Italian flag draped over my shoulders. And I lived so close to the Theater District it was inexcusable for me to not see a play from time to time.
I had a duplex apartment, ideal for one person. The spiral staircase that led to my bedroom was charming. Although the apartment itself was not big—it was only about 400 square feet—it has a 1,000-square-foot roof deck, which I made the most of. I had a table, chairs, umbrella, lounge chairs, bbq, potted shrubs adorned with Christmas lights, and a beautiful herb and tomato garden. I'd throw elaborate parties with about 100-150 people, most of whom I did not even know. It was heaven! The rent was very reasonable at the time because the landlord wanted to keep good tenants.
But by the time winter hit and all the tourists began congregating in Times Square, I quickly turned into a jaded New Yorker. Getting out of the subway in throngs of loud and pushy crowds was exhausting. It was painful trying to move through the mountains of people who had no clue where they were going and weren't in a rush to get there. I have always been a very fast walker, but that wasn't going to happen for me there. The area always felt "on," which made it hard to relax.
Enter Josephine. Suddenly I wasn't single anymore. After dating for a while we realized we'd need more space if we wanted to live together. I proposed on a trip to Paris in 2009.
Finally in 2010, I decided to move Downtown—and it took two years to find a place. When Josephine and I walked around Greenwich Village, we knew this was the neighborhood we wanted to live in. And then upon seeing the apartment—another duplex, but one with high ceilings, a wood-burning fireplace, and claw foot tub—we knew we were home.
Now I live just a few minutes' walk from the West Side Highway, which is lovely to stroll along on a springtime weekend afternoon. I didn't feel I was losing anything by moving.
I knew I would not be at a loss for good eateries, because the area has just as many amazing restaurants as Hell's Kitchen. Gradisca, classic Italian with the best gelato in the city; and Sotto 13, Italian tapas with a skylight that is beyond magical on a snowy winter's night; are right near my apartment.  
But Greenwich Village also has something Hell's Kitchen can't provide: Serenity. What I love most about living in the Village is how calm and relaxed the neighborhood is. In the springtime the budding trees on my block are lovely. Mom-and-pop shops dot the quaint blocks. Neighbors are generally friendly and the area is quiet and clean.
The transportation options in Midtown were great, but they are just as great in the Village. I am just a few blocks from almost every subway line and can get anywhere in the City at a moment's notice.
Finally, I didn't need to worry about the loss of personal outdoor space and the ability to entertain with friends: My new home allows me to dine in my private garden and people will sometimes walk by thinking it is a restaurant, asking if there are any other tables available or if they need to make reservations.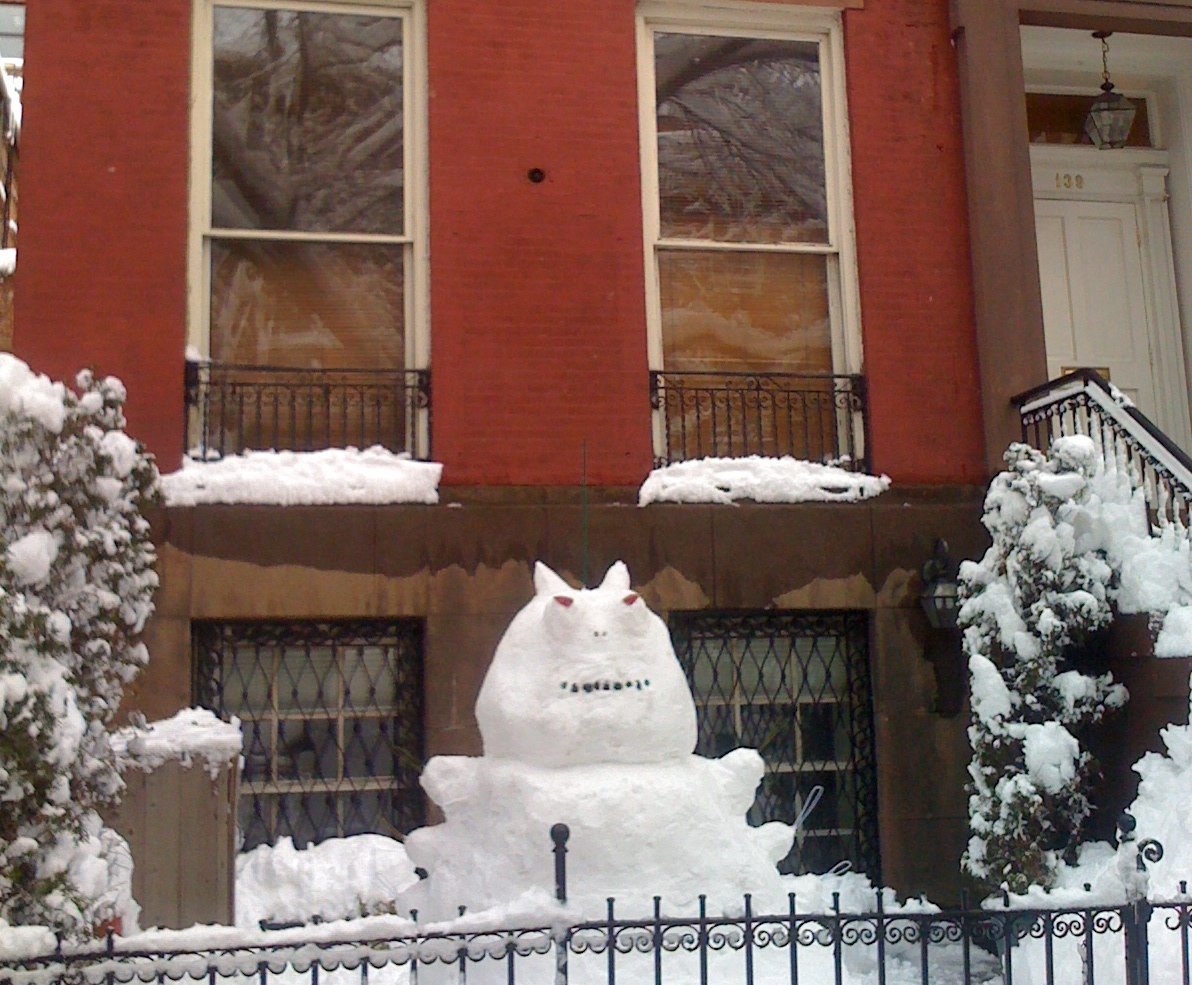 I also have fond memories of building a snowman one snowy winter's day. A tourist walked up and asked if I was the artist. (Things like that seem to happen in Greenwich Village.) To be fair I didn't make a regular snowman—mine was a four-armed alien snowman with a watermelon mouth and radish eyes.
Lest you think it's always quiet and that it can become dull, Halloween is a time of the year that is super special because we are on the parade route. We have a costume party almost every year and even hired an actress to be a zombie in our garden for the night. At one point I walked out and there were 30 people taking pics of her as she growled and tried to pull loose from her chains. It was quite the scene!
I've rethought my stance on tourists, a little: Having tourists descend on our area during certain times of the year is extremely fun.
As a child growing up in suburban Rockaway Beach, I never dreamed I'd live in Manhattan, let alone in one of the most historically significant and exciting parts of the city, but now it's my home.
Brick Underground articles occasionally include the expertise of, or information about, advertising partners when relevant to the story. We will never promote an advertiser's product without making the relationship clear to our readers.