Transitions
From Gramercy Park to the UWS: My rental wasn't bringing me (or my cat) joy so I bought a place that's everything I wanted
She was paying $2,700 a month for a 650-square-foot loft where she had been living since 2020
Her wish list was for a true one bedroom in an elevator building with better natural light and views
The purchase price of $829,000 was well over her $700,000 budget, but the amenities are worth it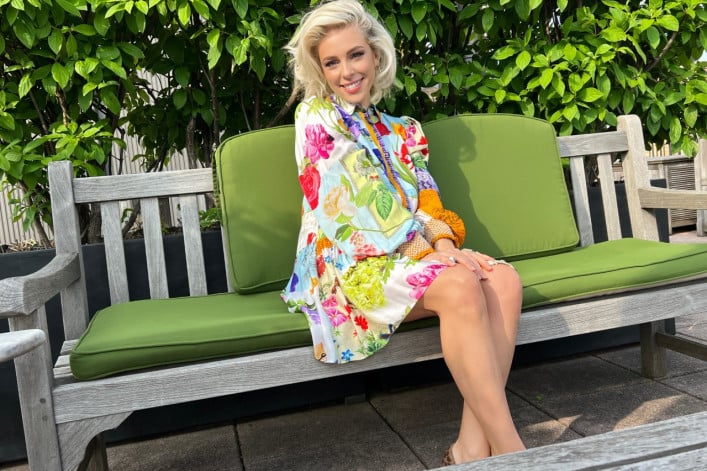 After having an epiphany in Thailand, Chelsea made a decision to buy a place where she could pursue her favorite activities more easily: running, nature, volunteering, and seeing her friends. Her new Upper West Side apartment brings her all that and more. Here's her story. 
I was born in Germany when my dad was stationed there during his career as an Army officer. We relocated to North Carolina when he got a position overseeing the ROTC program at three colleges: Duke, Carolina University, and NC Central. He retired when I was five, and I grew up mostly in Chapel Hill.
Even though I had always dreamed of living in New York City, I had a great job in Chapel Hill with co-workers I loved, so I ended up buying a place there in 2016. Moving into a big, two-bedroom, two-and-a-half-bath house was a wake-up call for me. I felt like I had skipped a step of my journey. 
In November 2016, my dad and I went to Thailand for the Lantern Festival. I was reminded of my curiosity for the world and knew staying in my hometown a minute longer would keep me stagnant. The second I got home, I started applying for jobs in NYC, and after I was hired, things moved quickly. 
---
[Editor's Note: Brick Underground's series "Transitions" features first-person accounts of what it's like to move from one New York City neighborhood to another. Have a story to share? Drop us an email. We respect all requests for anonymity.]
---
Ready for the next chapter in NYC
I moved to New York City in February 2017. Days later, I faced my first true snowstorm while wearing my "winter coat" from Walmart. Let's just say that my initial year in NYC was not easy for me. My first apartment was a first-floor shotgun unit on the Upper East Side that was facing the street—and of course right next to a bar. My bedroom window overlooked the building's trash area, and it was always very dark inside.
Anyway, I was 26 and ready for the next chapter—and to be on a path that was true to me. 
Most recently, starting in 2020, I was living in Gramercy Park with my cat, Picasso, a Tortie and Manx mix who moved here with me from NC. Shameless plug: Our TikTok channel is @MissMeowMoment. 
I rented a 650-square-foot loft for $2,700 a month. It had 10-foot ceilings, lots of windows, four closets, and a wall-high storage unit. This was also my first time having an elevator, which was a game-changer. I was on the fourth floor of a 12-story building with a rooftop deck and laundry in the basement. 
At times, living in a loft felt a lot like living in a studio. I slept, ate, worked, and exercised all in one area, which made me a bit stir crazy. My view was of the back of another building and my windows looked into other people's windows, which is both awkward (yes, there was an infamous naked neighbor) and not entertaining for Picasso. I felt she was bored there.  
Liking the walkability but not the running route
I am an avid runner and had not been able to get miles in since the East Side Highway closed for construction. Even before then, I did not enjoy running along the highway. There is this tiny walkway right near ConEdison where I was routinely fighting for my life; the path can only comfortably fit two people side by side with a shoulder twist, but of course, people on bikes just zip through. I would be right next to the road and dust would blow into my eyes.
In addition, my part of Gramercy changed a lot since Covid. There are issues with trash and safety. The second I left my building I'd be on high alert. 
That said, I liked Gramercy because I could walk pretty much everywhere I wanted to go. At the time I worked mostly from home as a human resources consultant for ADP but would go into the office around Penn Station a few times a week, which took about 30 minutes. I would also walk to the East Village, West Village, and Union Square. 
My social activity was really all over the place. I have a group of vegan girlfriends and we liked to "veg-out" at the nearby vegan restaurants like Avant Garden, Candle, and HanGawi. But I have friends all over the city and I'd find myself venturing out of the neighborhood—lucky for me, I could walk to a lot of these meetups. 
I shopped for food at Gracefully right near StuyTown and became close with the workers at the nearby bodega, Heavenly Market Cafe. (I will miss them!) I mostly did laundry in my building but there was a great dry cleaning place called Mr. Anthony Cleaners that was close by. The customer service is top-notch.
I (still) like to go shopping in the Garment District because I sew my own clothes. I could walk to stores like Mood Fabrics and M&J Trimmings. 
Leaning into the things she loves most
I sold my house in NC when the market was super hot and had been saving to buy a place here for a while, even working three jobs at a time. I would much rather have an asset to my name than to pour money down the drain and have been very focused on making this dream a reality.
Last year was transformative: I started a new sales/tech/HR job. Plus one day I woke up and a bunch of things just didn't align with me anymore. I think a lot of us went through something like this during the pandemic. I decided to lean into the things that truly bring me joy: running, nature, volunteering, creativity, and friends. 
I realized that where I was living wasn't aiding me in those five areas and decided that instead of renewing my lease I would buy a place in a neighborhood that is better suited to my current goals.
So in December 2022, I decided to find a place to buy. Enter Mark D. Friedman and Richard Rosenthal, agents at Brown Harris Stevens. 
Wanted: A one bedroom on the UWS for $700,000 (ish)
I wanted a true one bedroom on the Upper West Side because I wanted to be near Central Park. I also wanted lots of natural sunlight, a good view for Picasso, a modern and workable kitchen, an elevator, and as much space as possible. My budget was originally $700,000, but it went up a bit as I apartment hunted. 
Mark and I started looking at the end of January 2023 and saw 15 apartments over about two weeks. On February 1st, we visited a building to look at one apartment and while we there the seller's agent showed us another unit that had just gone on the market—and I had a "love at first sight" moment with the newer listing. I remember exchanging a look with Mark when we were walking around, and we both knew this was the place.
I was the first to view it and put in an offer that night. Then over the weekend, they held an open house and the unit got multiple offers, including higher offers and an all-cash offer. I thought for sure they would go with one of those. I wrote the seller a letter pouring out my heart and soul, a letter that is likely the best piece of literature I will ever produce. At 10:40 pm on Feb 7th I received a text saying I got the unit. I'm still riding that high!
I officially closed on May 22nd and moved in that week. Sadly, my beloved next-door neighbor in Gramercy died shortly before I moved. 
My agents were so helpful, and I am so grateful to have found an apartment I love, but not seeing Mark and Richard on a regular basis is a bummer. It's the one downside to finding a place.
My new apartment is an 860-square-feet, one bedroom that cost $829,000. It has a foyer, sunken living room, built-in bookshelves, a massive kitchen, walk-in closet, and heated floors in the bathroom. It also has a beautiful view of the city and so much natural sunlight it's almost blinding. What I love most about it is the way it makes me feel. It's not just any old apartment. When you walk in it feels like a sanctuary and like you are living the NYC dream.
The building has everything I desired: three elevators, a full-time doorman, bike room, laundry room, gym, and rooftop. There's artwork all over the building. And it is just two blocks from Central Park.
I feel I am getting a lot of bang for my buck. I viewed units with high maintenance charges that were really lacking in amenities. I am so thrilled to have a storage room. The number of times my Amazon packages were stolen in my previous lobby was astonishing. The laundry area could serve as a public laundromat—it's massive and well-maintained. I will never have to wait for a machine again. There's even a game/playroom with books you can borrow. I think that's a really nice touch.
Adjusting to her new nabe—and starting on the right path
I am looking forward to being close to the places I like to volunteer; the ASPCA's Kitten Nursery and the Wild Bird Fund are within walking distance. My commute to work will only be 15 minutes on the 1 train. 
Now that the weather is getting nicer, I am excited to curl up with a good book under a tree in Central Park or in the West Side Community Garden. There are a few great museums near me, like the New York Historical Society and Museum of Natural History. A stroll down Central Park West will be a much more peaceful experience than my previous living situation.
I am excited to explore the neighborhood and adjust to my new home. I am so excited to set a new routine and start on my new path.
And because I have a beautiful kitchen with lots of cabinet space and a great veggie/fruit stand outside the front door, I'm looking forward to cooking more often. It's the way to go! 
And now that I have more space for my hobbies, I can finally bring my dress form, sewing machine, and embroidery machine out of storage. I am so excited to host craft nights for a few of my crafty friends. 
I haven't made new neighborhood friends yet, but I am open to it and excited to start! I finally have everything I ever wanted! 
Brick Underground articles occasionally include the expertise of, or information about, advertising partners when relevant to the story. We will never promote an advertiser's product without making the relationship clear to our readers.